Blake Lively on Her Love of Fragrance, How NOT to Do Your Makeup and What She Learned About Style From 'Gossip Girl'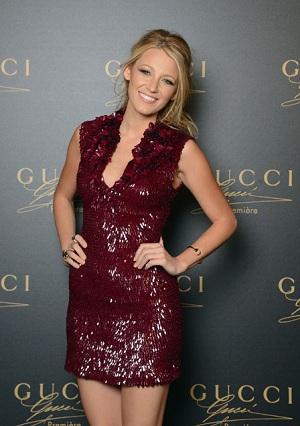 by Beth Shapouri, Glamour Magazine

Since Blake Lively is the face of Gucci's new fragrance, Premiere, I got to go on over to Venice, Italy, to meet her during the film festival there and pick her brain about all sorts of beauty- and style-related things. I know, my job is THE BEST. And, you guys, Blake's charming — the kind of charming where you immediately feel like she's your new best friend and that she wouldn't judge you if you tell her about the four pounds of pasta you polished off the night before.* Here are the highlights of what my new bestie had to say:

Oh, and she's chatty (which I loved, loved, LOVED) so I bolded my very favorite parts for those in a hurry.

Related: Ponytail Ideas to Steal From Celebs

On why she was so excited to sign on to be the face of Premiere (which is a strong but not overpowering mix of leather, wood and floral notes):

"It's exciting because I'm not stepping into a fragrance that's been around forever. You know there are those fragrance you smell and you say 'Oh, you're wearing ... you know ... whatever it is' and then I get to be the face of it until I expire and then in 20 years someone else will be the face. You know? But it's nice to have a scent that in a room people will say 'What is that? What are you wearing?' And that it's something new and to be able to start something and hopefully one day we'll recognize it as something more iconic. But it's nice to have that smell in a room where people don't know what it is and they have to find you and say 'What is that?'"

On her ongoing love affair with fragrance (including Premiere):

"I think it tells your story in a lot of ways. Because I look back to the fragrances I had when I was younger and they were bubbly and sweet and saccharine. And then as I got older they evolved and at one point I started mixing cologne with perfume, I'd mix different scents because I wanted that strength. I wanted to feel like an empowered woman, like a force to be reckoned with but I still wanted to maintain that power of femininity and sensuality that a woman has. So I'd often mix things. So that's why it's so nice to be able to sit here — I could be like 'Oh Gucci's great and you should buy the fragrance' but not, you know, love what it smells like. But I'm so happy to be sit here and actually be really proud of what it smells like as somebody who loves fragrance. And the fact that there is that wood and leather in there with that softness and sweetness in there. It's everything that I've tried to do when I mix a cologne with a perfume."

On what she's picked up from having her hair and makeup done for red carpets:

"I really love hair and makeup and design and all that so as people do my hair and makeup I'm always watching like 'Why are you doing that? What is that line that you're creating there? What is this?' You know the way they use lighter colors to highlight certain areas and then shade certain areas. So I'm just watching the way that they do things. And then I'm also watching people that are not as good, you know people who don't do me as well. I'm also asking them questions when they make me look like a Veggie Tale. So anyways, there's not any one tip but it's more just the way my mom was. She was always very effortless. You know, she got ready in a hurry. And whenever I really take time to get ready you know, just when I'm leaving the house it's a disaster. What is happening? Who are you kidding? I look like Punky Brewster. But when I get ready in two seconds I just have the best outfit. So that what's good about always being in a hurry — you get to be more creative."

On her beauty philosophy:

"I like not looking too done. And maybe it's an excuse not to brush my hair but there's something sexy about it just happening. There's something whimsical about wearing a ballgown but not having your hair up in some bouffant. You know, to have a messy more disheveled look because it just makes it feel like the night could end with ... I always say whenever I get dressed in a gown I want to feel like I could end the night running barefoot through Central Park. You know? And skipping in a fountain. You want to feel the freedom of that. But if you feel too austere — it's like when you walk into someone's house and it feels like a museum, you can't curl up on the couch. You want to feel that elegance and that lush nature but you always want to feel like you can cuddle up and be home. That's what I try to create in everything I design whether it's my home or whether it's a look I'm putting together."

Related: 10 Wardrobe Essentials Every Woman Should Own

On her life-long love of fashion before landing her "Gossip Girl" role:

"You know, I grew up with my mom who would make our clothes for us all the time whether it'd be something that we would wear in real life or a gown for Halloween —Beauty and the Beast — or something for a school recital. So I knew a lot about design because of that, because she's a great decorator. And my sisters too. My sister also modeled so she always had beautiful clothes. And so I got my fashion sense and my eye from that and understanding different cuts and shapes."

On what she's learned about fashion from her role as Serena:

"Being on Gossip Girl exposed me to all of the designers and it was like going to the best fashion school you could ever go to because you get to see all the different designers. You get to see the evolution. I get to meet all of them through the show and have strong relationships with people like Anna Wintour who would sit me down and introduce me to the most iconic designers alive today and just hearing them speak and asking them any question you want to ask them. And also just trying on that many clothes! I mean we have nine — anywhere between nine and 15 —  outfits an episode. Twenty-seven episodes a year for six years. And those are the ones that make it ... So it's like going to the most extensive masters course that you could go to [in fashion], being on Gossip Girl!"

Those were the highlights of our brief time together! I was so taken with her in person, and yes, she was incredibly stunning. And as for what Premiere smells like, think sexy, rich and incredibly luxe. It makes you smell like a woman who might own a yacht.

Oh, and while she was in Venice, Gucci also debuted the commercial for the fragrance, directed by Nicolas Winding Refn. You can watch it here.
*It might have been eight pounds. I really went for it with the pasta.

Photo: Getty Images

More from Glamour
15 Gorgeous Hair Updates to Try
35 New Ways to Wear Your Jeans
11 Movies Every Woman Should Watch
Are you sure you want to delete this comment?
beauty tips and style advice
Fashion Weeks may come and go (and with them a focus that shifts from statement coats to statement shoes and statement lips and eyes and back again), but one thing stays the same, no matter the date, year, or season: the editorial need for survival. And with that, you know, ideally looking good, too. Luckily for you, this season the Vogue.com team is divulging its Fashion Week "steals"; must-haves for under $100. From sneakers to a staple cardigan and a classic pair of shades, here are the fall-friendly items that we'll be carrying with us long after the collections end.

Ever since Kate Middleton transformed into Catherine, Duchess of Cambridge, in her Sarah Burton for Alexander McQueen wedding dress, the public has embraced her elegant sense of style and her ability to mix high street with haute couture. So it's only fitting that her maternity looks always follow suit. Early in her pregnancy with Prince George, the Duchess favored muted jewel tones in amber, forest, and tan in mostly flared silhouettes, and as winter gave way to spring, she let loose her penchant for pastels and English designers. A printed Erdem dress showed off her changing physique while a polka-dot Topshop look proved she was having fun with her pregnancy. A staple throughout was the fascinator, which she wore on her last five public appearances. As the world awaits and speculates as to what Kate Middleton will wear—and what gender baby she'll have—the second time around, we've compiled our favorite maternity looks from her first pregnancy.

Arm yourself from the cold with these foolproof tips.

Our top picks for brushes, glosses, concealers and beyond.

Dramatize your lashes with these fab buys.

Models may be pros at walking with authority, wearing clothes well, and looking good doing practically anything—but if there is one thing that exceeds their fashion prowess, it's their command of the world's best beauty products. Backstage each season and on set throughout the year, they road test a mind-boggling assortment of mascaras, foundations, hairsprays, and more. Between having their hair teased within an inch of its life, their makeup applied and reapplied a dozen times in a day, and their skin pushed to its absolute limits, it's safe to say they've figured out which are the most gentle, effective, and transformative formulas on the market. From the world's sexiest (and most healing) lip balm to the original French pharmacy face cream, here are ten beauty products you can find in almost every model's medicine cabinet.

After almost a decade together and six children, power couple Brad Pitt and Angelina Jolie finally made it official on Saturday, August 23 in Chateau Miraval, France. With photos of Angie's gown just released, take a look at hers and other gorgeous wedding dresses of the famous.

One of the best things about nail art, besides the gazillian likes on your #ManicureMonday post, is experimenting with different looks and designs. With these pro secrets, including celeb nail artist Miss Pop's top tricks, you can create salon-worthy nail art at home!

The newest nail polish colors for fall are so awesome, you'll be wishing #ManicureMonday was every day of the week.

Hey, you want to look more handsome than you already are, don't you? Sure, who doesn't—handsome wins you women, better customer service and because we live in a sick, sad, superficial world, even a higher salary. And thanks to this list, now being handsome is easier than ever. There's expert advice, common sense pointers, and even a couple of tips to help you beat bad, ugly, un-handsome habits. But don't waste your time reading this intro, become more handsome right now.

From cut and color to style, six expert hairstylists give you the scoop on back-to-school's freshest looks.

The Call of the Wild trend has gone from animal print to full-out birds of prey lately, as seen on these stars. Pretty fierce, no?