Blake Lively on Her Love of Fragrance, How NOT to Do Your Makeup and What She Learned About Style From 'Gossip Girl'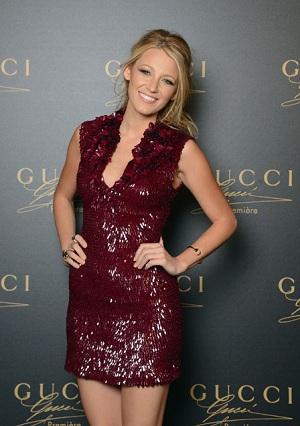 by Beth Shapouri, Glamour Magazine

Since Blake Lively is the face of Gucci's new fragrance, Premiere, I got to go on over to Venice, Italy, to meet her during the film festival there and pick her brain about all sorts of beauty- and style-related things. I know, my job is THE BEST. And, you guys, Blake's charming — the kind of charming where you immediately feel like she's your new best friend and that she wouldn't judge you if you tell her about the four pounds of pasta you polished off the night before.* Here are the highlights of what my new bestie had to say:

Oh, and she's chatty (which I loved, loved, LOVED) so I bolded my very favorite parts for those in a hurry.

Related: Ponytail Ideas to Steal From Celebs

On why she was so excited to sign on to be the face of Premiere (which is a strong but not overpowering mix of leather, wood and floral notes):

"It's exciting because I'm not stepping into a fragrance that's been around forever. You know there are those fragrance you smell and you say 'Oh, you're wearing ... you know ... whatever it is' and then I get to be the face of it until I expire and then in 20 years someone else will be the face. You know? But it's nice to have a scent that in a room people will say 'What is that? What are you wearing?' And that it's something new and to be able to start something and hopefully one day we'll recognize it as something more iconic. But it's nice to have that smell in a room where people don't know what it is and they have to find you and say 'What is that?'"

On her ongoing love affair with fragrance (including Premiere):

"I think it tells your story in a lot of ways. Because I look back to the fragrances I had when I was younger and they were bubbly and sweet and saccharine. And then as I got older they evolved and at one point I started mixing cologne with perfume, I'd mix different scents because I wanted that strength. I wanted to feel like an empowered woman, like a force to be reckoned with but I still wanted to maintain that power of femininity and sensuality that a woman has. So I'd often mix things. So that's why it's so nice to be able to sit here — I could be like 'Oh Gucci's great and you should buy the fragrance' but not, you know, love what it smells like. But I'm so happy to be sit here and actually be really proud of what it smells like as somebody who loves fragrance. And the fact that there is that wood and leather in there with that softness and sweetness in there. It's everything that I've tried to do when I mix a cologne with a perfume."

On what she's picked up from having her hair and makeup done for red carpets:

"I really love hair and makeup and design and all that so as people do my hair and makeup I'm always watching like 'Why are you doing that? What is that line that you're creating there? What is this?' You know the way they use lighter colors to highlight certain areas and then shade certain areas. So I'm just watching the way that they do things. And then I'm also watching people that are not as good, you know people who don't do me as well. I'm also asking them questions when they make me look like a Veggie Tale. So anyways, there's not any one tip but it's more just the way my mom was. She was always very effortless. You know, she got ready in a hurry. And whenever I really take time to get ready you know, just when I'm leaving the house it's a disaster. What is happening? Who are you kidding? I look like Punky Brewster. But when I get ready in two seconds I just have the best outfit. So that what's good about always being in a hurry — you get to be more creative."

On her beauty philosophy:

"I like not looking too done. And maybe it's an excuse not to brush my hair but there's something sexy about it just happening. There's something whimsical about wearing a ballgown but not having your hair up in some bouffant. You know, to have a messy more disheveled look because it just makes it feel like the night could end with ... I always say whenever I get dressed in a gown I want to feel like I could end the night running barefoot through Central Park. You know? And skipping in a fountain. You want to feel the freedom of that. But if you feel too austere — it's like when you walk into someone's house and it feels like a museum, you can't curl up on the couch. You want to feel that elegance and that lush nature but you always want to feel like you can cuddle up and be home. That's what I try to create in everything I design whether it's my home or whether it's a look I'm putting together."

Related: 10 Wardrobe Essentials Every Woman Should Own

On her life-long love of fashion before landing her "Gossip Girl" role:

"You know, I grew up with my mom who would make our clothes for us all the time whether it'd be something that we would wear in real life or a gown for Halloween —Beauty and the Beast — or something for a school recital. So I knew a lot about design because of that, because she's a great decorator. And my sisters too. My sister also modeled so she always had beautiful clothes. And so I got my fashion sense and my eye from that and understanding different cuts and shapes."

On what she's learned about fashion from her role as Serena:

"Being on Gossip Girl exposed me to all of the designers and it was like going to the best fashion school you could ever go to because you get to see all the different designers. You get to see the evolution. I get to meet all of them through the show and have strong relationships with people like Anna Wintour who would sit me down and introduce me to the most iconic designers alive today and just hearing them speak and asking them any question you want to ask them. And also just trying on that many clothes! I mean we have nine — anywhere between nine and 15 —  outfits an episode. Twenty-seven episodes a year for six years. And those are the ones that make it ... So it's like going to the most extensive masters course that you could go to [in fashion], being on Gossip Girl!"

Those were the highlights of our brief time together! I was so taken with her in person, and yes, she was incredibly stunning. And as for what Premiere smells like, think sexy, rich and incredibly luxe. It makes you smell like a woman who might own a yacht.

Oh, and while she was in Venice, Gucci also debuted the commercial for the fragrance, directed by Nicolas Winding Refn. You can watch it here.
*It might have been eight pounds. I really went for it with the pasta.

Photo: Getty Images

More from Glamour
15 Gorgeous Hair Updates to Try
35 New Ways to Wear Your Jeans
11 Movies Every Woman Should Watch
Are you sure you want to delete this comment?
beauty tips and style advice
It's not always about the ladies of style. Check out these fashion icons.

Do you hear that? It's the sound of hundreds of cover bands beginning to tune their guitars and trying to remember the lyrics to "Shout." Ladies and gentlemen (but mostly ladies), it's nearly wedding season.

So, it hasn't snowed in nearly a week—does that mean it's summer yet? Well, almost. But alas, just because you're confident setting aside your trusty Sorel boots unfortunately doesn't mean you get to hop right into an itsy-bitsy-teenie-weenie yellow polka dot bikini just yet. Unless, of course, you're headed somewhere tropical in the next few weeks (lucky you!) and really do need to stock up on sexy swimsuits right now.

Getting away from it all for a bit? Your vacation wardrobe should be just like your plans: laid-back but totally fabulous. Take a cue from these celebrities, whose low-effort, high-style outfit ideas are officially on our must-copy list.

These fun and flattering vintage-style suits blend the best of the old with the best of the new.

Although it's not officially spring yet—the best time to start shopping for warm-weather clothes is now, while stores still have a good selection. Waiting until it's actually balmy enough to go bare-legged and short-sleeved leaves far too many factors to chance: what if your size sells out? Or the wrong color is left? And let's not forget about gross makeup stains from 10 other people trying it on!

From patriotic bikinis to retro two pieces, these celebs' stylish swimsuits will have you counting down to beach season! Check out your favorite stars rocking the hottest swim trends!

Sunglasses: it may seem counterintuitive to invest in a wintertime accessory traditionally viewed as a sunny, warm-weather item. But spring is on the way and we're also currently being exposed to crazy amounts of UV rays—and then, of course, there's the reflective snow situation.

As we herald a new season, the itch arrives to update one's wardrobe, and nothing cleanses a closet like a spanking-new bag, slick new pumps, or sparkling new jewels. Here, see our picks for the best investments to make this spring.

Some people look younger than they are, some look older. Even those with easy access to BOTOX and personal trainers. Can you guess the age of these celebrities?

Did anyone else hear wedding bells on the Oscars red carpet last night?

Then after the show, er, Oscars, it's the after party. Then after the party, it's the... Best Dressed List, of course. Nikki already picked her tops for the Academy Awards red carpet (did you vote yet?), so now it's time to see what the stars wore to the post-celebrations.