Photos of Miss Korea contestants go viral
Are all these contestants trying to look the same?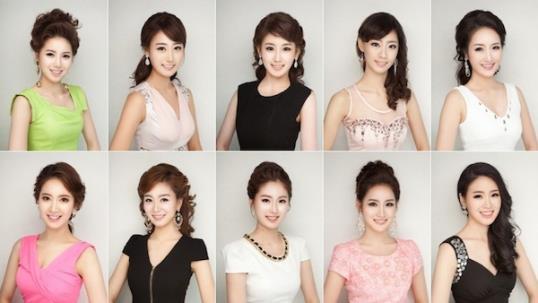 Subscribe to Simply Chic
Photos of Miss Korea contestants are creating a stir on the Internet — what looks like different photos of one contestant are actually all different women who just look shockingly similar, bringing talk of the plastic surgery obsession that is taking over there.
More Living Style:
How to look sexy when you wake up
According to
Jezebel
, South Korea has the highest per capita rate of plastic surgery in the world, with 1 in 5 women in Seoul having undergone at least one procedure. "In January, when the
Korean Plastic Surgery
Tumblr went viral, studying the 'after' images led to the conclusion that the 'best' face, the optimal look, is one with wide eyes, a pointed chin and a narrow nose," writes Jezebel.
More Living Style: 5 ways to get a firmer, younger-looking neck and chest
And the Miss Korea images shows it. The contestants all look shockingly similar to one another, making it obvious that plastic surgery is on the rise — as is the desire to look a certain way.
Friend us on
Facebook
, follow us on
Twitter
and find us on
Pinterest
.
Tell us: What do you think is the definition of beauty?
beauty tips and style advice
One shopper's tweet of the emaciated-looking figure forced the store to take action.

Once the summer heat kicks in, it's all we can do not to slip into the breeziest beach dresses and flip-flops for the morning commute. So trust us when we say we understand that the humidity can have a powerful effect on your wardrobe — still, there are some things you just can't wear to your place of employment, no matter how hot it gets.

Wrinkle no blouse, tangle no jewelry, leave no beauty product behind, and still have room to spare.

Hue-changing dos we absolutely love.

Why your jean size varies from store to store.

Wait a month between waxing visits? Check. Pop a preappointment Advil? Duh. We all know the basics, but here are the tricks you don't know.

What to always—and never, ever—do to keep hair in top shape.

Get inspired to try these sweet and summery looks.

Stunning wedding styles that create a statement.

I attended the Abercrombie and Fitch holiday-season press preview yesterday, and in between checking out the cute gear that will hit stores this November, I picked up a little nugget of information I just have to share.

How to wear this cool-weather staple in the summer.

See how Miranda Kerr made a pair of Birkenstocks chic.