What's In a Name? UK Clothier Misspells Shakespeare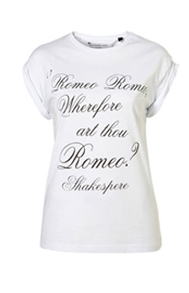 By Alexander Smith, The Look on TODAY Style

Presumably in a move to inject some cultured class into their latest line, UK clothier Topshop recently unveiled a new line of T-shirts printed with one of the most beloved lines of English literature: "Romeo Romeo, Wherefore art thou Romeo?" But as Britain's Metro reports, the quote, taken from arguably the most famous play by William Shakespeare, "Romeo and Juliet," is followed by a serious misspelling.

Topshop UK -- Is this a typo which I see before me? Topshop's errant garment.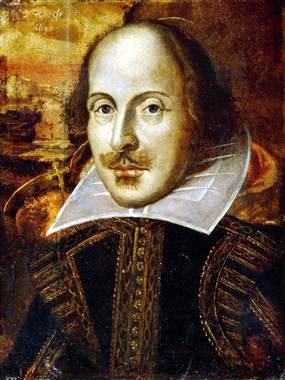 The quote is attributed to
"Shakespere." Oops.
British shoppers with a bit more reverence for their nation's fabled literary heritage were quick to point out the gaffe, sending Topshop scrambling for a fix. My favorite line from the Metro's story: According to the Daily Mail, when informed for the error, a Topshop spokesperson responded: "Oh my God."

In the wake of the textile typo, the shirt has since vanished from Topshop's website. While armies of literature professors are doubtlessly calling for a plague on Topshop's house, it is an admonition from Shakespeare himself that they should take to heart. "Ignorance is the curse of God," wrote the Bard in "King Henry VI." "Knowledge is the wing wherewith we fly to heaven."

Photo: National Portrait Gallery / AP: Had he not died in 1616, Shakespeare would have probably been less than amused by this.


Alex Smith is a senior editor at TODAY.com, who insists on speaking floridly in iambic pentameter.

More from The Look on TODAY Style
Disney T-shirt rankles rock fans
Urban Outfitters 'drunk' shirts offend Irish
Old Navy Ts get A in team spirit but F in grammar
beauty tips and style advice
Sunglasses: it may seem counterintuitive to invest in a wintertime accessory traditionally viewed as a sunny, warm-weather item. But spring is on the way and we're also currently being exposed to crazy amounts of UV rays—and then, of course, there's the reflective snow situation.

Some people look younger than they are, some look older. Even those with easy access to BOTOX and personal trainers. Can you guess the age of these celebrities?

Did anyone else hear wedding bells on the Oscars red carpet last night?

Then after the show, er, Oscars, it's the after party. Then after the party, it's the... Best Dressed List, of course. Nikki already picked her tops for the Academy Awards red carpet (did you vote yet?), so now it's time to see what the stars wore to the post-celebrations.

As I continue my personal campaign to swap out E!'s mani cam with a back-of-updo cam (and as a service to all the hardworking hairstylists who spent so much time creating beautiful hair looks for the 2014 Oscars), I'd like to point out that we miss a lot of gorgeous detail when we don't get the back view of a star's hair.

The bold new trend on the Oscars red carpet.

Trying new hairstyles is fun (have you picked up Allure Hair: The Ultimate How-To Hair Guide yet?).

When someone says "Julia Roberts," you think teeth. You think hair. But while you may not immediately think fashion, she has had a pretty consistent—and consistently pretty—style since her Mystic Pizza days: clean, classic, menswear-inspired looks that let her natural beauty—and rightly famous smile—take center stage. Here's how she has elevated that look over the years.

Lupita Nyong'o shows off the power of the pixie on the Oscars red carpet.

Walk a mile in a pair of SJP's stilettos? Well yes, we'd love to; thank you for asking.

Anti-aging doesn't have to take over your life. Here, expert tweaks to slow the clock.

We're at the tail end of a jam-packed awards season, with the grand finale—the Oscars, duh—just a few days away. We can't wait to see what our favorite nominees wear—we already know Jennifer Lawrence will step out in a breathtaking Dior, while we hope to see Lupita Nyong'o pick another brilliantly bold monochromatic gown. As for which designer she'll select—Gucci? Ralph Lauren?—that's anyone's guess.