Only one-fifth of women consider themselves fashionable
Study finds low percentage of women classify themselves as fashion-savvy.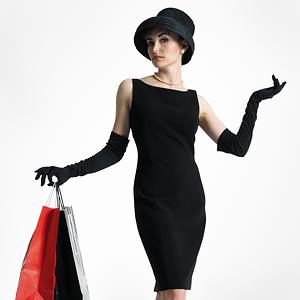 A new study reveals that not many women actually consider themselves fashionable. The research experiment, conducted by www.MyVoucherCodes.c​o.uk, polled more than 2,000 British women from ages 18-30 on topics including their shopping habits and opinions on their own style. 

The results conclude that only 19 percent of women say would classify themselves as 'fashionable'.
"As December is often a very fashionable month, filled to the brim with various Christmas parties, we were interested to find out whether or not British women considered themselves fashionable and the various lengths they go to update their style," said Mark Pearson, Chairman of
MyVoucherCodes.co.uk​.
"Whilst the majority of respondents said they were interested in fashion and often changed their look and style to stay current, it came as a bit of a surprise to discover that only 19 percent of British women believed that they were truly fashionable and stylish."
More from Living:
7 things you've been doing wrong forever
But although many women don't think they are fashionable, they are still spending the cash to try to get there. "What is slightly troubling about the results is the fact that many respondents admitted that they went into debt to look good and, even worse, some said that they spent over £300 staying trendy," he said. "Spending your way into debt is never the answer, and it is better to buy one or two on-trend pieces instead of buying an entire wardrobe full of clothes every season. The money spent on clothes could be put to better use, like savings and bills."
More from Living: DIY Beauty Gifts
Considering the fact that we all may be dropping more than we should on our holiday office ensembles, that might be a good point to take into consideration. 
Tell us: Do you find yourself fashionable?

Bing: Fashion rules for women


Photo: Photodisc/Getty Images
More from Simply Chic:

72-year-old grandfather models young girls' clothing
Store mannequins spy on shoppers
What your shoes say about you
beauty tips and style advice
Neatly sidestepping high fashion, the smiling, cheerful Kate Middleton is fast becoming the Duchess of Normcore.

This December, New Yorkers might notice something missing in the Christmas air.

When Madonna posted an image of herself wearing a full on Game of Thrones Khaleesi costume on Instagram last week we weren't exactly surprised—this is the woman who rolled into the Grammy Awards wearing a tuxedo and a grill earlier this winter, so why not celebrate the Jewish holiday of Purim with a leather corset and a pair of tiny dragons? Still, we were hypnotized by her white-blonde, braided Daenerys Targaryen hair. Functioning as a bleached out cultural weather vane of sorts, it tapped into multiple obsessions at once—the return of "Game of Thrones" to HBO, spring's new extreme hair lengths and, most notably, fashion's current platinum mania. Our own love of ice-blonde hair—which transforms any look from everyday to extraordinary—has been well documented of late, but last night's Game of Thrones premiere sent our platinum fever into overdrive. In celebration of fashion's favorite hair color, a look at the best platinum moments in history.

While you were sleeping, fast retail chain H&M H&M announced that its next designer collaboration is with Alexander Wang.

Formal, beachy, country club-chic or gorgeously rustic whatever the setting calls for, we've found a bevy of beautiful dresses to wear to a wedding this season.

Puffy, tired, weary no more. These tips take years off and create that "I slept great, thanks!" effect.