Only one-fifth of women consider themselves fashionable
Study finds low percentage of women classify themselves as fashion-savvy.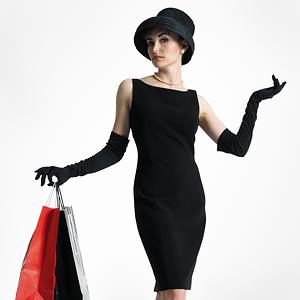 A new study reveals that not many women actually consider themselves fashionable. The research experiment, conducted by www.MyVoucherCodes.c​o.uk, polled more than 2,000 British women from ages 18-30 on topics including their shopping habits and opinions on their own style. 

The results conclude that only 19 percent of women say would classify themselves as 'fashionable'.
"As December is often a very fashionable month, filled to the brim with various Christmas parties, we were interested to find out whether or not British women considered themselves fashionable and the various lengths they go to update their style," said Mark Pearson, Chairman of
MyVoucherCodes.co.uk​.
"Whilst the majority of respondents said they were interested in fashion and often changed their look and style to stay current, it came as a bit of a surprise to discover that only 19 percent of British women believed that they were truly fashionable and stylish."
More from Living:
7 things you've been doing wrong forever
But although many women don't think they are fashionable, they are still spending the cash to try to get there. "What is slightly troubling about the results is the fact that many respondents admitted that they went into debt to look good and, even worse, some said that they spent over £300 staying trendy," he said. "Spending your way into debt is never the answer, and it is better to buy one or two on-trend pieces instead of buying an entire wardrobe full of clothes every season. The money spent on clothes could be put to better use, like savings and bills."
More from Living: DIY Beauty Gifts
Considering the fact that we all may be dropping more than we should on our holiday office ensembles, that might be a good point to take into consideration. 
Tell us: Do you find yourself fashionable?

Bing: Fashion rules for women


Photo: Photodisc/Getty Images
More from Simply Chic:

72-year-old grandfather models young girls' clothing
Store mannequins spy on shoppers
What your shoes say about you
beauty tips and style advice
OK, you're pushing 30 . . . don't panic! Even if you were a complete antiaging recluse in your 20s, there is still time to enter the next decade with endless grace and fewer wrinkles. And who better to steal skin care secrets from than the actresses who remain looking forever young? These Hollywood starlets may be in their 30s, but there's nary a dark spot in sight. Their beauty favorites range from drugstore classics to cult luxury elixirs and even a DIY recipe. With this shopping list under your belt, you can celebrate your 30s without a worry line in sight.

Instead of just slapping on five creams—then washing your face because, seriously, that stuff is heavy—follow the lead of the pros.

Forget about simple straightening--the flat iron is so much more versatile than that.

Assuming that you've had tons of practice doing your own makeup on a daily basis, attempting to do it yourself on your wedding day actually isn't that much more difficult. After all, no one knows your face better than you do, and chances are you have many of the tools and products that you need for the big day right at your fingertips—you just need to know how to use them.

There's a particular episode of 30 Rock ("Black Light Attack!", for all the fellow 30 Rock historians out there) in which Jane Krakowski's youth-obsessed character Jenna goes on a Gossip Girl audition. She thinks it's for the role of an Upper East Side high schooler, but as she learns in the middle of the tryout, it's for that of her mother instead. While Tina Fey's brilliant Liz Lemon later tries to talk Jenna off the cliff, she says, "You can try to fight getting older. You can be like Madonna, and cling to youth with your Gollum arms. Or you can be like Meryl Streep and embrace your age with elegance."

Save money and look great.