Only one-fifth of women consider themselves fashionable
Study finds low percentage of women classify themselves as fashion-savvy.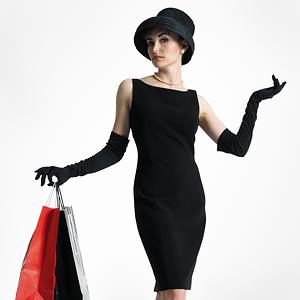 A new study reveals that not many women actually consider themselves fashionable. The research experiment, conducted by www.MyVoucherCodes.c​o.uk, polled more than 2,000 British women from ages 18-30 on topics including their shopping habits and opinions on their own style. 

The results conclude that only 19 percent of women say would classify themselves as 'fashionable'.
"As December is often a very fashionable month, filled to the brim with various Christmas parties, we were interested to find out whether or not British women considered themselves fashionable and the various lengths they go to update their style," said Mark Pearson, Chairman of
MyVoucherCodes.co.uk​.
"Whilst the majority of respondents said they were interested in fashion and often changed their look and style to stay current, it came as a bit of a surprise to discover that only 19 percent of British women believed that they were truly fashionable and stylish."
More from Living:
7 things you've been doing wrong forever
But although many women don't think they are fashionable, they are still spending the cash to try to get there. "What is slightly troubling about the results is the fact that many respondents admitted that they went into debt to look good and, even worse, some said that they spent over £300 staying trendy," he said. "Spending your way into debt is never the answer, and it is better to buy one or two on-trend pieces instead of buying an entire wardrobe full of clothes every season. The money spent on clothes could be put to better use, like savings and bills."
More from Living: DIY Beauty Gifts
Considering the fact that we all may be dropping more than we should on our holiday office ensembles, that might be a good point to take into consideration. 
Tell us: Do you find yourself fashionable?

Bing: Fashion rules for women


Photo: Photodisc/Getty Images
More from Simply Chic:

72-year-old grandfather models young girls' clothing
Store mannequins spy on shoppers
What your shoes say about you
beauty tips and style advice
These jeans aren't just distressed, they're destroyed, and all the cooler for it — the perfect way to make a basic T-shirt feel totally badass.

These products are so great they've attained cult status among beauty insiders—yet you can find them just about anywhere without blowing your budget.

Those awesome back-to-school outfits are begging for some killer kicks! Strut down the hallway in fall's hottest shoe trends.

These stars don't sleep in a hyperbaric chamber (that we know of), yet they seem to look better with each passing year. That's because somewhere along the way, they discovered a few signature makeup tricks that make all the difference. Steal some of their game-changing moves.

Your closet update just got way easier. Sneakers, heels, boots, flats—we've got it all covered.

Dressing right gets tricky when summer turns to fall. It's too warm for tweed, but shorts just don't feel right anymore. Fortunately, Esquire's got it all figured out for you.

When you're flying in a metal tube at 30,000 feet, comfort trumps style. To help you avoid an in-flight fashion faux pas, avoid wearing the 5 items below.

In the pursuit of silky, swingy, frizz-free hair, there are a dizzying number of tempting in-salon services to choose from. We grilled chemists and stylists on what works (and what's safe). Here are the eight things you—and your hair—need to know before you commit.

Beauty products have a lot of power. Applied expertly, they can make you look vibrant, gorgeous and at least five years younger. If you aren't using them correctly, though, the same products can add a few years to your gorgeous visage. But before mothers of the bride go into panic mode, read on. We asked makeup artist Brigitte Reiss-Andersen, who's worked with the likes of Meryl Streep, Michelle Pfeiffer and Rachel Weisz, to divulge common beauty mistakes that you can nip in the bud before your daughter's wedding.

Some people apply makeup at a vanity that's crying out to be on Pinterest, and others rummage through a drawer overflowing with their 103 absolute must-have, use-daily products—but everybody can benefit from a few clever storage tricks. These are the smartest ways we've ever heard to keep your products and tools organized, accessible, and most of all, beautiful.

Squeeze days out of your style with smart tricks from blowout queen Alli Webb, founder of Drybar.

Our favorite freckle-faced models and actresses.