Strange shoe accessories prevent slipping on ice
Nordic Grip Mini Ice Grippers are the ultimate winter accessory for women's shoes.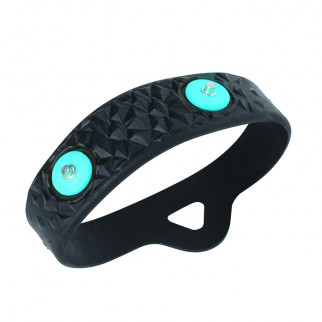 Some of us refuse to give up our high heels, despite blustery weather and snowfall. But now, we needn't worry about slipping on the ice—a British company is selling the ultimate winter accessory for shoe lovers.

The Nordic Grip Mini Ice Grippers are basically fancy rubber bands that slip over the toes of your shoes for a slip-free experience, no matter what kind of shoes you're wearing (they stretch over all different types of shoes, from mile-high stilettos to boots). 

More from Living: Worst celeb fashions of the year

"Party shoes and icy surfaces are a bad combination," they say on their web site.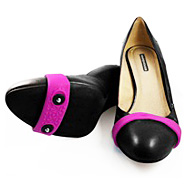 "Nordic Grips' smart Mini is a discreet, small and cool grip which is perfect on your way to or from a party on icy ground. The grip comes in a practical box making it easy to store in a jacket pocket or in your handbag ready for those icy winter nights."

More from Living: 10 things every woman should have
Now, if only we could figure out how to warm up our toes in those stilettos…

Tell us: Would you wear these rubber band contraptions on your shoes?
Photo: Nordic Grip

More from Simply Chic:
Fighting crime with chic jewelry
The most "OMG, WHAT!?" looks from London Men's Fashion Week
The hottest manicure styles of 2013
beauty tips and style advice
Peach gloss and a swingy ponytail look great. They really do. But with only a month left until September, it's time to have more fun with your summer beauty game. We've come up with a gorgeous beauty idea for every last day in August. Test some now, pin others for later, and look amazing all month long.

That elusive, perfect-every-day haircut can be yours. Don't be skeptical, now; these sweet, shorter styles are as easy to pull off as they are flattering. So chop chop!

The wedding dresses on the spring 2015 runways were beautiful, breezy, and fresh—just like a breath of warm spring air. No matter where or when you'll say your vows (or how big or small your budget is), your dream wedding dress is just a few clicks away.

The results were crazy awesome.

There are no bad bodies, just bad jeans! Consider your denim problem areas solved (thanks to our 50-pair editor try-on).

Mascara wands are getting fatter, but that may not help your lashes. There's a better way to gain weight.

Three summers ago, I bought a pair of soft, white-calfskin Chanel loafers. I spent months trying to keep them pristine, but it wasn't long before a July thunderstorm left them and me soaked. I began steeling myself for what I thought was inevitable: a solemn drop in the trash. But once the loafers dried, I found the shoes' stained stitching—now storm-cloud gray—was lovely and a few new wrinkles in the leather were charming, like smile lines for shoes. I started to wear them freely—taking on puddles and tossing them onto the sand at the beach—and before long, they transformed. The roughened toe-tops reminded me of a welcoming, worn armchair, and a wet-and-hot summer had molded the material perfectly to my feet.

When the clock's ticking, digging though every compact in your bathroom is an exercise in frustration. What you need is one simple bag with a selection of products that help you pull yourself together as quickly as possible, at home or on the road. In it:

You know the freshly scrubbed, athletic look that defines American beauty? Turns out it's been centuries in the making.

According to Hollywood's top hairstylists, celebrity clients get sticky fingers when it comes to these no-fail products.

The American company that helped to popularize the shapewear trend has moved into the world of denim with a new jeans collection.

What to wear and what to avoid the next time you attend a wedding.