Strange shoe accessories prevent slipping on ice
Nordic Grip Mini Ice Grippers are the ultimate winter accessory for women's shoes.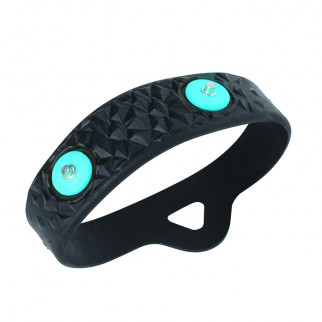 Some of us refuse to give up our high heels, despite blustery weather and snowfall. But now, we needn't worry about slipping on the ice—a British company is selling the ultimate winter accessory for shoe lovers.

The Nordic Grip Mini Ice Grippers are basically fancy rubber bands that slip over the toes of your shoes for a slip-free experience, no matter what kind of shoes you're wearing (they stretch over all different types of shoes, from mile-high stilettos to boots). 

More from Living: Worst celeb fashions of the year

"Party shoes and icy surfaces are a bad combination," they say on their web site.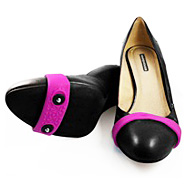 "Nordic Grips' smart Mini is a discreet, small and cool grip which is perfect on your way to or from a party on icy ground. The grip comes in a practical box making it easy to store in a jacket pocket or in your handbag ready for those icy winter nights."

More from Living: 10 things every woman should have
Now, if only we could figure out how to warm up our toes in those stilettos…

Tell us: Would you wear these rubber band contraptions on your shoes?
Photo: Nordic Grip

More from Simply Chic:
Fighting crime with chic jewelry
The most "OMG, WHAT!?" looks from London Men's Fashion Week
The hottest manicure styles of 2013
beauty tips and style advice
I can't tell you how many times one ill-timed sneeze ruined all of my hard work with a mascara wand. #allergyproblems.

While we're not averse to shelling out upwards of $30 for an amazing lipstick, many of our standby lip colors cost a whole lot less than that. The drugstore is full of high-quality, long-lasting lipsticks in gorgeous shades that—wait for it!—ring in under $10. Click through above to shop our favorites!

What's the perfect add-on to your beauty look? A hair accessory, of course! Just when you think you've seen it all, every year there seems to be a new "it" hair piece that rules the moment. In the '50s, a dainty bow-tied head scarf was perfectly housewife-chic. In the '60s and '70s, real flower crowns officially became the epitome of boho style—your outfit simply wasn't complete without a daisy topper. Fast-forward to the '90s and you had a bevy of creative hair charms and baubles, including butterfly clips, hair wraps and those infamous bra strap headbands (shudder).

The right blush can warm up your complexion, create the illusion of cheekbones, and even make you look younger. (Yes, really!) Here, the most flattering shades for fair, medium, olive, and dark skin.

Think you can't put a price on looking younger? Well, we did—and it's $25. We challenged dermatologists to find great products that don't cost even one cent over that amount.

You want to dress in a way that's young and cool but that doesn't suggest you're on your way to a One Direction concert. "The trick to looking younger is adding one fashionable piece to a classic outfit," says stylist Cher Coulter. Here's how to nail it.