An Expiration Date for Your Marriage?
One guy proposes a time limit for marriage as the cure for divorce. Yeah, good luck with that one.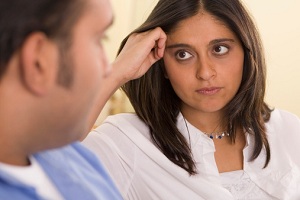 If you're married and under the age of 45, there's a 50 percent chance your union won't last. But despite that fact, most people tie the knot with 'forever' in mind. Sure, they might not realize the heft of 'forever', but usually, the intention is: till death do us part.
But Tad Low, a writer for Men's Health, says therein lies the problem. He argues that, because most couples know they've got each other locked down, they stop trying. We know where he's coming from, right? We've all seen the slew of sitcoms featuring a half-assed husband and his hot wife.
But here's where Tad gets controversial. He proposes the concept of "time-limited marriage." Instead of committing for life, each partner has the opportunity to end their 'contract' at predetermined intervals: every three years, five years, seven years, etc. Think of it as a maintenance schedule for your marriage.
Generally, the reaction is…well, here. I'll let this commenter explain:
"Hell no."

But come on; let's hear Tad out. His theory is that a marriage contract would force each partner to try. It would keep them on their toes, making them work for their marriage. Theoretically, it would keep the fire going, and ultimately—prevent divorce.
And if you're really committed to each other, and confident about it, you shouldn't have to worry whether or not you or your other half would want to renew the contract. If there's doubt, marriage might not be the best idea in the first place.
Then again, marriage is work. And where there's work, there are people who want to quit. Perhaps an expiration date on your 'contract' would encourage that. Saying 'I do' means a commitment forever, for all time, for better or—and here's where the work part comes in—for worse. It's kind of a big deal.
Also, the concept sort of begs the question, what's the point? There's always the possibility of being together forever and not getting married. Or am I just crazy talking now?
beauty tips and style advice
You know that classic nightmare where you walk into school or work completely naked? That's how I feel when I'm having a bad hair day. Like I don't want anyone to look at me and it takes everything I have not to immediately turn around and run back home.

Victoria Beckham will share her fashion story and give inside access to her brand via The Skype Collaboration Project in January 2014.

Just when we thought Pamela Anderson's sleek pixie marked her biggest hair makeover this year, the star ditched her trademark blonde hue.

Yes! Lupita Nyong'O shows us how.

Take the health of your hair up a notch with these natural treatments

Nope, it's not your resume.

This is why a short wedding dress makes sense.

The Queen is a handbag trendsetter, apparently.

You know winter is here when you pull off your clothes and find the insides lined with a thin coating of tiny dry skin particles. (Am I alone here, or do I have more serious dry skin issues than I thought?)

Yesterday I popped by the Clear Clinic, a dedicated acne treatment center that a lot of people (including a Glamour beauty blogger or two) swear have helped cure them of the dreaded spots.

The first thing I noticed about this photo of Keira Knightley at a London gala last night was her 90s-chic makeup, featuring matte pale foundation and lots of black eyeliner.

It's the stuff of pinups, old Hollywood glamour, and even science study after study says guys really go for it. But that classic Rita Hayworth red doesn't necessarily flatter every complexion. We rounded up the absolute best reds for every skin tone, so you can breeze through the sea of cherries, raspberries, and any other scarlet fruit.