An Expiration Date for Your Marriage?
One guy proposes a time limit for marriage as the cure for divorce. Yeah, good luck with that one.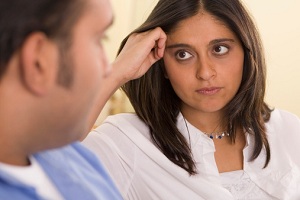 If you're married and under the age of 45, there's a 50 percent chance your union won't last. But despite that fact, most people tie the knot with 'forever' in mind. Sure, they might not realize the heft of 'forever', but usually, the intention is: till death do us part.
But Tad Low, a writer for Men's Health, says therein lies the problem. He argues that, because most couples know they've got each other locked down, they stop trying. We know where he's coming from, right? We've all seen the slew of sitcoms featuring a half-assed husband and his hot wife.
But here's where Tad gets controversial. He proposes the concept of "time-limited marriage." Instead of committing for life, each partner has the opportunity to end their 'contract' at predetermined intervals: every three years, five years, seven years, etc. Think of it as a maintenance schedule for your marriage.
Generally, the reaction is…well, here. I'll let this commenter explain:
"Hell no."

But come on; let's hear Tad out. His theory is that a marriage contract would force each partner to try. It would keep them on their toes, making them work for their marriage. Theoretically, it would keep the fire going, and ultimately—prevent divorce.
And if you're really committed to each other, and confident about it, you shouldn't have to worry whether or not you or your other half would want to renew the contract. If there's doubt, marriage might not be the best idea in the first place.
Then again, marriage is work. And where there's work, there are people who want to quit. Perhaps an expiration date on your 'contract' would encourage that. Saying 'I do' means a commitment forever, for all time, for better or—and here's where the work part comes in—for worse. It's kind of a big deal.
Also, the concept sort of begs the question, what's the point? There's always the possibility of being together forever and not getting married. Or am I just crazy talking now?
fashion: trends & must-haves for your wardrobe
When morning talk shows and local newspapers dole out their seasonal swimsuit shopping advice, I'm usually pretty disappointed by the lack of body types represented. What about the women who don't resemble fruit? (Or aren't boy-shaped—the third "one of these things is not like the other" category I've never quite understood. Couldn't they say "banana?" Or is that somehow more offensive than "apple" and "pear" shapes?)

Ready to refresh your hair and makeup for spring? Well, look no further for your latest batch of inspiration. These ladies are bringing the beauty brilliance with megawatt lipstick shades, sleek haircuts, and must-try hair colors. Get ready to play copycat.

Long, layered, medium or wavy – we're sharing our favorite hairstyles of 2013 with a new 'do each day. Stuck in a hair rut? Check back daily for snappy new looks that are sure to give your locks some beauty inspiration.

Step into spring with style in June Ambrose's new shoe line for HSN.

Revamp your corporate look with graphic prints and bold color.

If you have only five makeup tools in your kit, make sure these are them. They do much more than just look cute on your vanity!

Think all it can do is shellac everything down, helmet-head style? So wrong! A can of whatever's in your cabinet is your secret beauty weapon. Try it like this.

You may not get wrinkles on your hair, but it ages all the same. Grays, dullness, thinning strands, and frizz are all (unfortunately) part of the hair's aging process, which starts happening in your 30s. The good news is that you don't need Botox to fix these problems. Here are six tips for hair that's shiny, bouncy, healthy—and, yes, younger looking.

Our fashion-savvy FLOTUS shows us she is truly a master at mixing high- and low-end designs.

Get ready for summer with these cute and easy to DIY nail art designs.

Brides, it's your big day and you want to look special. Please, whatever you do, don't wear one of these wedding dresses. These are truly the worst.

Even if you're the best friend of all time, no bridesmaid should ever have to wear these worst-ever bridesmaid dresses. Lace, ruffles and satin overload!