An Expiration Date for Your Marriage?
One guy proposes a time limit for marriage as the cure for divorce. Yeah, good luck with that one.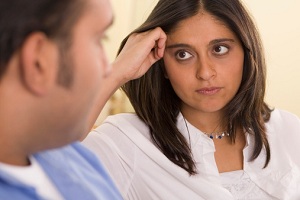 If you're married and under the age of 45, there's a 50 percent chance your union won't last. But despite that fact, most people tie the knot with 'forever' in mind. Sure, they might not realize the heft of 'forever', but usually, the intention is: till death do us part.
But Tad Low, a writer for Men's Health, says therein lies the problem. He argues that, because most couples know they've got each other locked down, they stop trying. We know where he's coming from, right? We've all seen the slew of sitcoms featuring a half-assed husband and his hot wife.
But here's where Tad gets controversial. He proposes the concept of "time-limited marriage." Instead of committing for life, each partner has the opportunity to end their 'contract' at predetermined intervals: every three years, five years, seven years, etc. Think of it as a maintenance schedule for your marriage.
Generally, the reaction is…well, here. I'll let this commenter explain:
"Hell no."

But come on; let's hear Tad out. His theory is that a marriage contract would force each partner to try. It would keep them on their toes, making them work for their marriage. Theoretically, it would keep the fire going, and ultimately—prevent divorce.
And if you're really committed to each other, and confident about it, you shouldn't have to worry whether or not you or your other half would want to renew the contract. If there's doubt, marriage might not be the best idea in the first place.
Then again, marriage is work. And where there's work, there are people who want to quit. Perhaps an expiration date on your 'contract' would encourage that. Saying 'I do' means a commitment forever, for all time, for better or—and here's where the work part comes in—for worse. It's kind of a big deal.
Also, the concept sort of begs the question, what's the point? There's always the possibility of being together forever and not getting married. Or am I just crazy talking now?
beauty tips and style advice
See 15 fragrances for every personality on your holiday list.

Click to see 15 dog-walking outfits inspired by celebrities.

We're sure this enigmatic purple shade will be everywhere next year, from fashion and beauty to home, and we're pumped for its impending takeover. We've rounded up some of our favorite celebrity looks in Radiant Orchid, including Jessica Paré, Kristen Bell, Amy Adams, and Krysten Ritter, to give you a preview of what you can expect to see in 2014. Commit Radiant Orchid to memory—you're going to be spotting much more of it in the coming months.

What do you wear to a holiday party? Whether you're heading to a family shindig or an after-work office soiree, crib these style tips and lessons learned from some of our favorite celebrity dos and don'ts of the festive season.

We caught up with the new mommy to find out the trick to keeping her makeup on point—even when she's not in front of the cameras.

Kristen Stewart is known for her casual style, both on and off the red carpet

You can rent a couture dress or a designer bag, but would you rent hair extensions?

To get the scoop on quick office party beauty tricks, we turned to Landy Dean, celebrity makeup artist at Marie Robinson salon. His simple tutorial requires only a handful of products, starting with the darkest, inkiest eyeliner you can find. Dean swears by the Nars Larger Than Life liners smudged over the waterline and lashline, topped off with a few coats of Maybelline The Falsies mascara. Before you dash off to apply product, there's one small step that involves removing makeup. "If your foundation and concealer have caked or creased, I recommend a quick removal with a cleansing towelette and a redo to avoid heavy looking skin," he cautions. For those who would prefer to go the easy route, apply a hydrating moisturizer using a stippling motion and a sponge. Finish the look with a dusting of BareMinerals Mineral Veil—"this will even out discolorations and give a reflective finish that still looks natural"—swap your work bag for a chic clutch, and get ready to ring in the season.

Here's something to brighten up your Tuesday afternoon: The brilliant minds at Moschino have always been masters at combining fashion and whimsical, quirky humor—and this season, they've gone and outdone themselves.

It's looking to be a winter wonderland out there today and that means extreme sweater weather.

Check out these mind-blowing runway photos.

Click to see 10 must-have hair tools to streamline your beauty routine.