An Expiration Date for Your Marriage?
One guy proposes a time limit for marriage as the cure for divorce. Yeah, good luck with that one.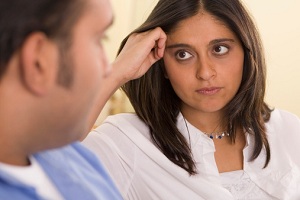 If you're married and under the age of 45, there's a 50 percent chance your union won't last. But despite that fact, most people tie the knot with 'forever' in mind. Sure, they might not realize the heft of 'forever', but usually, the intention is: till death do us part.
But Tad Low, a writer for Men's Health, says therein lies the problem. He argues that, because most couples know they've got each other locked down, they stop trying. We know where he's coming from, right? We've all seen the slew of sitcoms featuring a half-assed husband and his hot wife.
But here's where Tad gets controversial. He proposes the concept of "time-limited marriage." Instead of committing for life, each partner has the opportunity to end their 'contract' at predetermined intervals: every three years, five years, seven years, etc. Think of it as a maintenance schedule for your marriage.
Generally, the reaction is…well, here. I'll let this commenter explain:
"Hell no."

But come on; let's hear Tad out. His theory is that a marriage contract would force each partner to try. It would keep them on their toes, making them work for their marriage. Theoretically, it would keep the fire going, and ultimately—prevent divorce.
And if you're really committed to each other, and confident about it, you shouldn't have to worry whether or not you or your other half would want to renew the contract. If there's doubt, marriage might not be the best idea in the first place.
Then again, marriage is work. And where there's work, there are people who want to quit. Perhaps an expiration date on your 'contract' would encourage that. Saying 'I do' means a commitment forever, for all time, for better or—and here's where the work part comes in—for worse. It's kind of a big deal.
Also, the concept sort of begs the question, what's the point? There's always the possibility of being together forever and not getting married. Or am I just crazy talking now?
beauty tips and style advice
Wrinkle no blouse, tangle no jewelry, leave no beauty product behind, and still have room to spare.

Hue-changing dos we absolutely love.

Why your jean size varies from store to store.

Wait a month between waxing visits? Check. Pop a preappointment Advil? Duh. We all know the basics, but here are the tricks you don't know.

What to always—and never, ever—do to keep hair in top shape.

Get inspired to try these sweet and summery looks.

Stunning wedding styles that create a statement.

I attended the Abercrombie and Fitch holiday-season press preview yesterday, and in between checking out the cute gear that will hit stores this November, I picked up a little nugget of information I just have to share.

How to wear this cool-weather staple in the summer.

See how Miranda Kerr made a pair of Birkenstocks chic.

We love how a new nail polish has the ability to instantly change your look and your mood with a simple swipe. While happy lime greens and aquas are ruling the five million #nailpolish Instagrams this summer, there are a variety of great colors to choose from—whether you want an office-appropriate neutral or a fun going-out shade that'll give your LBD a punch of color.

You already know wearing white after Labor Day is cool. But menswear is reinventing itself rapidly, leaving some long-held mandates by the wayside, not to mention a bunch of men with a lot of questions. Sure, some style laws are truly inviolable. Showing a quarter-inch of cuff will always be crucial, but with designers and dandies flaunting so many former taboos it's hard to tell what's in play these days. So we thought we'd take this opportunity to let you know which rules no longer apply.