Pajamas in Public: Illegal? Or the Latest Fashion Trend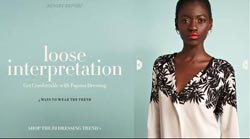 Just last week we were slapped with the strange news that the state of Louisiana wants to ban wearing
pajamas in public
, meaning that any "garment sold in the sleepwear section of department stores" would not be allowed in public places.
But nearly as soon as we saw the trend of wearing bedroom attire in public get flack, we see it come full circle as one of the most recent fashion trends.

In fact, Shopbop.com has highlighted the trend as one of its hottest, choosing a conglomeration of pajama-ish items to wear as clothing. From draped pocket trousers (a fancy word for pajama pants, so it seems), to long-sleeve blouses that remind us of pajamas from the past, they've got an entire section dedicated to rocking the trend. 

But is this latest look here to stay, or just a comfy, cozy excuse to dress down? Either way, we're down for more pajama parties in 2012. That is, if its still legal. 
Tell us: Would you wear pajamas in public?

I think the pajamas may be a bad fashion choice, but banning them is ridiculous. The flannel and fleece pants are about the most modest thing a girl can wear in public compared to the half naked outfits that are popular today. This law is a perfect example of the backwards state of society today. Commissioner Williams actually said he wants to "save the kids" with this. Does he realize the immoral downward spiral society is in?  A little kid who grows up seeing girls barely dressed and hanging out is morally affected for the worse, so if anything we need modesty laws...to save our kids.


Wearing pajamas in public is lazy and trashy and I do it anyway! 

You shouldn't assume that it means the person is living off food stamps or wants to disrespect you.  I actually just finished my master's degree and am employed as an educational psychologist but on the weekends I have been known to wear my pajama pants to Kroger and grab some milk or cereal or whatever else is on my list...

I do not dress casually at work and I do not live off of the tax payer's dime.  If it bothers you then don't wear your pajamas in public.  As long as what they are wearing is not indecently exposing their bodies you should be able to deal with it without having a major melt down.

It is not the government's place (or my neighbor's place) to tell me I can't wear something because it makes me look "lazy".  Maybe if I'm naked or at work... otherwise mind your own business.



Do I think wearing PJs in public implies laziness and a presents a sloppy appearance? Yes.  Do I think that if your Jeans are so uncomfortable that you wear PJs as your casual pants that it is probably time to buy bigger jeans? Yes. Do I think PJs in public is incredibly awkward and trashy, even on college students? Yes. 
All of this being said, I definitely do not think PJs in public should be banned. I'll never wear my PJs in public, but if the government starts telling us what we can and can't wear where does it stop?  

People that wear their PJ's to do their marketing and shopping are disrespecting themselves and others and have no pride for themselves or their families.  It shows that they are just downright lazy and I would not employ an individual whose fashion choice was to wear PJ's in Public.  But then again, we have an Administration that will give people more benefits not to work then to support themselves. We pay people for 99 weeks not to work, plus we give them Welfare and Food stamps at the same time.  In 99 weeks an individual could get an AA degree in an area of their choosing and paid for by tax payers.   
Are you sure you want to delete this comment?
beauty tips and style advice
Every year, we look to the biggest names in bridal beauty and fashion design to pinpoint the hottest bridal hair and makeup ideas – keeping in mind of course that this is a wedding (no crazy neon mascara here). This year, bridal beauty has gone extra natural and romantic -- think messy braids, wispy hair, natural eye makeup and more.

You've got the dress. You've got the venue, date, and invitations. The last thing you need to complete your wedding day? An amazing pair of shoes to wear as you walk down the aisle!

With the dress as the main focus, you want the hair to be understated. An updo does just that. But there's a difference between understated and boring. Adding simple accessories, like a pin or flower, is just enough decoration to the hair. Let these gorgeous pins serve as inspiration for finding a simple, yet understated, wedding hairstyle.

Just when we were getting used to seeing beards everywhere, it may be time for men who enjoy the attention of the opposite sex to invest in some shaving paraphernalia. In a new University of New South Wales study, researchers found that "when people are confronted by a succession of bearded men, clean-shaven men become [...]

If your arm aches just thinking about blow-drying, take heart: These easy hair-saving tips will cut down on your mirror time and deliver salon-level results.

From designer maxi dresses by Roberto Cavalli and Temperley London to contemporary finds by Alice + Olivia and Zimmermann, there's a dress for every kind of seaside bride.

Mom jeans are back this spring.

We combed our favorite online shopping haunts to find 20 stunning options for the unconventional bride who'd rather splurge on the perfect flowers and a signature cocktail than her aisle-bound gown. These gowns and frocks from Rae Francis, Black Halo Eve and Jill By Jill Stewart €"plus one epic jumpsuit by Rachel Zoe €"are the perfect antidote to the strapless fishtail option most brides seem to favor right now. You're certainly not basic, so why would your dress be?

We've rounded up 10 red carpet inspirations for long hair wedding hairstyles that don't scream "bridal," but are perfect for a walk down the aisle.

We're not in the habit of feeling sorry for supermodels. We reserve our sympathy for a less fortunate set, namely, everyone else on planet Earth.

How to love everything in your closet

Every season, wedding dress designers unveil their latest collections, and without fail, there are a handful of designs that give us pause. We're talking about beautifully designed dresses -- not meant for the fainthearted. For the Fall 2014 and Spring 2015 collections, these are the ones.