Pajamas in Public: Illegal? Or the Latest Fashion Trend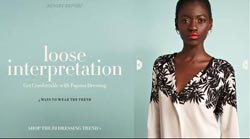 Just last week we were slapped with the strange news that the state of Louisiana wants to ban wearing
pajamas in public
, meaning that any "garment sold in the sleepwear section of department stores" would not be allowed in public places.
But nearly as soon as we saw the trend of wearing bedroom attire in public get flack, we see it come full circle as one of the most recent fashion trends.

In fact, Shopbop.com has highlighted the trend as one of its hottest, choosing a conglomeration of pajama-ish items to wear as clothing. From draped pocket trousers (a fancy word for pajama pants, so it seems), to long-sleeve blouses that remind us of pajamas from the past, they've got an entire section dedicated to rocking the trend. 

But is this latest look here to stay, or just a comfy, cozy excuse to dress down? Either way, we're down for more pajama parties in 2012. That is, if its still legal. 
Tell us: Would you wear pajamas in public?

I think the pajamas may be a bad fashion choice, but banning them is ridiculous. The flannel and fleece pants are about the most modest thing a girl can wear in public compared to the half naked outfits that are popular today. This law is a perfect example of the backwards state of society today. Commissioner Williams actually said he wants to "save the kids" with this. Does he realize the immoral downward spiral society is in?  A little kid who grows up seeing girls barely dressed and hanging out is morally affected for the worse, so if anything we need modesty laws...to save our kids.


Wearing pajamas in public is lazy and trashy and I do it anyway! 

You shouldn't assume that it means the person is living off food stamps or wants to disrespect you.  I actually just finished my master's degree and am employed as an educational psychologist but on the weekends I have been known to wear my pajama pants to Kroger and grab some milk or cereal or whatever else is on my list...

I do not dress casually at work and I do not live off of the tax payer's dime.  If it bothers you then don't wear your pajamas in public.  As long as what they are wearing is not indecently exposing their bodies you should be able to deal with it without having a major melt down.

It is not the government's place (or my neighbor's place) to tell me I can't wear something because it makes me look "lazy".  Maybe if I'm naked or at work... otherwise mind your own business.



Do I think wearing PJs in public implies laziness and a presents a sloppy appearance? Yes.  Do I think that if your Jeans are so uncomfortable that you wear PJs as your casual pants that it is probably time to buy bigger jeans? Yes. Do I think PJs in public is incredibly awkward and trashy, even on college students? Yes. 
All of this being said, I definitely do not think PJs in public should be banned. I'll never wear my PJs in public, but if the government starts telling us what we can and can't wear where does it stop?  

People that wear their PJ's to do their marketing and shopping are disrespecting themselves and others and have no pride for themselves or their families.  It shows that they are just downright lazy and I would not employ an individual whose fashion choice was to wear PJ's in Public.  But then again, we have an Administration that will give people more benefits not to work then to support themselves. We pay people for 99 weeks not to work, plus we give them Welfare and Food stamps at the same time.  In 99 weeks an individual could get an AA degree in an area of their choosing and paid for by tax payers.   
Are you sure you want to delete this comment?
beauty tips and style advice
Sprinkle in these wet weather essentials so you'll be ready for whatever these springtime days bring.

Let's face it: winter's bitter cold left us feeling disillusioned with our wardrobes. So with warmer days ahead, it's time to shop for must-have pieces that'll keep your look fresh for months to come.

Every bride deserves to look flawless on her wedding day. So we say: Indulge a little. Book a facial (or six!) and invest in a great waterproof mascara. With this guide, getting ready for your big day has never been easier.

Reality TV: such a mindless guilty pleasure, mostly filled with questionable spray tans and insane hair extensions. But in honor of the season premiere of one of our favorites, The Real Housewives of Orange County, we decided to celebrate a select few reality stars who've displayed legitimately great hair and makeup. Yes, there actually are a few! And we had to go all the way back to The Real World of the mid-'90s to find our first.

I can't tell you how many times one ill-timed sneeze ruined all of my hard work with a mascara wand. #allergyproblems.

While we're not averse to shelling out upwards of $30 for an amazing lipstick, many of our standby lip colors cost a whole lot less than that. The drugstore is full of high-quality, long-lasting lipsticks in gorgeous shades that—wait for it!—ring in under $10. Click through above to shop our favorites!

What's the perfect add-on to your beauty look? A hair accessory, of course! Just when you think you've seen it all, every year there seems to be a new "it" hair piece that rules the moment. In the '50s, a dainty bow-tied head scarf was perfectly housewife-chic. In the '60s and '70s, real flower crowns officially became the epitome of boho style—your outfit simply wasn't complete without a daisy topper. Fast-forward to the '90s and you had a bevy of creative hair charms and baubles, including butterfly clips, hair wraps and those infamous bra strap headbands (shudder).

The right blush can warm up your complexion, create the illusion of cheekbones, and even make you look younger. (Yes, really!) Here, the most flattering shades for fair, medium, olive, and dark skin.

Think you can't put a price on looking younger? Well, we did—and it's $25. We challenged dermatologists to find great products that don't cost even one cent over that amount.

You want to dress in a way that's young and cool but that doesn't suggest you're on your way to a One Direction concert. "The trick to looking younger is adding one fashionable piece to a classic outfit," says stylist Cher Coulter. Here's how to nail it.

Hair color is one of the most effective anti-aging tools we have—except when it isn't. Take your dye job too far (or inky, or frosty) and you can add years to your appearance. Three top colorists weigh in on what to avoid.

News flash: Your youth fix doesn't have to come in a bottle—or a needle. Your hairstyle could actually take years off (or add them to) your look. Don't believe us? Check out these celebrities—each one gorgeous, of course, but also looking older due to certain overly perfect hairdos. Anti-aging tip number one? Mess it up a little.