Study: How Household Chores Cause Relationship Stress
For women, gender inequality makes housework worse.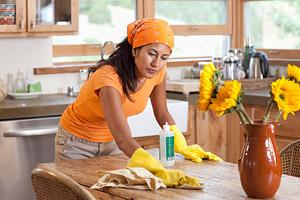 Even the happiest of couples are bound to occasionally argue over whose turn it is to do the dishes. But for some women, the topic of housework might be a little more unsettling. A recent study from Sweden's Umea University revealed that, for some, the issue actually causes psychological distress.
Researchers studied 723 subjects—men and women—and asked them about their relationship issues. At age 21, they found that both men and women had approximately the same level of psychological distress. By age 42, men's stress levels stayed the same, but women reported higher levels of distress. The key contributor? An uneven distribution of chores.
But of course, the issue runs a bit deeper than doing the laundry. The women who tackled most of the housework only experienced "distress" if they also described their relationship as "not gender-equal." The women who felt they were in an equal relationship didn't seem bothered by the fact that they did more housework than their partners.
"The results of this study indicate that it is not only a matter of whether the responsibility for domestic work is equal or not, but also the relational context in which the responsibilities are divided within the couple relationship," the authors wrote.
How did men fare in the study? Researchers found that one of the biggest causes of psychological distress for guys was earning less than their partners.
Psychologist Jill Weber tells WebMD that the findings are unsurprising:
"In general, men who earn less than their wives or who are out of work don't feel respected, and respect is a hot-button issue for men," Weber says.
As for the ladies, Weber says it's not really about the chores.
"It's the feeling that the woman is not getting support from her partner. Inequality often translates as a lack of emotional support."
So basically, a woman isn't as bothered by doing most of the scrubbing, vacuuming, dusting, etc.—if she has an emotionally supportive man by her side.
But I'm guessing it doesn't hurt if he can scrub a toilet, too.
Photo: John Lund/Marc Romanelli/Getty Images
More on love & sex from MSN Living:
How to Reconnect with Your Spouse
10 Fun, Frisky Ways to Spice Up Your Relationship
The Dos and Donts of Sex in 2012

.........wow some people. So you can work, clean the house, take care of the kids needs, help with homework, cook dinner, clean up after dinner, bathe kids, do the laundry and then take care of the biggest kid of all, the "man", or husband after he sat on his butt after work cause he had a long day.....And there is just nothin to it. A woman should be able to do that right, I mean she is a woman.......
I am glad my husband knows I work my **** off for this family.Some of you just suck...

My husband can't even lower the toilet seat.  I sure as heck don't want him cleaning our house.
If this causes such strife and stress, hire a maid.  If a maid is not in your budget, forego a few restaurant meals.
Bottom line is this is a silly issue to fight about, and if this is the biggest problem a couple has in their marriage, they should consider themselves lucky.

Here is what's really at the heart of this issue.  If a man provides financially for his wife then she should absolutely do the cleaning and cooking otherwise she is just dead weight.  If the woman works and carries herself in the relationship and enjoys being independent then the couple should share in the chores as equally as possible.  The problem today is that too many women want to be supported and don't want to cook or clean etc...  This essentially renders them as dead weight to their partners and causes major cold feet... 
Are you sure you want to delete this comment?
beauty tips and style advice
"Unfortunately like most magazines, media and images you see on here, the girls have been retouched to look, taller, thinner ... all to see a product."

The redeeming factor of summer, sadly, not being endless? New seasons require a different wardrobe, and there's no time like the present to start your fall shopping. With autumn creeping up, I already know the boots and sweaters I'll be heaving out of the stuffed containers under my bed that I think of fondly as my second closet…but there's always room for fresh blood. I quizzed Shopbop's fashion director, Elle Strauss, for help with getting the best strategy in place. Herewith, the 10 pieces she suggests picking up now (plus chic ideas for how to start incorporating them into your current closet).

These jeans aren't just distressed, they're destroyed, and all the cooler for it — the perfect way to make a basic T-shirt feel totally badass.

These products are so great they've attained cult status among beauty insiders—yet you can find them just about anywhere without blowing your budget.

Those awesome back-to-school outfits are begging for some killer kicks! Strut down the hallway in fall's hottest shoe trends.

These stars don't sleep in a hyperbaric chamber (that we know of), yet they seem to look better with each passing year. That's because somewhere along the way, they discovered a few signature makeup tricks that make all the difference. Steal some of their game-changing moves.

Your closet update just got way easier. Sneakers, heels, boots, flats—we've got it all covered.

Dressing right gets tricky when summer turns to fall. It's too warm for tweed, but shorts just don't feel right anymore. Fortunately, Esquire's got it all figured out for you.

When you're flying in a metal tube at 30,000 feet, comfort trumps style. To help you avoid an in-flight fashion faux pas, avoid wearing the 5 items below.

In the pursuit of silky, swingy, frizz-free hair, there are a dizzying number of tempting in-salon services to choose from. We grilled chemists and stylists on what works (and what's safe). Here are the eight things you—and your hair—need to know before you commit.

Beauty products have a lot of power. Applied expertly, they can make you look vibrant, gorgeous and at least five years younger. If you aren't using them correctly, though, the same products can add a few years to your gorgeous visage. But before mothers of the bride go into panic mode, read on. We asked makeup artist Brigitte Reiss-Andersen, who's worked with the likes of Meryl Streep, Michelle Pfeiffer and Rachel Weisz, to divulge common beauty mistakes that you can nip in the bud before your daughter's wedding.

Some people apply makeup at a vanity that's crying out to be on Pinterest, and others rummage through a drawer overflowing with their 103 absolute must-have, use-daily products—but everybody can benefit from a few clever storage tricks. These are the smartest ways we've ever heard to keep your products and tools organized, accessible, and most of all, beautiful.