Study: How Household Chores Cause Relationship Stress
For women, gender inequality makes housework worse.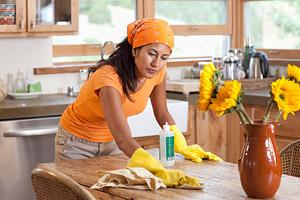 Even the happiest of couples are bound to occasionally argue over whose turn it is to do the dishes. But for some women, the topic of housework might be a little more unsettling. A recent study from Sweden's Umea University revealed that, for some, the issue actually causes psychological distress.
Researchers studied 723 subjects—men and women—and asked them about their relationship issues. At age 21, they found that both men and women had approximately the same level of psychological distress. By age 42, men's stress levels stayed the same, but women reported higher levels of distress. The key contributor? An uneven distribution of chores.
But of course, the issue runs a bit deeper than doing the laundry. The women who tackled most of the housework only experienced "distress" if they also described their relationship as "not gender-equal." The women who felt they were in an equal relationship didn't seem bothered by the fact that they did more housework than their partners.
"The results of this study indicate that it is not only a matter of whether the responsibility for domestic work is equal or not, but also the relational context in which the responsibilities are divided within the couple relationship," the authors wrote.
How did men fare in the study? Researchers found that one of the biggest causes of psychological distress for guys was earning less than their partners.
Psychologist Jill Weber tells WebMD that the findings are unsurprising:
"In general, men who earn less than their wives or who are out of work don't feel respected, and respect is a hot-button issue for men," Weber says.
As for the ladies, Weber says it's not really about the chores.
"It's the feeling that the woman is not getting support from her partner. Inequality often translates as a lack of emotional support."
So basically, a woman isn't as bothered by doing most of the scrubbing, vacuuming, dusting, etc.—if she has an emotionally supportive man by her side.
But I'm guessing it doesn't hurt if he can scrub a toilet, too.
Photo: John Lund/Marc Romanelli/Getty Images
More on love & sex from MSN Living:
How to Reconnect with Your Spouse
10 Fun, Frisky Ways to Spice Up Your Relationship
The Dos and Donts of Sex in 2012

.........wow some people. So you can work, clean the house, take care of the kids needs, help with homework, cook dinner, clean up after dinner, bathe kids, do the laundry and then take care of the biggest kid of all, the "man", or husband after he sat on his butt after work cause he had a long day.....And there is just nothin to it. A woman should be able to do that right, I mean she is a woman.......
I am glad my husband knows I work my **** off for this family.Some of you just suck...

My husband can't even lower the toilet seat.  I sure as heck don't want him cleaning our house.
If this causes such strife and stress, hire a maid.  If a maid is not in your budget, forego a few restaurant meals.
Bottom line is this is a silly issue to fight about, and if this is the biggest problem a couple has in their marriage, they should consider themselves lucky.

Here is what's really at the heart of this issue.  If a man provides financially for his wife then she should absolutely do the cleaning and cooking otherwise she is just dead weight.  If the woman works and carries herself in the relationship and enjoys being independent then the couple should share in the chores as equally as possible.  The problem today is that too many women want to be supported and don't want to cook or clean etc...  This essentially renders them as dead weight to their partners and causes major cold feet... 
Are you sure you want to delete this comment?
beauty tips and style advice
You know that classic nightmare where you walk into school or work completely naked? That's how I feel when I'm having a bad hair day. Like I don't want anyone to look at me and it takes everything I have not to immediately turn around and run back home.

Victoria Beckham will share her fashion story and give inside access to her brand via The Skype Collaboration Project in January 2014.

Just when we thought Pamela Anderson's sleek pixie marked her biggest hair makeover this year, the star ditched her trademark blonde hue.

Yes! Lupita Nyong'O shows us how.

Take the health of your hair up a notch with these natural treatments

Nope, it's not your resume.

This is why a short wedding dress makes sense.

The Queen is a handbag trendsetter, apparently.

You know winter is here when you pull off your clothes and find the insides lined with a thin coating of tiny dry skin particles. (Am I alone here, or do I have more serious dry skin issues than I thought?)

Yesterday I popped by the Clear Clinic, a dedicated acne treatment center that a lot of people (including a Glamour beauty blogger or two) swear have helped cure them of the dreaded spots.

The first thing I noticed about this photo of Keira Knightley at a London gala last night was her 90s-chic makeup, featuring matte pale foundation and lots of black eyeliner.

It's the stuff of pinups, old Hollywood glamour, and even science study after study says guys really go for it. But that classic Rita Hayworth red doesn't necessarily flatter every complexion. We rounded up the absolute best reds for every skin tone, so you can breeze through the sea of cherries, raspberries, and any other scarlet fruit.