Exactly What to Wear to a "Cocktail Formal" Wedding
Plus, how to dress for every other wedding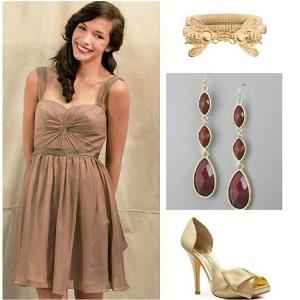 by
Kim Fusaro
,
Glamour Magazine
While we were chatting in the comments of
this post
yesterday,
Save the Date
reader Lauren_F mentioned that she once got a wedding invitation that indicated guests' attire should be "cocktail formal." Her reaction: "Well, what the hell is that?! I know what formal is, I know what cocktail is, but I don't know what cocktail formal is, so I just showed up in jeans and a t-shirt."
Kidding! "Okay, I actually wore a dress."
I agree that "cocktail formal" is a little bizarre! I would take a simple chiffon cocktail dress and jazz it up with some sparkly accessories, like this. (I can't decide if I love or hate the belt. Thoughts?!) And I think I'd try to fashion my hair in some sort of updo. (I'd probably fail, but I'd try!)
Related: 10 Wardrobe Essentials Every Woman Should Own


Forget Me Knot With Straps
from Ivy & Aster, $297.
ASOS Bug Buckle Metal Waist Belt
, $21.11.
Faceted Triple Drop Earrings
from New York & Co., $14.95.
Lulu Townsend Pump
from DSW, $49.95.
Regardless of the attire, if you're in your 20s it's hard to go wrong with a pretty chiffon dress in a muted color. The dress above would work for almost any wedding (except black or white tie) and it has a removable belt and removable straps, which make it extra versatile.
Related: 15 Gorgeous Hair Updates to Try
Here are the rest of my "How to Dress for a Wedding" guidelines. I've shared these before, but they're worth repeating!
White tie
is the most clear-cut—and the one you're least likely to see. This is the only time, as a woman, I'd feel obligated to wear a long dress. Guys wear tuxes with white shirts, ties and vests.
For a
black-tie
wedding, I'm OK with wearing a dressy cocktail dress and nice shoes. (Rory would wear his tux, which—trust me—is super-cute.) The old rules of etiquette said women should wear long dresses, but as long as you're in the
friends-of-the-bride​-and-groom
group—as opposed to the
friends-of-the-paren​ts
group—I think a respectable, not-too-short short dress is fine.
There's also
creative black tie
, which means guys are still expected to wear tuxes but they can have fun with their tie selection. (If it's possible to have fun with tie selection ...) Girls can pair whatever they'd wear to a black tie wedding with funky shoes or a bold bag.
Black tie optional
means the guys are free to wear a dark suit or tux. Ladies should just wear what they'd wear to a black tie wedding.
Our wedding invites said
formalwear
, which naturally confused people. Just because our wedding was outside and started in the late afternoon, we didn't want our guests showing up in dress shorts and button-downs or sundresses. But we couldn't say "black tie optional" when the groom and his guys would be wearing suits.
My friend's mother-in-law somehow slipped
casual elegance
onto their invites. She wanted guys in suits, but didn't think ties were necessary. After much deliberation, I wore a cotton Banana Republic dress with dressy heels. Variations on this: afternoon
elegant
,
semiformal
or
Sunday best
.
You might also see
cocktail attire
, which to me means a suit (dark or light) for the guys with ties optional and a fun cocktail dress for the ladies. While I wouldn't wear something mini to a black-tie wedding, I'd be comfortable going short if the invite side "cocktail attire."
For a wedding that fell near the winter holidays, I got an invite that said
festive attire
. I translated that as "something sparkly." Thankfully, I have a closet full of "something sparkly." Rory wore a suit and tie.
I've also received invites that said
shorts & sundresses
and
beach casual
. (Gotta love a New England wedding!) I wore sundresses—and packed flip-flops—for both.
beauty tips and style advice
You know that classic nightmare where you walk into school or work completely naked? That's how I feel when I'm having a bad hair day. Like I don't want anyone to look at me and it takes everything I have not to immediately turn around and run back home.

Victoria Beckham will share her fashion story and give inside access to her brand via The Skype Collaboration Project in January 2014.

Just when we thought Pamela Anderson's sleek pixie marked her biggest hair makeover this year, the star ditched her trademark blonde hue.

Yes! Lupita Nyong'O shows us how.

Take the health of your hair up a notch with these natural treatments

Nope, it's not your resume.

This is why a short wedding dress makes sense.

The Queen is a handbag trendsetter, apparently.

You know winter is here when you pull off your clothes and find the insides lined with a thin coating of tiny dry skin particles. (Am I alone here, or do I have more serious dry skin issues than I thought?)

Yesterday I popped by the Clear Clinic, a dedicated acne treatment center that a lot of people (including a Glamour beauty blogger or two) swear have helped cure them of the dreaded spots.

The first thing I noticed about this photo of Keira Knightley at a London gala last night was her 90s-chic makeup, featuring matte pale foundation and lots of black eyeliner.

It's the stuff of pinups, old Hollywood glamour, and even science study after study says guys really go for it. But that classic Rita Hayworth red doesn't necessarily flatter every complexion. We rounded up the absolute best reds for every skin tone, so you can breeze through the sea of cherries, raspberries, and any other scarlet fruit.