The real reason prom costs the average girl $1,139
Hint: It's not the dress.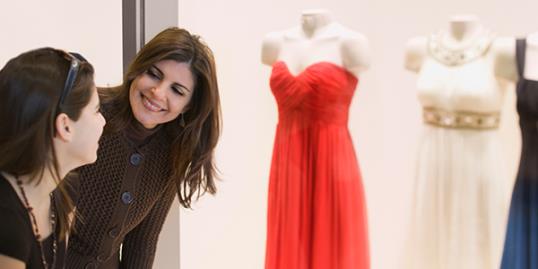 by Amy Wicks 

Subscribe to Simply Chic

It's that time of year when the fitting rooms at your local department store are full of girls trying on potential prom dresses. I don't know about you, but I have such wonderful memories of prom. I wore a vintage cream-colored dress (with gloves — I know) and dark blue Stuart Weitzman shoes that I have to admit, I still pull out from time to time. The whole look cost around $400. At the time, I thought that was kind of extravagant, but it turns out I have nothing on the girls who are attending prom this year. A new survey from Visa found that on average, families will spend $1,139 on prom this year. This figure is up 40 percent from 2011, when they spent $807.

When I saw Visa's report, I figured that large increase in prom spending was probably tied to buying fancier dresses. It turns out the answer is more complicated than that. "In today's world, teenagers and young adults have lost most of their discretionary buying power," said Marshal Cohen, chief industry analyst at market research firm NPD Group. He told me that after a year of being frugal, this is the one day when families will give their teens the ability to splurge. "This day is second only to their wedding," Cohen said.

More from Glamour: The 10 Prettiest Hair and Makeup Styles You Can Wear, According to Guys

Cohen went on to say that prom today could be compared to the movie "Footloose." Those kids had to abandon dancing altogether, and when they finally got it back, they could do it but be more responsible. He said prom is back in a big way, spending-wise, but even this $1,139 figure doesn't mean they are spending irresponsibly. "It's like the movie — they are going for it but being more careful."

More from Glamour: The 10 Prettiest Looks from New York Fashion Week

That's not to say girls aren't spending more money on dresses and sometimes buying at least two pairs of shoes (one pair for the dance and one pair for afterward). But transportation and restaurant costs add up, too.

Tell us on Facebook: Do you remember how much you spent on your prom? Does this figure sound crazy to you? Discuss!

More from Glamour:
30 Spring Outfit Ideas, Modeled by Glamour Editors
21 Style Don'ts to Live By
Cringeworthy Fashion DON'Ts
Friend us on Facebook, follow us on Twitter and find us on Pinterest.
beauty tips and style advice
One shopper's tweet of the emaciated-looking figure forced the store to take action.

Once the summer heat kicks in, it's all we can do not to slip into the breeziest beach dresses and flip-flops for the morning commute. So trust us when we say we understand that the humidity can have a powerful effect on your wardrobe — still, there are some things you just can't wear to your place of employment, no matter how hot it gets.

Wrinkle no blouse, tangle no jewelry, leave no beauty product behind, and still have room to spare.

Hue-changing dos we absolutely love.

Why your jean size varies from store to store.

Wait a month between waxing visits? Check. Pop a preappointment Advil? Duh. We all know the basics, but here are the tricks you don't know.

What to always—and never, ever—do to keep hair in top shape.

Get inspired to try these sweet and summery looks.

Stunning wedding styles that create a statement.

I attended the Abercrombie and Fitch holiday-season press preview yesterday, and in between checking out the cute gear that will hit stores this November, I picked up a little nugget of information I just have to share.

How to wear this cool-weather staple in the summer.

See how Miranda Kerr made a pair of Birkenstocks chic.