The real reason prom costs the average girl $1,139
Hint: It's not the dress.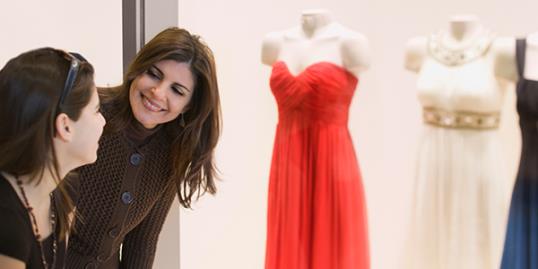 by Amy Wicks 

Subscribe to Simply Chic

It's that time of year when the fitting rooms at your local department store are full of girls trying on potential prom dresses. I don't know about you, but I have such wonderful memories of prom. I wore a vintage cream-colored dress (with gloves — I know) and dark blue Stuart Weitzman shoes that I have to admit, I still pull out from time to time. The whole look cost around $400. At the time, I thought that was kind of extravagant, but it turns out I have nothing on the girls who are attending prom this year. A new survey from Visa found that on average, families will spend $1,139 on prom this year. This figure is up 40 percent from 2011, when they spent $807.

When I saw Visa's report, I figured that large increase in prom spending was probably tied to buying fancier dresses. It turns out the answer is more complicated than that. "In today's world, teenagers and young adults have lost most of their discretionary buying power," said Marshal Cohen, chief industry analyst at market research firm NPD Group. He told me that after a year of being frugal, this is the one day when families will give their teens the ability to splurge. "This day is second only to their wedding," Cohen said.

More from Glamour: The 10 Prettiest Hair and Makeup Styles You Can Wear, According to Guys

Cohen went on to say that prom today could be compared to the movie "Footloose." Those kids had to abandon dancing altogether, and when they finally got it back, they could do it but be more responsible. He said prom is back in a big way, spending-wise, but even this $1,139 figure doesn't mean they are spending irresponsibly. "It's like the movie — they are going for it but being more careful."

More from Glamour: The 10 Prettiest Looks from New York Fashion Week

That's not to say girls aren't spending more money on dresses and sometimes buying at least two pairs of shoes (one pair for the dance and one pair for afterward). But transportation and restaurant costs add up, too.

Tell us on Facebook: Do you remember how much you spent on your prom? Does this figure sound crazy to you? Discuss!

More from Glamour:
30 Spring Outfit Ideas, Modeled by Glamour Editors
21 Style Don'ts to Live By
Cringeworthy Fashion DON'Ts
Friend us on Facebook, follow us on Twitter and find us on Pinterest.
beauty tips and style advice
And before you ask, sorry, the $325 dress is SOLD OUT on Matches.com and DVF.com—you snooze, you loose.

Click through the slideshow to shop some of our spring favorites.

French braid? Been there. Fishtail? Done that. The newest styles are all about unexpected texture, major volume, and one man's wild imagination.

Long hair, don't care? Think again…

She dishes on the routine that keeps her looking polished, even when she's pulling up to the <i>Mad Men</i> set at 5 a.m. Plus, the fragrance that helps Christina get her Joan on.

For inspiration, we've rounded up gorgeous (and easy to replicate) wedding makeup looks from the red carpet.

With a few insider tricks, you can enjoy short hair 365 days of the year and have a gorgeous style on your wedding day. Wedding hairstyles for short hair do exist.

I'm beyond excited to finally ditch my winter coat and heavy layers, but I'm not so eager to ditch my tights. Let's just say my legs are not as smooth and bronzed as they were the last time I showed them off many, many months ago.

After a jam-packed week in New Zealand, Kate Middleton and Prince William finally enjoyed a day off, but as of last night (or this morning..? Ah, time change!) they're back on the road again.

These travel-sized beauty products will do double-duty while you're on the road.

Neatly sidestepping high fashion, the smiling, cheerful Kate Middleton is fast becoming the Duchess of Normcore.

This December, New Yorkers might notice something missing in the Christmas air.