The real reason prom costs the average girl $1,139
Hint: It's not the dress.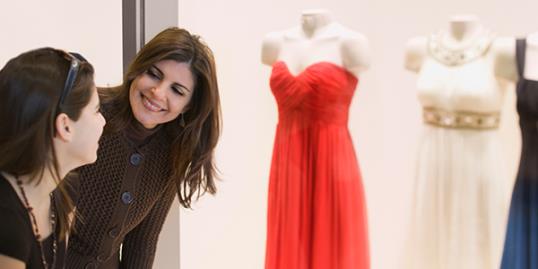 by Amy Wicks 

Subscribe to Simply Chic

It's that time of year when the fitting rooms at your local department store are full of girls trying on potential prom dresses. I don't know about you, but I have such wonderful memories of prom. I wore a vintage cream-colored dress (with gloves — I know) and dark blue Stuart Weitzman shoes that I have to admit, I still pull out from time to time. The whole look cost around $400. At the time, I thought that was kind of extravagant, but it turns out I have nothing on the girls who are attending prom this year. A new survey from Visa found that on average, families will spend $1,139 on prom this year. This figure is up 40 percent from 2011, when they spent $807.

When I saw Visa's report, I figured that large increase in prom spending was probably tied to buying fancier dresses. It turns out the answer is more complicated than that. "In today's world, teenagers and young adults have lost most of their discretionary buying power," said Marshal Cohen, chief industry analyst at market research firm NPD Group. He told me that after a year of being frugal, this is the one day when families will give their teens the ability to splurge. "This day is second only to their wedding," Cohen said.

More from Glamour: The 10 Prettiest Hair and Makeup Styles You Can Wear, According to Guys

Cohen went on to say that prom today could be compared to the movie "Footloose." Those kids had to abandon dancing altogether, and when they finally got it back, they could do it but be more responsible. He said prom is back in a big way, spending-wise, but even this $1,139 figure doesn't mean they are spending irresponsibly. "It's like the movie — they are going for it but being more careful."

More from Glamour: The 10 Prettiest Looks from New York Fashion Week

That's not to say girls aren't spending more money on dresses and sometimes buying at least two pairs of shoes (one pair for the dance and one pair for afterward). But transportation and restaurant costs add up, too.

Tell us on Facebook: Do you remember how much you spent on your prom? Does this figure sound crazy to you? Discuss!

More from Glamour:
30 Spring Outfit Ideas, Modeled by Glamour Editors
21 Style Don'ts to Live By
Cringeworthy Fashion DON'Ts
Friend us on Facebook, follow us on Twitter and find us on Pinterest.
beauty tips and style advice
You know that classic nightmare where you walk into school or work completely naked? That's how I feel when I'm having a bad hair day. Like I don't want anyone to look at me and it takes everything I have not to immediately turn around and run back home.

Victoria Beckham will share her fashion story and give inside access to her brand via The Skype Collaboration Project in January 2014.

Just when we thought Pamela Anderson's sleek pixie marked her biggest hair makeover this year, the star ditched her trademark blonde hue.

Yes! Lupita Nyong'O shows us how.

Take the health of your hair up a notch with these natural treatments

Nope, it's not your resume.

This is why a short wedding dress makes sense.

The Queen is a handbag trendsetter, apparently.

You know winter is here when you pull off your clothes and find the insides lined with a thin coating of tiny dry skin particles. (Am I alone here, or do I have more serious dry skin issues than I thought?)

Yesterday I popped by the Clear Clinic, a dedicated acne treatment center that a lot of people (including a Glamour beauty blogger or two) swear have helped cure them of the dreaded spots.

The first thing I noticed about this photo of Keira Knightley at a London gala last night was her 90s-chic makeup, featuring matte pale foundation and lots of black eyeliner.

It's the stuff of pinups, old Hollywood glamour, and even science study after study says guys really go for it. But that classic Rita Hayworth red doesn't necessarily flatter every complexion. We rounded up the absolute best reds for every skin tone, so you can breeze through the sea of cherries, raspberries, and any other scarlet fruit.