The real reason prom costs the average girl $1,139
Hint: It's not the dress.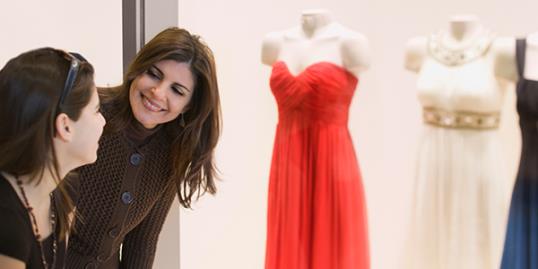 by Amy Wicks 

Subscribe to Simply Chic

It's that time of year when the fitting rooms at your local department store are full of girls trying on potential prom dresses. I don't know about you, but I have such wonderful memories of prom. I wore a vintage cream-colored dress (with gloves — I know) and dark blue Stuart Weitzman shoes that I have to admit, I still pull out from time to time. The whole look cost around $400. At the time, I thought that was kind of extravagant, but it turns out I have nothing on the girls who are attending prom this year. A new survey from Visa found that on average, families will spend $1,139 on prom this year. This figure is up 40 percent from 2011, when they spent $807.

When I saw Visa's report, I figured that large increase in prom spending was probably tied to buying fancier dresses. It turns out the answer is more complicated than that. "In today's world, teenagers and young adults have lost most of their discretionary buying power," said Marshal Cohen, chief industry analyst at market research firm NPD Group. He told me that after a year of being frugal, this is the one day when families will give their teens the ability to splurge. "This day is second only to their wedding," Cohen said.

More from Glamour: The 10 Prettiest Hair and Makeup Styles You Can Wear, According to Guys

Cohen went on to say that prom today could be compared to the movie "Footloose." Those kids had to abandon dancing altogether, and when they finally got it back, they could do it but be more responsible. He said prom is back in a big way, spending-wise, but even this $1,139 figure doesn't mean they are spending irresponsibly. "It's like the movie — they are going for it but being more careful."

More from Glamour: The 10 Prettiest Looks from New York Fashion Week

That's not to say girls aren't spending more money on dresses and sometimes buying at least two pairs of shoes (one pair for the dance and one pair for afterward). But transportation and restaurant costs add up, too.

Tell us on Facebook: Do you remember how much you spent on your prom? Does this figure sound crazy to you? Discuss!

More from Glamour:
30 Spring Outfit Ideas, Modeled by Glamour Editors
21 Style Don'ts to Live By
Cringeworthy Fashion DON'Ts
Friend us on Facebook, follow us on Twitter and find us on Pinterest.
beauty tips and style advice
Sunglasses: it may seem counterintuitive to invest in a wintertime accessory traditionally viewed as a sunny, warm-weather item. But spring is on the way and we're also currently being exposed to crazy amounts of UV rays—and then, of course, there's the reflective snow situation.

Some people look younger than they are, some look older. Even those with easy access to BOTOX and personal trainers. Can you guess the age of these celebrities?

Did anyone else hear wedding bells on the Oscars red carpet last night?

Then after the show, er, Oscars, it's the after party. Then after the party, it's the... Best Dressed List, of course. Nikki already picked her tops for the Academy Awards red carpet (did you vote yet?), so now it's time to see what the stars wore to the post-celebrations.

As I continue my personal campaign to swap out E!'s mani cam with a back-of-updo cam (and as a service to all the hardworking hairstylists who spent so much time creating beautiful hair looks for the 2014 Oscars), I'd like to point out that we miss a lot of gorgeous detail when we don't get the back view of a star's hair.

The bold new trend on the Oscars red carpet.

Trying new hairstyles is fun (have you picked up Allure Hair: The Ultimate How-To Hair Guide yet?).

When someone says "Julia Roberts," you think teeth. You think hair. But while you may not immediately think fashion, she has had a pretty consistent—and consistently pretty—style since her Mystic Pizza days: clean, classic, menswear-inspired looks that let her natural beauty—and rightly famous smile—take center stage. Here's how she has elevated that look over the years.

Lupita Nyong'o shows off the power of the pixie on the Oscars red carpet.

Walk a mile in a pair of SJP's stilettos? Well yes, we'd love to; thank you for asking.

Anti-aging doesn't have to take over your life. Here, expert tweaks to slow the clock.

We're at the tail end of a jam-packed awards season, with the grand finale—the Oscars, duh—just a few days away. We can't wait to see what our favorite nominees wear—we already know Jennifer Lawrence will step out in a breathtaking Dior, while we hope to see Lupita Nyong'o pick another brilliantly bold monochromatic gown. As for which designer she'll select—Gucci? Ralph Lauren?—that's anyone's guess.