Shacking Up No Longer a Major Divorce Predictor
Yet another reason to live in sin.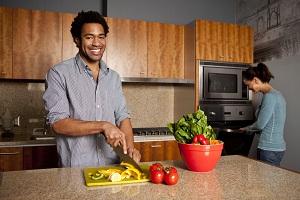 A new government study finds that men and women who live together before marriage no longer run a higher risk of divorcing like they did in years past.
Oh, but I should mention….being engaged helps.
"[Living together before marriage] is not playing as big a role in predicting divorce as it used to," said Casey Copen, the lead author of the study.
But the study, which surveyed 22,000 men and women, found that the divorce rate is higher if the shacking up couple isn't engaged. So if you're living together and marriage isn't in the works, but you do eventually end up getting married, that marriage is more likely to end. How much more likely? About 7 percent.
If a couple is living together without an engagement, the chance of the marriage lasting more than 15 years is 53 percent. For an engaged couple living together, that number is 60 percent.
To explain the trend, Copen said the non-engaged couples might not take commitment seriously or have family histories that made them pessimistic about marriage.
So commitment seems to be the key word here.
Hillary Mickell first moved in with her husband when they were both students at Boston University. They now live in San Francisco.
"I sort of knew he would be part of my life long-term," Hilary says of moving in with her husband before they were married. "I wasn't thinking, `He's moving in with me, is he ever going to marry me?'"
So it looks like living in sin won't hurt your marriage…as long as you do plan on getting married.
Other interesting statistics from the study:
* Men and women with Bachelor's degrees are more likely to stay married for at least 20 years. However, they also delay marriage.
* Asian women are more likely than other races to have a first marriage lasting longer than 20 years.
beauty tips and style advice
Stunning wedding styles that create a statement.

Hue-changing dos we absolutely love.

In case you weren't already overwhelmed enough by the daunting task of jeans shopping (or really, clothes shopping in general), our friends over at Racked published a handy little infographic today comparing the sizing of a variety of different retailers that you've likely frequented at least a handful of times in your lifetime.

I attended the Abercrombie and Fitch holiday-season press preview yesterday, and in between checking out the cute gear that will hit stores this November, I picked up a little nugget of information I just have to share.

How to wear this cool-weather staple in the summer.

See how Miranda Kerr made a pair of Birkenstocks chic.

We love how a new nail polish has the ability to instantly change your look and your mood with a simple swipe. While happy lime greens and aquas are ruling the five million #nailpolish Instagrams this summer, there are a variety of great colors to choose from—whether you want an office-appropriate neutral or a fun going-out shade that'll give your LBD a punch of color.

You already know wearing white after Labor Day is cool. But menswear is reinventing itself rapidly, leaving some long-held mandates by the wayside, not to mention a bunch of men with a lot of questions. Sure, some style laws are truly inviolable. Showing a quarter-inch of cuff will always be crucial, but with designers and dandies flaunting so many former taboos it's hard to tell what's in play these days. So we thought we'd take this opportunity to let you know which rules no longer apply.

Put down the wrinkled button-down, step away from the Crocs, and open your closet. We need to talk about the new rules of casual.

Buying a brush is like getting a new smartphone: once you learn how to use it, it's indispensable.

Surfers are the epitome of cool, laid-back American style. And if we can't be them, at least we can copy their hair.

It's time for bridal beauty to loosen up. Hair doesn't have to be tightly wound, makeup perfectly contoured, and nails French manicured (on this last point, really, please don't). You can, in fact, look gorgeously and timelessly cool at your wedding. Here's how.