Shacking Up No Longer a Major Divorce Predictor
Yet another reason to live in sin.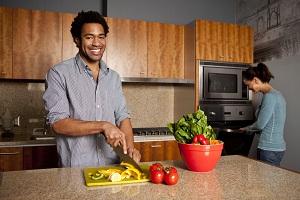 A new government study finds that men and women who live together before marriage no longer run a higher risk of divorcing like they did in years past.
Oh, but I should mention….being engaged helps.
"[Living together before marriage] is not playing as big a role in predicting divorce as it used to," said Casey Copen, the lead author of the study.
But the study, which surveyed 22,000 men and women, found that the divorce rate is higher if the shacking up couple isn't engaged. So if you're living together and marriage isn't in the works, but you do eventually end up getting married, that marriage is more likely to end. How much more likely? About 7 percent.
If a couple is living together without an engagement, the chance of the marriage lasting more than 15 years is 53 percent. For an engaged couple living together, that number is 60 percent.
To explain the trend, Copen said the non-engaged couples might not take commitment seriously or have family histories that made them pessimistic about marriage.
So commitment seems to be the key word here.
Hillary Mickell first moved in with her husband when they were both students at Boston University. They now live in San Francisco.
"I sort of knew he would be part of my life long-term," Hilary says of moving in with her husband before they were married. "I wasn't thinking, `He's moving in with me, is he ever going to marry me?'"
So it looks like living in sin won't hurt your marriage…as long as you do plan on getting married.
Other interesting statistics from the study:
* Men and women with Bachelor's degrees are more likely to stay married for at least 20 years. However, they also delay marriage.
* Asian women are more likely than other races to have a first marriage lasting longer than 20 years.
beauty tips and style advice
Neatly sidestepping high fashion, the smiling, cheerful Kate Middleton is fast becoming the Duchess of Normcore.

This December, New Yorkers might notice something missing in the Christmas air.

When Madonna posted an image of herself wearing a full on Game of Thrones Khaleesi costume on Instagram last week we weren't exactly surprised—this is the woman who rolled into the Grammy Awards wearing a tuxedo and a grill earlier this winter, so why not celebrate the Jewish holiday of Purim with a leather corset and a pair of tiny dragons? Still, we were hypnotized by her white-blonde, braided Daenerys Targaryen hair. Functioning as a bleached out cultural weather vane of sorts, it tapped into multiple obsessions at once—the return of "Game of Thrones" to HBO, spring's new extreme hair lengths and, most notably, fashion's current platinum mania. Our own love of ice-blonde hair—which transforms any look from everyday to extraordinary—has been well documented of late, but last night's Game of Thrones premiere sent our platinum fever into overdrive. In celebration of fashion's favorite hair color, a look at the best platinum moments in history.

While you were sleeping, fast retail chain H&M H&M announced that its next designer collaboration is with Alexander Wang.

Formal, beachy, country club-chic or gorgeously rustic whatever the setting calls for, we've found a bevy of beautiful dresses to wear to a wedding this season.

Puffy, tired, weary no more. These tips take years off and create that "I slept great, thanks!" effect.