Shacking Up No Longer a Major Divorce Predictor
Yet another reason to live in sin.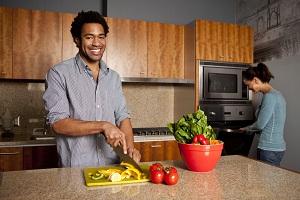 A new government study finds that men and women who live together before marriage no longer run a higher risk of divorcing like they did in years past.
Oh, but I should mention….being engaged helps.
"[Living together before marriage] is not playing as big a role in predicting divorce as it used to," said Casey Copen, the lead author of the study.
But the study, which surveyed 22,000 men and women, found that the divorce rate is higher if the shacking up couple isn't engaged. So if you're living together and marriage isn't in the works, but you do eventually end up getting married, that marriage is more likely to end. How much more likely? About 7 percent.
If a couple is living together without an engagement, the chance of the marriage lasting more than 15 years is 53 percent. For an engaged couple living together, that number is 60 percent.
To explain the trend, Copen said the non-engaged couples might not take commitment seriously or have family histories that made them pessimistic about marriage.
So commitment seems to be the key word here.
Hillary Mickell first moved in with her husband when they were both students at Boston University. They now live in San Francisco.
"I sort of knew he would be part of my life long-term," Hilary says of moving in with her husband before they were married. "I wasn't thinking, `He's moving in with me, is he ever going to marry me?'"
So it looks like living in sin won't hurt your marriage…as long as you do plan on getting married.
Other interesting statistics from the study:
* Men and women with Bachelor's degrees are more likely to stay married for at least 20 years. However, they also delay marriage.
* Asian women are more likely than other races to have a first marriage lasting longer than 20 years.
beauty tips and style advice
Squeeze days out of your style with smart tricks from blowout queen Alli Webb, founder of Drybar.

Our favorite freckle-faced models and actresses.

Still searching for your dream wedding dress? You'll get a kick out of these fun facts about your most important wedding-day purchase.

From detachable tulle overskirts to romantic off-the-shoulder necklines, check out these emerging trends from the Spring 2015 bridal runways.

Who says you have to wear white on your wedding day? Get some colorful inspiration from these seven wedding dresses.

Since its inception in 1940, the International Best-Dressed List—revealed in Vanity Fair for the last decade—has lauded the most polished, eclectic, and stylish of dressers. From royalty to politicians, athletes to fashion designers, the poll is comprehensive in the personalities it celebrates. Those appearing multiple times over the years are considered for induction into the Hall of Fame—the List's highest honor.