Shacking Up No Longer a Major Divorce Predictor
Yet another reason to live in sin.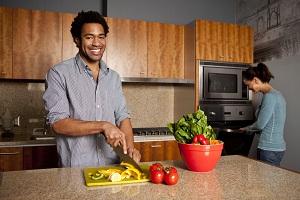 A new government study finds that men and women who live together before marriage no longer run a higher risk of divorcing like they did in years past.
Oh, but I should mention….being engaged helps.
"[Living together before marriage] is not playing as big a role in predicting divorce as it used to," said Casey Copen, the lead author of the study.
But the study, which surveyed 22,000 men and women, found that the divorce rate is higher if the shacking up couple isn't engaged. So if you're living together and marriage isn't in the works, but you do eventually end up getting married, that marriage is more likely to end. How much more likely? About 7 percent.
If a couple is living together without an engagement, the chance of the marriage lasting more than 15 years is 53 percent. For an engaged couple living together, that number is 60 percent.
To explain the trend, Copen said the non-engaged couples might not take commitment seriously or have family histories that made them pessimistic about marriage.
So commitment seems to be the key word here.
Hillary Mickell first moved in with her husband when they were both students at Boston University. They now live in San Francisco.
"I sort of knew he would be part of my life long-term," Hilary says of moving in with her husband before they were married. "I wasn't thinking, `He's moving in with me, is he ever going to marry me?'"
So it looks like living in sin won't hurt your marriage…as long as you do plan on getting married.
Other interesting statistics from the study:
* Men and women with Bachelor's degrees are more likely to stay married for at least 20 years. However, they also delay marriage.
* Asian women are more likely than other races to have a first marriage lasting longer than 20 years.
beauty tips and style advice
These fun and flattering vintage-style suits blend the best of the old with the best of the new.

Although it's not officially spring yet—the best time to start shopping for warm-weather clothes is now, while stores still have a good selection. Waiting until it's actually balmy enough to go bare-legged and short-sleeved leaves far too many factors to chance: what if your size sells out? Or the wrong color is left? And let's not forget about gross makeup stains from 10 other people trying it on!

From patriotic bikinis to retro two pieces, these celebs' stylish swimsuits will have you counting down to beach season! Check out your favorite stars rocking the hottest swim trends!

Sunglasses: it may seem counterintuitive to invest in a wintertime accessory traditionally viewed as a sunny, warm-weather item. But spring is on the way and we're also currently being exposed to crazy amounts of UV rays—and then, of course, there's the reflective snow situation.

As we herald a new season, the itch arrives to update one's wardrobe, and nothing cleanses a closet like a spanking-new bag, slick new pumps, or sparkling new jewels. Here, see our picks for the best investments to make this spring.

Some people look younger than they are, some look older. Even those with easy access to BOTOX and personal trainers. Can you guess the age of these celebrities?

Did anyone else hear wedding bells on the Oscars red carpet last night?

Then after the show, er, Oscars, it's the after party. Then after the party, it's the... Best Dressed List, of course. Nikki already picked her tops for the Academy Awards red carpet (did you vote yet?), so now it's time to see what the stars wore to the post-celebrations.

As I continue my personal campaign to swap out E!'s mani cam with a back-of-updo cam (and as a service to all the hardworking hairstylists who spent so much time creating beautiful hair looks for the 2014 Oscars), I'd like to point out that we miss a lot of gorgeous detail when we don't get the back view of a star's hair.

The bold new trend on the Oscars red carpet.

Trying new hairstyles is fun (have you picked up Allure Hair: The Ultimate How-To Hair Guide yet?).

When someone says "Julia Roberts," you think teeth. You think hair. But while you may not immediately think fashion, she has had a pretty consistent—and consistently pretty—style since her Mystic Pizza days: clean, classic, menswear-inspired looks that let her natural beauty—and rightly famous smile—take center stage. Here's how she has elevated that look over the years.