Here's a dress that could save you from drowning -- maybe
The chic-est life raft ever!
by Danica Lo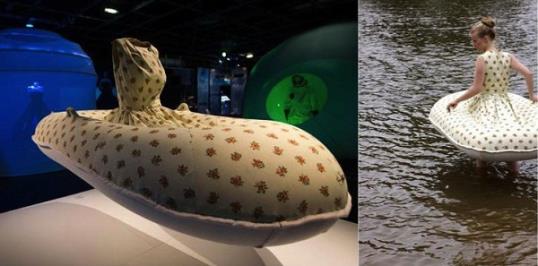 Here at Dressed, we don't often tackle the topic of emergency readiness and supply stockpiling — but I'm going to make an exception today. Australian artist Jacqueline Brady has created one of the most fashionable life-saving garments (devices?) I've ever laid eyes on.

BEHOLD: The Raft-Boat-Dress

This 1950s-inspired rosette-printed fit-and-flare sleeveless dress has an amazing feature built in that makes it totally unique — it inflates into a life raft!

More from Glamour: 10 Wardrobe Essentials Every Woman Should Own

Bradley, who specializes in sculptural pieces that explore "ways of engaging with the surrounding ideas of home and a sense of place," exhibited the boat-dress at this month's Futuro Textiles show in Lille, France.

More from Glamour: 25 Celebrity Hairstyles That Will Make You Want Bangs

No word yet on when and where this dress can be bought — or whether it will even be put into production! But it's definitely the chic-est life raft I've ever seen!

If the raft-dress came to market and wasn't crazy expensive, would you consider buying it? What would you use it for? I can see so many uses for it. On top of its life-saving potential, it would be really great for camping trips by a lake, a lazy afternoon on the river, or, if it were made of tougher, sportier material, a great whitewater-rafting adventure! OK, I'm kind of kidding. What do you think? Tell us in the comments.

Bing: Weird fashion

Subscribe to Simply Chic | Friend us on Facebook | Follow us on Twitter | Find us on Pinterest

More from Glamour:
53 Swimsuits that Make You Look 10 Pounds Thinner
35 Truths About Marriage--From a Guy's Point of View
10 Hot Date-Night Outfits (According to Guys)

Photo: Courtesy of Glamour
Are you sure you want to delete this comment?
beauty tips and style advice
These travel-sized beauty products will do double-duty while you're on the road.

Neatly sidestepping high fashion, the smiling, cheerful Kate Middleton is fast becoming the Duchess of Normcore.

This December, New Yorkers might notice something missing in the Christmas air.

When Madonna posted an image of herself wearing a full on Game of Thrones Khaleesi costume on Instagram last week we weren't exactly surprised—this is the woman who rolled into the Grammy Awards wearing a tuxedo and a grill earlier this winter, so why not celebrate the Jewish holiday of Purim with a leather corset and a pair of tiny dragons? Still, we were hypnotized by her white-blonde, braided Daenerys Targaryen hair. Functioning as a bleached out cultural weather vane of sorts, it tapped into multiple obsessions at once—the return of "Game of Thrones" to HBO, spring's new extreme hair lengths and, most notably, fashion's current platinum mania. Our own love of ice-blonde hair—which transforms any look from everyday to extraordinary—has been well documented of late, but last night's Game of Thrones premiere sent our platinum fever into overdrive. In celebration of fashion's favorite hair color, a look at the best platinum moments in history.

While you were sleeping, fast retail chain H&M H&M announced that its next designer collaboration is with Alexander Wang.

Formal, beachy, country club-chic or gorgeously rustic whatever the setting calls for, we've found a bevy of beautiful dresses to wear to a wedding this season.

Puffy, tired, weary no more. These tips take years off and create that "I slept great, thanks!" effect.

Top dermatologists, cosmetic chemists, makeup artists, and hairstylists reveal quick tips and tricks that can peel back years in a matter of seconds

We're all for sartorial freedom, but there are certain once-on-trend items that, when worn today, appear anything but current. Consider this your official out list.

If you're a practitioner of reselling your clothes—a good way to clear out some space in your wardrobe and make a few extra bucks—you might already be familiar with San Francisco-based thredUP.

A picture may be worth a thousand words, but emoji must be worth at least a million. Here we show you how to channel your favorites: Go ahead, express yourself!

11 earth-friendly beauty products we love.