Katie Couric goes makeup-free on Friday's show!
Katie goes au natural!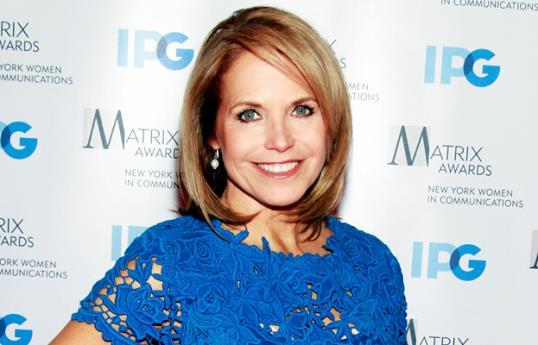 By Cheryl Brody Franklin, InStyle magazine
Katie Couric is baring it all on her show tomorrow! She's going makeup-free to interview Phoebe Baker Hyde
, author of the new book
The Beauty Experiment
, where she gave up makeup, new clothing, jewelry and more. Instead of applying Katie's beauty staples—like
Lancôme
concealer,
Laura Mercier
eye shadows and
L'Oréal
mascara—the talk show host is simply cleansing her face in the morning with Dove face wash and Lancôme moisturizer.
RELATED:
Katie Couric's Transformation
"I've been on television for a while now, but this is a first for me! No makeup…what am I thinking?" Couric told InStyle.com exclusively. "But the average American woman spends $12,000-$15,000 on beauty and salon treatments annually, not to mention 160 hours every year on primping and grooming. That's an entire week of your life every year! So we thought it would be interesting to do a show like this, and if Phoebe Baker Hyde can do it for a whole year, I can surely do it for an hour, right?"
RELATED: The Most Fashionable TV Shows Ever

Tune in to Katie tomorrow, Friday, January 11 (click here to see when it airs near you) to see the the talk show host go au natural! And tell us: What's your makeup routine?
MORE:
• More on Katie Couric's Makeup-Free Show
beauty tips and style advice
From Monica, Rachel, and Phoebe on Friends to Blair and Serena on Gossip Girl, here are the most memorable wedding dresses to grace the small screen.

Kate Middleton likes outlet malls too.

Smart fall shopping can't be boiled down to some set-in-stone lineup of items. It's much more about how you play with what you've got rather than just racking up a bunch of new stuff; sometimes your bank account's balance simply won't allow for a full-on wardrobe refresh. That's when it's important to know what's worth it—and what isn't.

Autumn's just a few short months away, and we've got sweaters, coats and booties on our minds! Below are the first things we'll be buying (or have already bought!) to kick off next season.

Beauty editors are routinely asked to name three essentials they couldn't live without on a desert island. So here's our list: water, matches, protein bars. As much as we depend on beauty products, they're not exactly essential to survival. These luxurious fragrances, nail polishes, and tools are no exception. They're the anti-basics—hardly your medicine-cabinet staples. They won't shrink pores or obliterate frizz, but they will make you weak with desire. And that's a refreshing change of pace. Beyond just looking and feeling great, each of these cool new things appeals to our sense of style. How's that for an SOS?

You could breeze through the rest of summer with the same sheer balm and nude gloss you always wear. Or you could throw caution to the wind and try one of these superfun, superbright lipstick shades we saw on the spring runways. True red, orchid purple, neon orange—these lipsticks are as bold as they are beautiful.

To say Cara Delevingne is trending is an understatement: Her brows are a hot Google search term, she has around 2.8 million (and growing) Instagram followers, and it's a challenge to find a Pinterest board without her on it. She's the girl everyone wants to look like (and be BFF with, too). Check out her best beauty moments—and pin away.

Like red lipstick, cat eyes owe their timeless appeal to their spectacular, style-defining range that can, depending on application, telegraph Old Hollywood glamour, graphic minimalism, or counter-culture punk—what else do Siouxsie Sioux and Brigitte Bardot have in common? It's impossible to think of Marilyn Monroe without those heavy-lidded bedroom eyes or Amy Winehouse sans her subversive, exaggerated swipe. A mere sweep of eye pencil transformed Anna Karina from a fresh-faced teenager into a French New Wave style icon, and Sophia Loren's wide-eyed gaze has been forever etched into our collective memory with a frame of perfectly delineated black powder liner. Today, Alexa Chung gives the look a modern ease with a signature liquid swoosh that feels right whether she's heading to brunch, the airport, or the red carpet. Here's a look at the best feline eyes of all time. We feel certain that Choupette would approve.

Have you ever noticed that denim ads are some of the sexiest? And most memorable? We can't tell you how many of the people featured on our site, jeanstories.com, swoon as they reminisce about the first time they watched the 1985 Levis's 501s "Laundrette" TV spot featuring hte handsome Nick Kamen—who ended up , ahem, sans jeans. As for print ads, think Guess, Calvin Klein…not only sexy, but envelope-pushing and groundbreaking. If concerned mothers of America are writing angry letters to their local newspapers about the boob-baring faces of your campaign, you, as a jeans brand, know you've done something right.

Although summer is winding down and days spent by the beach are numbered, there is one gift of the dog days that we can take with us through fall: the pearl. Whether it is dotting denim or lining sandals, the lustrous rarity has become the embellishment of the season and is no longer confined to your grandmother's jewelry box. For this week's Most Wanted, we explore how to make your sartorial world your oyster with the ocean gem, along with some of our favorite "pearls of wisdom" to guide you.

These buns are haute! Pretty twists spotted on this year's runway put a couture spin on the go-to bun.

It's far too often that "The Best Styling Tricks Evaaarrrr"-type stories leave you at a loss. Sure, if you had the legs of a supermodel and a closet full of designer goods, you, too, could probably pull off wearing a shoe on your head and your drop-crotch pants backward. But, for real life, where looking not-crazy is as important as looking unique, sartorial advice needs to be more tailored to accessibility, practicality, and what's actually flattering. So, yes, this story is titled "Plus-Size Layering Tips," but we're confident these pointers can benefit everyone's dressing game.