10 Half-Up Wedding Hairstyles: Which Is Your Favorite?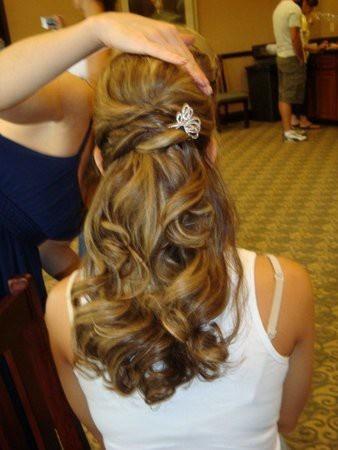 by Petra Guglielmetti,
Glamour Magazine


This post is in honor of my friend Allison, who's busy planning her Memorial Day 2013 wedding and is on the hunt for the perfect half-up
wedding hairstyle
. Here are some ideas I just rounded up on
Pinterest
: Which makes
your
heart go all fluttery with excitement?
1. Half-up with woven twists in the back








Source: goo.gl via Petra on Pinterest

2. Soft waves swept half-back and pinned with a big blossom
Source: stylemepretty.com via Flannery on Pinterest
3. Pinned back with a pretty little braid
Source: iknowhair.com via Petra on Pinterest
4. Accented with a big, sparkly brooch clip
Source: openbooksociety.com via Petra on Pinterest

Related: 15 Gorgeous Hair Updates to Try
5. Bumped-up with some long sideswept bangs
Source: stylemepretty.com via Megan on Pinterest
6. Accented with a braid and a little bouquet of flowers
Source: lover.ly via Petra on Pinterest
Related: 27 Fall Hairstyle Ideas to Consider

7. Sleek and voluminous on top, wavy on bottom
Source: Uploaded by user via Emily on Pinterest
8. Messy, sexy waves pinned half-up
Source: stylemepretty.com via Lesley on Pinterest
9. Center-parted with face-framing fringe and pretty waves
Source: google.com via Abby on Pinterest
10. Rolled-back retro-style with a pretty fabric flower
Source: flickr.com via Petra on Pinterest
Which of these 10 half-up wedding hairstyles is your favorite? How many of you would/did wear a half-up hairstyle for your wedding?

Photos: Courtesy of Pinterest

More from Glamour:
30 September Outfit Ideas
What to Wear to Work This Fall
20 Date-Night Outfits Guys Love

beauty tips and style advice
And before you ask, sorry, the $325 dress is SOLD OUT on Matches.com and DVF.com—you snooze, you loose.

Click through the slideshow to shop some of our spring favorites.

French braid? Been there. Fishtail? Done that. The newest styles are all about unexpected texture, major volume, and one man's wild imagination.

Long hair, don't care? Think again…

She dishes on the routine that keeps her looking polished, even when she's pulling up to the <i>Mad Men</i> set at 5 a.m. Plus, the fragrance that helps Christina get her Joan on.

For inspiration, we've rounded up gorgeous (and easy to replicate) wedding makeup looks from the red carpet.

With a few insider tricks, you can enjoy short hair 365 days of the year and have a gorgeous style on your wedding day. Wedding hairstyles for short hair do exist.

I'm beyond excited to finally ditch my winter coat and heavy layers, but I'm not so eager to ditch my tights. Let's just say my legs are not as smooth and bronzed as they were the last time I showed them off many, many months ago.

After a jam-packed week in New Zealand, Kate Middleton and Prince William finally enjoyed a day off, but as of last night (or this morning..? Ah, time change!) they're back on the road again.

These travel-sized beauty products will do double-duty while you're on the road.

Neatly sidestepping high fashion, the smiling, cheerful Kate Middleton is fast becoming the Duchess of Normcore.

This December, New Yorkers might notice something missing in the Christmas air.