So, these are 'Foot Panties'
Now let's discuss.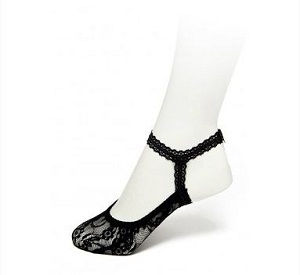 by
Tracey Lomrantz Lester
,
Glamour Magazine
Killer shoes are among the sexiest things a woman can wear. As my stylist friend
Annie Ladino
says, "I've never had a man call my handbag hot, but I've had plenty hit on me because of my stilettos!" Well, they're about to get a lot sexier thanks to a new product called, I kid you not,
Foot Panties
.
These babies are to socks what a negligee is to onesie trapdoor pajamas -- the super sexed-up antithesis that (sorta) serves the same purpose. We discovered 'em via
Racked
, and now you can purchase your own pair at
kirnazabete.com
for just $15.
Related: 10 Wardrobe Essentials Every Woman Should Own
Yes, they're kinda for foot fetishists. And yes, they're kinda ridiculously named. But, hear me out here, I don't think they're the worst idea ever, especially considering how much emphasis has been placed lately on the come-hither factor of footwear.
Related: The Dos and Don'ts of Fall 2012 Fashion Trends


Let's hear it, ladies. Would you ever buy a pair of Foot Panties? Would you be more inclined if they didn't have the word "panties" in their name? Aren't these actually kinda cool? Discuss!
MSN Living editors are writing a story and we want to include you!
TELL US - what are YOUR family's Thanksgiving traditions?
Photo:
kirnazabete.com
More from Glamour:

20 Date-Night Outfits Guys Love
15 Gorgeous Hair Updates to Try
35 New Ways to Wear Your Jeans
beauty tips and style advice
In order to cope with the intense feelings of jealousy I experienced when seeing Jennifer Garner's flawless hairstyle last week, I decided to contact the stylist responsible for the look, Kylee Heath, and find out what exactly she did to produce these glorious results.

Apparently, every celebrity in the world decided to dye her hair over the last few days—or at least Duchess Catherine, Sienna Miller, and Pamela Anderson did.

It was the chicest family night out ever in London yesterday, as Victoria Beckham hit the red carpet, along with her ADORABLE sons, Brooklyn, little fashionisto Romeo, and Cruz, to support the premiere of the soccer football documentary Class of '92, featuring superstar dad David. And she looked perfect as always—in Victoria Beckham, of course.

There will always be a special place in our hearts for Pez—the completely absurd and impractical oblong candy that children are somehow meant to be patient enough to dispense, one by one, from a creaky plastic spring-loaded drawer contraption—and a newly minted shoe designer Camilla Elphick, a Cordwainers College graduate, has tapped into our oral fixation.

When it comes to her latest hair change, it's pretty clear that Sienna Miller was thinking pink!

She's followed by Michael Kors and Ralph Lauren.