So, these are 'Foot Panties'
Now let's discuss.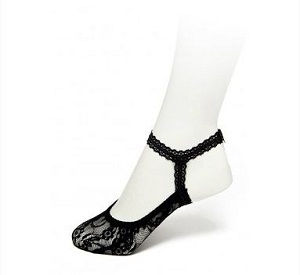 by
Tracey Lomrantz Lester
,
Glamour Magazine
Killer shoes are among the sexiest things a woman can wear. As my stylist friend
Annie Ladino
says, "I've never had a man call my handbag hot, but I've had plenty hit on me because of my stilettos!" Well, they're about to get a lot sexier thanks to a new product called, I kid you not,
Foot Panties
.
These babies are to socks what a negligee is to onesie trapdoor pajamas -- the super sexed-up antithesis that (sorta) serves the same purpose. We discovered 'em via
Racked
, and now you can purchase your own pair at
kirnazabete.com
for just $15.
Related: 10 Wardrobe Essentials Every Woman Should Own
Yes, they're kinda for foot fetishists. And yes, they're kinda ridiculously named. But, hear me out here, I don't think they're the worst idea ever, especially considering how much emphasis has been placed lately on the come-hither factor of footwear.
Related: The Dos and Don'ts of Fall 2012 Fashion Trends


Let's hear it, ladies. Would you ever buy a pair of Foot Panties? Would you be more inclined if they didn't have the word "panties" in their name? Aren't these actually kinda cool? Discuss!
MSN Living editors are writing a story and we want to include you!
TELL US - what are YOUR family's Thanksgiving traditions?
Photo:
kirnazabete.com
More from Glamour:

20 Date-Night Outfits Guys Love
15 Gorgeous Hair Updates to Try
35 New Ways to Wear Your Jeans
beauty tips and style advice
At almost every age, more men report being satisfied with looks than women.

Wrinkle no blouse, tangle no jewelry, leave no beauty product behind, and still have room to spare.

Swimwear . . . we have a love/hate relationship with it. Shopping for the perfect style can be a nightmare, but once you've found "the one" you never want to let it go. Which is why we've set out to preserve your beloved bathing suit for as long as humanly possible. And nobody appreciates this more than swimwear designer Melissa Odabash, who has suited stars like Kim Kardashian, Jessica Biel, and Gwyneth Paltrow for the beach. Click through the slideshow to see her commandments that thou shalt not violate this Summer:

OK, you're pushing 30 . . . don't panic! Even if you were a complete antiaging recluse in your 20s, there is still time to enter the next decade with endless grace and fewer wrinkles. And who better to steal skin care secrets from than the actresses who remain looking forever young? These Hollywood starlets may be in their 30s, but there's nary a dark spot in sight. Their beauty favorites range from drugstore classics to cult luxury elixirs and even a DIY recipe. With this shopping list under your belt, you can celebrate your 30s without a worry line in sight.

Instead of just slapping on five creams—then washing your face because, seriously, that stuff is heavy—follow the lead of the pros.

Forget about simple straightening--the flat iron is so much more versatile than that.