Travel in style: 7 fashion-filled vacation spots you need to know about
Combine your love for fashion and shopping in your next vacation.
The fashion girls are headed to their glam destinations and traveling in style this summer, and there's no reason why you shouldn't put some style-filled vacation spots on your list, too. Yes, there's the Armani Hotel in Milan and the Hotel Missoni in Edinburgh, but maybe consider one of these cool spots that incorporate fashion in an interesting — and possibly unexpected — way.

The Mark and Bergdorf Goodman Collaboration, New York City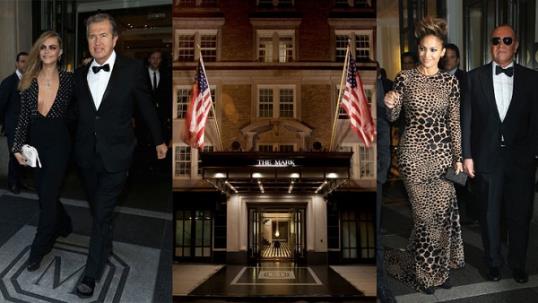 Located on the "Gossip Girl" stomping grounds of the Upper East Side Manhattan, the fancy-pants Mark hotel is a favorite of the fashion set — all the VIPs get primped there before heading out to the nearby Met Gala. (Check out Cara Delevingne and Jennifer Lopez's recent grand exits, along with their respective dates, photographer Mario Testino and designer/TV star Michael Kors.) So, it's fitting that the hotel just started working directly with the legendary luxury department store Bergdorf Goodman on basically the best VIP hookup ever. Guests at the Mark have exclusive, complimentary and 24/7 personal shopping privileges at BG. Scenario: It's 3 a.m. and you have a hankering for a pair of Charlotte Olympia Dolly platforms. Just call down to the concierge — who has a emergency line straight to the head of Bergdorf personal shopping — for purchase and delivery. Done and done.

The Mark, 25 E 77th St New York, NY

Opening Ceremony at the Ace Hotel, New York City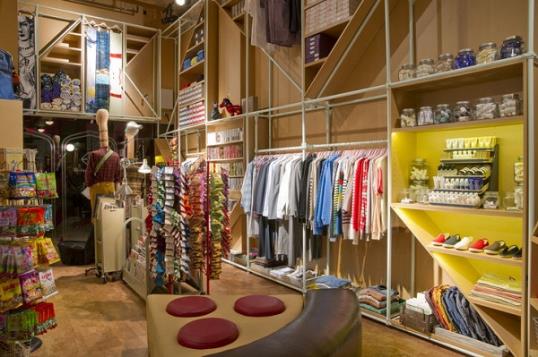 Hotel gift shops can range from okay to serviceable, right? Which is why it's so fabulous that cutting-edge boutique Opening Ceremony revamped the whole gift shop concept for its outpost at the über-trendy Ace Hotel. Yes, guests at the hotel can shop OC's usual range of hot designer labels (Alexander Wang, Carven: check), but the cheerful shop also offers a bunch of travel-themed necessities with some cool hipster flair. We're talking cult-label toothpaste and toiletries, delicious international snacks and fashionably useful must-haves like this Tumi x Opening Ceremony NYC subway map.

Ace Hotel, 20 W 29th St, New York, NY

TenOverSix at the Joule, Dallas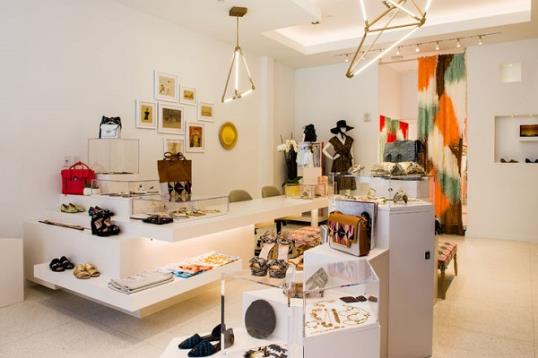 Kristen Lee and Brady Cunningham, the cool girls who run one of our fave shops, TenOverSix, in L.A., are partnering with Joule Hotel in downtown Dallas for a chic redesign. Not only will the ladies set up a TenOverSix outpost in the 1920s landmark hotel, Kristen and Brady will also be re-envisioning a bunch of the community spaces, including the lobby (fun hotel lobbies are the best), a hangout spot called Weekend Coffee, a gift shop aptly named TenOverSix Presents and the TASCHEN Library at the Joule. The work should be unveiled by the end of this summer, so you might want to consider a trip to Dallas for the fall.

Joule, 1530 Main St, Dallas, TX

Strut + Swim W Happenings" at the W New Orleans, New Orleans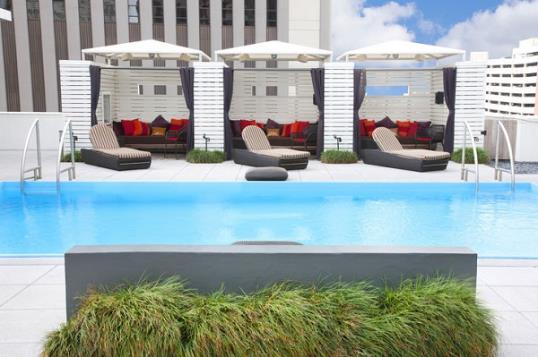 The pool and summer are kind of synonymous, plus you have those cute swimsuits to wear and need a place to show them off. Look to the W in NOLA, which is throwing a poolside fashion extravaganza all. Summer. Long. The hotel's "Strut + Swim W Happenings" series lets guests rock out to DJs, enjoy drink specials, treat themselves to blowouts and makeup seshes and browse designs from local designers and boutiques while poolside. Extra incentive: "Swim + Strut" is open to the public and totally free. (We hear something about giveaways, too.) Schedule here:

Sunday, June 30: 
Fashion from Langford Market, Wish and Goorin Bro.
Glam Squad treatments by Magnolia Makeup and The Blow Dry Bar

Sunday, July 28:
Fashion from designer Alicia Zenobia and Haute Boutique
Glam Squad treatments by Magnolia Makeup and Maison de Cheveux

Sunday, August 25:
Fashion from designers Jolie & Elizabeth, Brooke Lynn Wright and NOLA Bikini
Glam Squad treatments by Magnolia Makeup and Tranquil Salon & Spa

W New Orleans, 333 Poydras St, New Orleans, LA

Diane von Furstenberg-Designed​ Rooms at Claridge's, London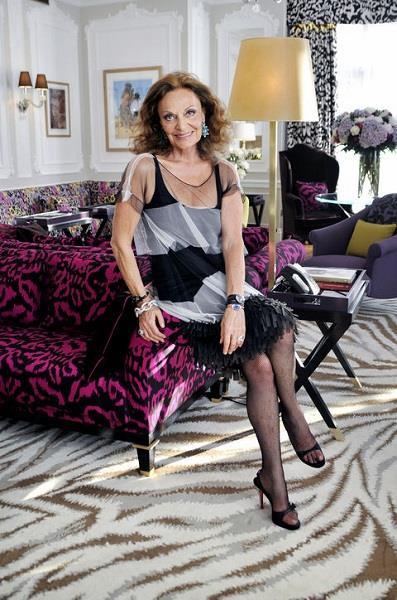 Along with designing her iconic wrap dresses, shoes, bags and the chicest arm sling ever, Diane von Furstenberg also created 20 rooms at Claridge's. The London hotel is one of the international designer's favorite places to stay while she's jet-setting around the world, so this collaboration was kind of a no-brainer. Fans of DVF (and the designer herself!) will feel right at home in one of the plush rooms or suites tricked out in stylin' zebra print rugs, Diane's photography on the walls and signature DVF graphic-printed curtains and bedding.

Claridge's, 49 Brook St, W1K 4HR, London, United Kingdom

Karl Lagerfeld's "Ulysses' Journey around the Mediterranean Sea" at the Hôtel Métropole, Monte Carlo, Monaco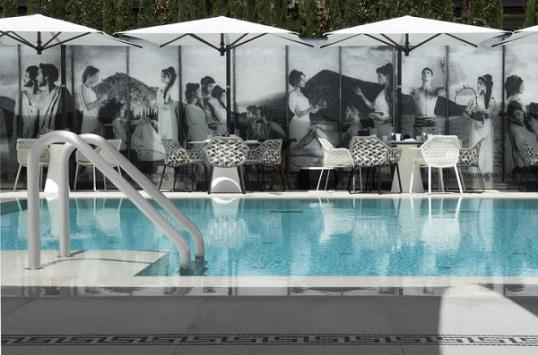 If you're jetting on over to ultra-glam Monte Carlo anytime soon, pay a visit to the luxurious Hôtel Métropole, which recently unveiled this fashion-meets-mythol​ogy poolside art installation by none other than Karl Lagerfeld. The legendary designer created the stunning two-paneled mural by superimposing images of Grecian-outfitted models (togas!) over photos of the Greek coastline taken from his own archives. Can you imagine lounging or dining poolside next to this stunning piece of fashion-y art? This might be on my bucket list of places to visit.

Hôtel Métropole, 4, avenue de la Madone, BP 19, Monte Carlo, Monaco

"Made in Cambodia" at the Shinta Mani, Siem Reap, Cambodia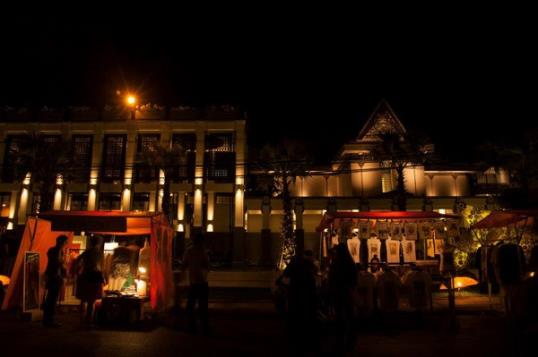 I can personally vouch for this one. I visited Siem Reap, Cambodia, last month (where the mindblowing Angkor Wat is located; highly recommend for a visit) and stayed in this really amazing boutique hotel called the Shinta Mani. And naturally, the day I arrive, they're throwing a monthly shopping fest called Made in Cambodia — because apparently wherever I go, retail therapy opportunities follow me, I swear! It's kind of like a mini-Brooklyn Flea or Hester Street Fair, with locally based vendors and artisans, like Eric Raisina's elegant silk pieces (he created textures for YSL back in the day), expat French designers Mitsou Creation's drapey, architectural pieces, and edgy-cool jewelry by Sao Mao. (I picked up a pair of drop earrings refashioned out of old bullets.) The really fantastic part is that the participating vendors give back to the community in some way, by either providing employment and training or having a nonprofit charity component. Plus, there's a DJ, entertainment and the staffers give out tasty fresh fruit popsicles. Made in Cambodia takes place on the first Saturday of each month.

Shinta Mani, Junction of Oum Khun St, 14th, Mondul 2, Siem Reap DE-99423, Cambodia

Do you like to hit fashion/shopping spots on your vacations? Which place looks most intriguing to you?

Subscribe to Simply Chic | Friend us on Facebook, follow us on Twitter and find us on Pinterest

More Simply Chic:
10 Wardrobe Essentials Every Woman Should Own
10 Hot Date-Night Outfits (According to Guys)
9 Wavy Hairstyles To Try This Summer

Bing: Fashion related vacations
Photos: Courtesy, Made in Cambodia/Shinta Mani by Soalin Orn
beauty tips and style advice
Controversial.... Or empowering?

These jeans aren't just distressed; they're destroyed — and all the cooler for it. They're also the perfect way to make a basic T-shirt feel totally wild.

After almost a decade together and six children, power couple Brad Pitt and Angelina Jolie finally made it official on Saturday, August 23 in Chateau Miraval, France. As we wait for photos of the highly anticipated affair, let's take some time to reminisce with some recent and past famous gorgeous gowns.

Good news for your feet: Sneakers are everywhere this fall. Fashion insiders and celebs alike are sporting athletic shoes with their chicest outfits, making them an essential fall fashion trend. With an abundance of styles in stores right now, it might seem daunting to find the pair that's right for you. We handpicked the 35 best sneaker styles to try.

We're just going to say it: Ankle boots might be are our favorite type of boots. They're tough like classic motos when paired with skinny jeans or leather pants. But they also work in place of fussy heels with a flared skirt or cocktail dress for an unexpected downtown-cool vibe. And, let's be honest, the ankle height just feels more relaxed and comfortable. Never mind that booties take up way less room in your closet too. Wait. Do you know what that means? You can buy more than just one pair this fall—especially since ankle boots come in so many styles, shapes, colors, heel heights, and price points. So check out these 20 booties for fall.

Fall just gives us the warm fuzzies—and not because of the turning of the leaves, football games, or the excuse to eat pumpkin-flavored everything. We can finally wear our very best coats incorporating the newest fashion trends (and there are so many options out there). So make the most of this wonderful time—before the puffy-jacket-required winter rears its blustery head—with these 15 coat and jacket picks for all budgets.

As beauty editors, we thought we had heard (and made!) every hairstyling mistake out there. We no longer use uncoated elastics or rough up our hair with a towel when we get out of the shower, and we even fully embrace the benefits of hair masks. But during a visit with Herbal Essences celebrity stylist Charles Baker Strahan, we learned some new, seriously next-level tips. Read on for better hair days ahead.

Expert tips on how to style the newest fall fashion trend.

Transitioning your wardrobe from season to season is a masterful fashion feat (a.k.a. it's just plain hard). While it's not quite the right time to bust out the fall fashion trends just yet, that head-to-toe white look that you worked all summer isn't really going to work anymore either. So what's a stylish girl to do? Let's look to these fashion influencers and see how they rock the in-between season with great aplomb! The chicest summer-to-fall outfit ideas you have ever seen are right this way.

There isn't a single beauty trend that's as high drama, sultry, and decidedly timeless as the cat eye. Through the decades, the feminine flick has graced the lash lines of many of the greats, from '50s silver screen siren Sophia Loren to modern crooner Lana Del Rey. As an ode to the winged liner look, we're looking back at the most 20 most iconic iterations on the illustrious women that made them famous. Learn how to paint on perfect black winged eyes here.

Even though the '90s and early aughts seem rather far off now that those of us who grew up then have graduated to full-on careers, families, and investment bags, I'm here to let you know: get millennials started talking about the style moments and must-buys that peppered their history and you can't shut them up. When we had the chance to play around with some of Coach's new fall bags, it managed to bring up a group-wide memory of living for the brand's wristlets, circa freshman year of college. From there, the memories of stuff I wanted so bad, from elementary school onward, came pouring out. I'm presenting it all here, supplemented with some contributions from the rest of the Glamour team.

We're living in the age of the selfie. This year, the word was officially added to the dictionary (we even got variations, like "belfie"—we'll let you Google that one); the entire Obama family got in on the act; and a major TV network added a show called Selfie to its fall lineup. Oh, and you didn't even have to watch this year's Oscars to know that the biggest winner of all was not a film, but in fact the selfie. So it's about time you learn how to take a really, really good one.