The 'Kim effect' is more powerful than the 'Kate effect'
Kim Kardashian causes more of a buying frenzy that Kate Middleton, says designer.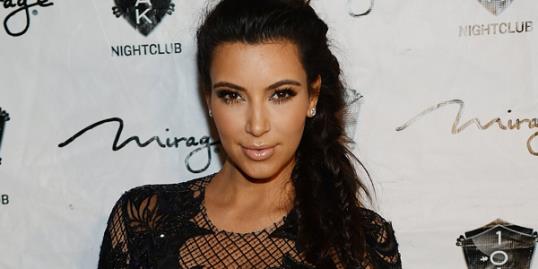 Who has more power when it comes to fashion and beauty? It turns out, Kim Kardashian has more selling power than Kate Middleton. 

According to the Daily Mail, French designer Rouland Mouret is claiming that although women seem to lust after whatever Kate Middleton wears, it is actually Kim Kardashian that has even more selling power than the Duchess. 

More from Living: 50 new hair ideas for the New Year 

Mouret says that every time Kardashian wears one of his dresses, his sales skyrocket almost instantly after, which may sound surprising considering how quickly items sell out in stores whenever they are seen on Kate.  'To be honest, we're more likely to get orders on a dress that Kim Kardashian's worn," he told The Telegraph.

More from Living: Biggest fashion trends of 2013 

Why? He says more women are into the idea of looking like curvaceous Kim. "You don't see hundreds of women running around looking like her [Kate Middleton]," he said, which he pinpoints to the fact that unlike Kim, Kate has no interest in attracting media attention to her. "She's highly attuned to those details that will provoke a tabloid frenzy and above all, she does not want a tabloid frenzy," he said of Kate. "She doesn't seem to feel the need to dress sexily to woo the world. She's dressing for William and herself."

Tell us: Who do you think has more purchase power, Kim or Kate?
Bing: Kate Middleton vs. Kim Kardashian


Photo: Denise Truscello/WireImage
More from Simply Chic:

First look: Katie Holmes for Bobbi Brown
High heels make women look more attractive, study finds
Does makeup help or hurt a woman's self-esteem?
beauty tips and style advice
Sorry, Kate Upton. You may be having a moment now, but the lovely supermodels of the '90s (and '80s) have been going strong for decades, and their careers and stunning looks are showing no signs of slowing down. In fact, we think they've only gotten sexier throughout the years.

Look stylish, even when you have absolutely no idea what to wear, with these totally amazing style hacks.

Your strands are saying more than you think. Not only can your facial features tell you a thing or two about yourself, "your hairstyle can also reveal things about you," Jean Haner, an expert in face reading and author of The Wisdom of Your Face, says. Here, Haner tells what your strands most likely are saying about you, based on her studies in 3,000-year-old face reading derived from Chinese medicine.

Realized that pixie or bob haircut isn't for you? Luckily, it is possible to make a graceful transition back to long.

Not everyone was pleased with free copy of 'GQ" featuring Emily Ratajkowski.

Not everyone was pleased with free copy of 'GQ" featuring Emily Ratajkowski.

Could you go that long without using cosmetics?

Controversial.... Or empowering?

From a young age, little girls learn the word "pretty," but in the last few years, everything has been changing — for the better.

If you want to look picture-perfect in your beautiful wedding dress, you have to invest in the proper undergarments. From comfy shapewear to no-slip strapless bras, we've got answers to every burning question you have about what you need to wear beneath that gown. Your next dress fitting just got way easier. Q: I'm plus-size. [...]

You've seen many a star hit the red carpet in glamorous curls. But, most of the time, these coiled updos come courtesy of a curling iron, which leaves us craving some all-natural inspiration.

Telling a brand their model looks like she needs a sandwich is cruel and helps no one.