Khloe Kardashian's best makeup advice
Khloe shares her go-to products.
Everyone's secret favorite
Kardashian
is now a beauty mogul! Let's hear about that.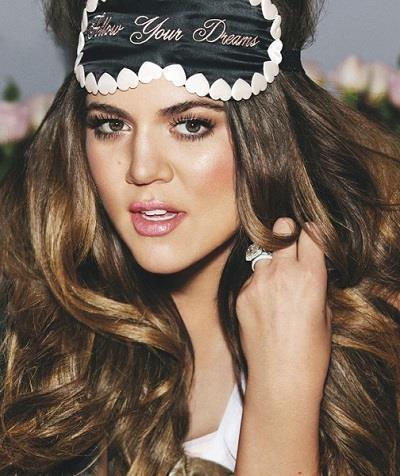 Glamour:
You and your sisters are such girly girls. How is your look distinct?
Khloé Kardashian:
I'm a little more silly than they are. I like to do designs on the side of my face, or cut out foil stickers from the crafts store and put them on my forehead.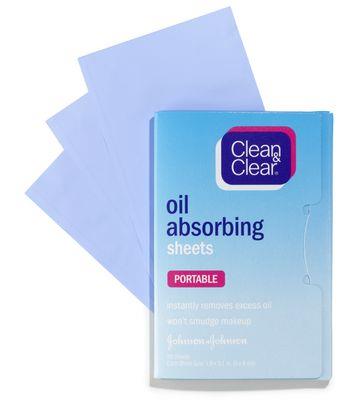 More from Glamour: 10 Things That Should Be on Every Girl's Beauty Bucket List
Her shine stopper: Clean & Clear Oil Absorbing Sheets, $5, at drugstores

Khloe's volumizing secret: Pssssst! Instant Dry Shampoo, $7,
drugstore.com

Glamour: What've they taught you?

KK: I had always been a nude-lipstick girl, but Kourtney does a pop of color on her lips. I tried it and loved it. You can wear less on your eyes and still look put together.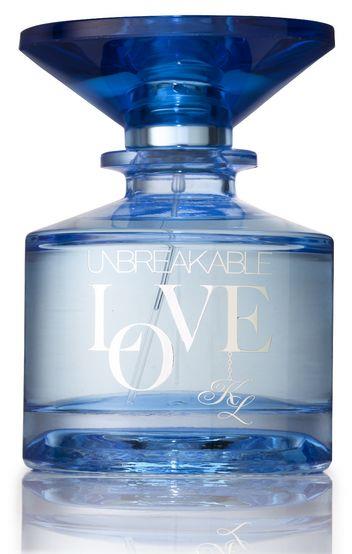 More from Glamour: 10 Beauty Tricks That Make Guys Melt

Her latest scent: Unbreakable Love by Khloé and Lamar, $45 for 3.4oz, perfumania.com

Glamour: And now you've got your own beauty line. I love the lipstick that's sheer on one end and matte on the other.

KK: There are always five glosses, lipsticks, and liners rolling around in my purse. So I said, "God, can we do something to condense it all?" And I don't wear false lashes, so I'm a stickler for mascara. We have four different mascaras coming out as part of the line.

Two shades, one cool tool: Khroma Double Agent Lipstick in Confidential + Classified, $20, drugstore.com

Glamour: Have you influenced Lamar's style at all since you've been married?

KK: I love his New York vibe. Kim doesn't like the jeans-and-T-shirts look. Who cares? He's a guy! But he's religious about his grooming. I was surprised.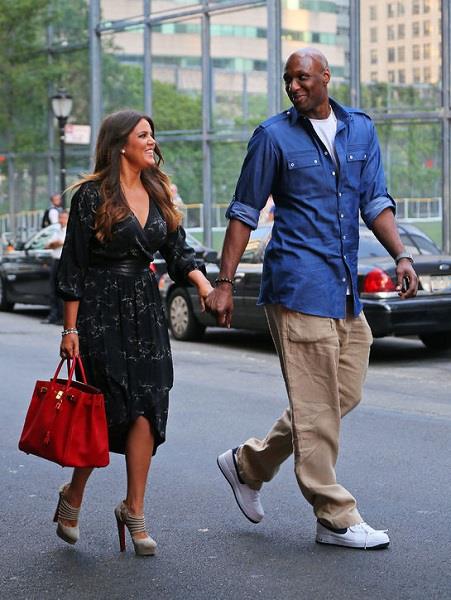 Love them! "I'll be so busy, but I'll make his favorite meal. Those little things, he appreciates them so much."

Glamour: You're always so confident. How do you project that to the world?

KK: A few years ago I lost 30 pounds, and people still wanted to criticize. And honestly, I'm happy with myself if I'm a little heavier. I realized: Why am I trying to conform to someone else's idea of beauty? I think I'm beautiful either way.

What do you ladies think of Khloe's beauty advice? Give her a shout in the comments!

—Lauren Brown

Photos: Ben Watts, Stills: Cathy Crawford, With Lamar: Splash News

More from Glamour:
60 Winter Nail Polish Ideas
31 January Outfit Ideas
What Your Party Outfit Says About You (According to Guys)
beauty tips and style advice
Avoid the hype at the makeup counter by sticking to this list of tried and true performers that will help you look your best day in and day out.

See Kate's best looks from Australia.

The springtime is the best time to press the reset button on your wardrobe, and given the great new fashion that's hitting stores right now, there are a myriad of ways to reboot and refresh. Of the nine must-try trends this season, it can be tough to choose a favorite. Perhaps you're feeling for a graphic floral? And maybe the season's sport-luxe look fits your style too? That said, if you're picking battles where your budget is concerned, the idea of a complete spring makeover can be overwhelming. Fret not, our biannual 100+ Under $100 Guide pulls pieces inspired by both the runways and the pages of the magazine together—at the perfect price.

We raided the aisles to find the best cheapie formulas for you.

As of this morning, I have decided that Kate Middleton should just tour things forever so we get to see more updos like the one she wore last night at a reception hosted by the Governor General Peter Cosgrove in Canberra, Australia.

Dressing for the office doesn't have to boring. Follow these style and beauty tips and you'll be sure to impress.

Every year, we look to the biggest names in bridal beauty and fashion design to pinpoint the hottest bridal hair and makeup ideas – keeping in mind of course that this is a wedding (no crazy neon mascara here). This year, bridal beauty has gone extra natural and romantic -- think messy braids, wispy hair, natural eye makeup and more.

You've got the dress. You've got the venue, date, and invitations. The last thing you need to complete your wedding day? An amazing pair of shoes to wear as you walk down the aisle!

With the dress as the main focus, you want the hair to be understated. An updo does just that. But there's a difference between understated and boring. Adding simple accessories, like a pin or flower, is just enough decoration to the hair. Let these gorgeous pins serve as inspiration for finding a simple, yet understated, wedding hairstyle.

Just when we were getting used to seeing beards everywhere, it may be time for men who enjoy the attention of the opposite sex to invest in some shaving paraphernalia. In a new University of New South Wales study, researchers found that "when people are confronted by a succession of bearded men, clean-shaven men become [...]

If your arm aches just thinking about blow-drying, take heart: These easy hair-saving tips will cut down on your mirror time and deliver salon-level results.

From designer maxi dresses by Roberto Cavalli and Temperley London to contemporary finds by Alice + Olivia and Zimmermann, there's a dress for every kind of seaside bride.