Buttocks and female breast nipples banned from this year's Grammy Awards
Grammy Awards implement dress code.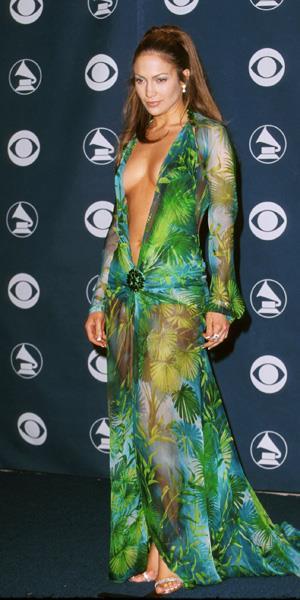 The Grammy Awards tend to be the show that celebrities go crazy in the wardrobe department, but this year, a dress code warning has been issued to those attending. 

According to Buzzfeed, CBS Program Practices, who will air the awards show this Sunday, February 10, has issued a "Wardrobe Advisory" to those who plan to attend the show. 

The email reads the following:

"CBS Program Practices advises that all talent appearing on camera please adhere to Network policy concerning wardrobe.

Please be sure that buttocks and female breasts are adequately covered. Thong type costumes are problematic. Please avoid exposing bare fleshy under curves of the buttocks and buttock crack. Bare sides or under curvature of the breasts is also problematic. Please avoid sheer see-through clothing that could possibly expose female breast nipples. Please be sure the genital region is adequately covered so that there is no visible 'puffy' bare skin exposure. Please avoid commercial identification of actual brand name products on T-shirts. 

More from Living: The top Grammys gowns of all time

Foreign language on wardrobe will need to be cleared. OBSCENITY OR PARTIALLY SEEN OBSCENITY ON WARDROBE IS UNACCEPTABLE FOR BROADCAST. This as well, pertains to audience members that appear on camera. 

More from Living: The most unforgettable Grammys performances

Finally, The Network requests that any organized cause visibly spelled out on talent's wardrobe be avoided. This would include lapel pins or any other form of accessory."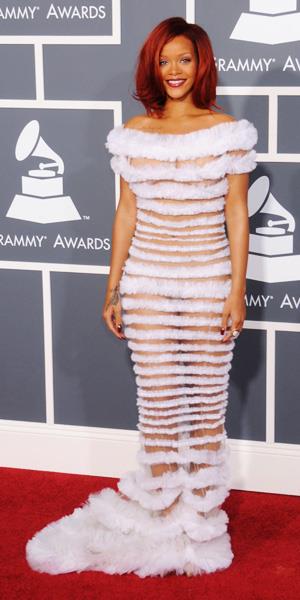 The dress code is creating a lot of buzz in the media world, considering some of the scandalous outfits that have graced the red carpet in past years. From Rihanna to Jennifer Lopez in that infamous green Versace dress, the outfits at the Grammys have always caused a stir. But the question remains, will the warning to avoid problematic "thong type costumes" and the request for no "puffy bare skin exposure" be followed? We shall see, but we're thinking this will only make attendees want to up the ante even more!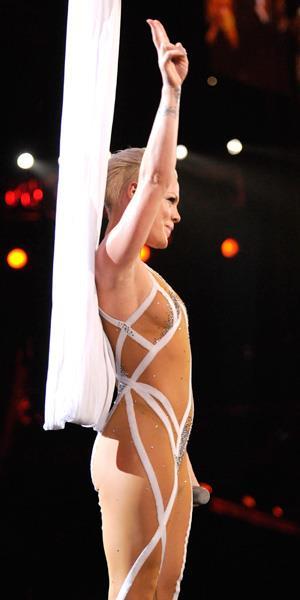 Tell us: Do you think celebs dress too scandalously at the Grammys?
Photos: Gregg DeGuire/FilmMagic/Ge​tty Images, Kevin Mazur/WireImage/Gett​y Images, Sam Levi/WireImage/Getty​ Images

Bing: Extreme Grammys fashion

More from Simply Chic:
Do women really age more quickly than men?
Khloe Kardashian's best makeup advice
The most "OMG, WHAT!?" looks from London Men's Fashion Week
fashion: trends & must-haves for your wardrobe
When it was revealed that Kim Kardashian was expecting her first child with boyfriend Kanye West, we wondered what would happen to her fondness for curve-hugging clothes and stilettos. As it turns out, nothing at all! Kardashian has been criticized for some of her attempts at adapting her everyday style to her growing belly, but we've rounded up her best bump looks, along with the lessons expectant moms can learn from them.

It's official: Bangs are back in a big way this season. Whether you have curly, wavy, or straight hair, there's flattering fringe that will work for you. Check out these celebrity haircuts for inspiration.

Hard work, talent and perseverance are the three keys to professional success—but sometimes a really great haircut helps, too.

There's no miracle cure for acne, but the products and tips below come pretty darn close.

Beauty truth: You can't buy the best makeup and body potions stars use; their makeup pros are whipping up mystery formulas. And beauty sleuth Andrea Pomerantz Lustig learned 'em!

What can make a face softer but edgier at the same time? (Don't worry, this isn't some complicated riddle.) Bangs can enhance any face shape—if you wear them the right way, that is. We've rounded up five ideas with fringe benefits, along with hairstylist Nathaniel Hawkins's tips for pulling them off.

We all know we need moisturizer. The confusing part? Picking one that works for your skin—and your budget. Well, here's your cheat sheet: Using the Allure Beauty Product Finder, we found the ten best drugstore moisturizers for every skin type, all for under $20. So whether your skin is dry, acne-prone, or you've got dark spots or fine lines, we've got you—and your wallet—covered.

Growing pains? Totally unnecessary. Getting—and keeping—long, shiny, sexy hair has never been easier.

You may have spent years studiously ignoring your mother's advice (and she was right about that guy in high school, admit it), but eventually all that bossing and nagging adds up to something truly useful. Here, Allure staffers share their mothers' wisest words about beauty.

Just like a good pair of shoes, the right hair accessory can change your entire mood (and look!). We rounded up some of our favorites from the spring 2013 runways.

You can make your eyes look younger, brighter — even more lifted — in minutes, using just your basic makeup. Find your issue here, then follow our how-to guide to learn the techniques. It's so easy, you won't believe your eyes.

It's one of those workhorse pieces that can make women look crisp, laid-back, professional, or dead sexy. Meet the one shirt dress you'll wear for life.