Buttocks and female breast nipples banned from this year's Grammy Awards
Grammy Awards implement dress code.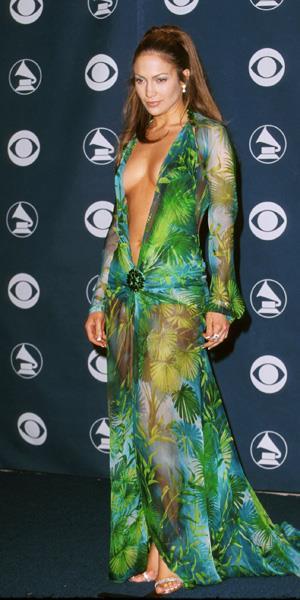 The Grammy Awards tend to be the show that celebrities go crazy in the wardrobe department, but this year, a dress code warning has been issued to those attending. 

According to Buzzfeed, CBS Program Practices, who will air the awards show this Sunday, February 10, has issued a "Wardrobe Advisory" to those who plan to attend the show. 

The email reads the following:

"CBS Program Practices advises that all talent appearing on camera please adhere to Network policy concerning wardrobe.

Please be sure that buttocks and female breasts are adequately covered. Thong type costumes are problematic. Please avoid exposing bare fleshy under curves of the buttocks and buttock crack. Bare sides or under curvature of the breasts is also problematic. Please avoid sheer see-through clothing that could possibly expose female breast nipples. Please be sure the genital region is adequately covered so that there is no visible 'puffy' bare skin exposure. Please avoid commercial identification of actual brand name products on T-shirts. 

More from Living: The top Grammys gowns of all time

Foreign language on wardrobe will need to be cleared. OBSCENITY OR PARTIALLY SEEN OBSCENITY ON WARDROBE IS UNACCEPTABLE FOR BROADCAST. This as well, pertains to audience members that appear on camera. 

More from Living: The most unforgettable Grammys performances

Finally, The Network requests that any organized cause visibly spelled out on talent's wardrobe be avoided. This would include lapel pins or any other form of accessory."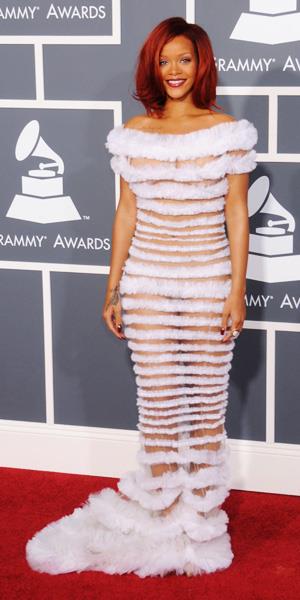 The dress code is creating a lot of buzz in the media world, considering some of the scandalous outfits that have graced the red carpet in past years. From Rihanna to Jennifer Lopez in that infamous green Versace dress, the outfits at the Grammys have always caused a stir. But the question remains, will the warning to avoid problematic "thong type costumes" and the request for no "puffy bare skin exposure" be followed? We shall see, but we're thinking this will only make attendees want to up the ante even more!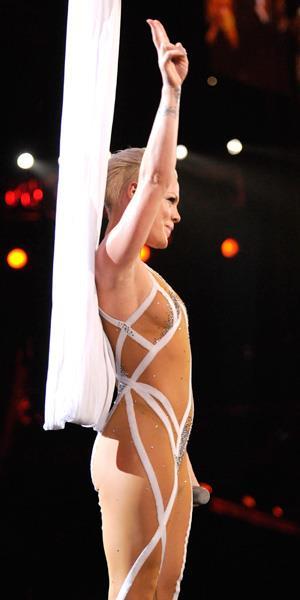 Tell us: Do you think celebs dress too scandalously at the Grammys?
Photos: Gregg DeGuire/FilmMagic/Ge​tty Images, Kevin Mazur/WireImage/Gett​y Images, Sam Levi/WireImage/Getty​ Images

Bing: Extreme Grammys fashion

More from Simply Chic:
Do women really age more quickly than men?
Khloe Kardashian's best makeup advice
The most "OMG, WHAT!?" looks from London Men's Fashion Week
beauty tips and style advice
No one will ever accuse Blanchett of being boring. Gorgeous, yes. We can always count on her to wear—and say—something interesting. Here, we trace this risk taker's style evolution over the past 16 years.

Famous brides may have access to elite designers that most of us can only dream of, but we can all delight in the statements they make on their big days. In honor of the pending nuptials of Kim Kardashian and Kanye West, let's take a look at some recent and past famous gorgeous gowns.

Amy Adams has glittered in tiaras and poufy sleeves as a Disney princess, covered up in bonnets and cloaks as a nun, and gone all crop-toppy in The Fighter. Her personal style, on the other hand, has been a lot more straightforward.

Some things never change. And then there's Sandra Bullock's style. It's hard to remember a time when the actress wasn't America's sweetheart—with a closet full of Lanvin and Marchesa to match—but with more than two decades of the red-carpet game under her belt, she's tried just about everything: crop tops, plunging necklines…even frosty lipstick (it was the '90s, after all). Here, our favorite hits and misses.

Before Jennifer Lawrence was "the world's most desirable woman," she was hiding under a pile of tulle skirts, patterned shifts, and unflattering metallics. Here's how the young bombshell learned how to dress like a true A-lister.

A great haircut is just half the battle. What about how to style it each and every morning? Check out these thirteen easy hairstyle ideas from stars like Gabrielle Union, Emma Stone, and Rooney Mara and get ready to rock ponytails, buns, updos and more.

Nothing but the best of what's new for makeup, skin, and hair (nice prices, too).

The preparation is intense; the entrances are unforgettable. Here are the most spectacular, glamorous, inspiring beauty looks in the history of the Academy Awards.

Look your best this Spring with these ever-popular styles

Not everyone will go home with an Oscar at the Academy Awards on March 2, but this year's losing nominees are all guaranteed to walk away with a jammed-packed gift bag.

That was fast! After a brief stint as a brunette, Britney Spears made the switch to a bold red hue late last week.

Applying makeup might be an effective way to cope with embarrassment.