Buttocks and female breast nipples banned from this year's Grammy Awards
Grammy Awards implement dress code.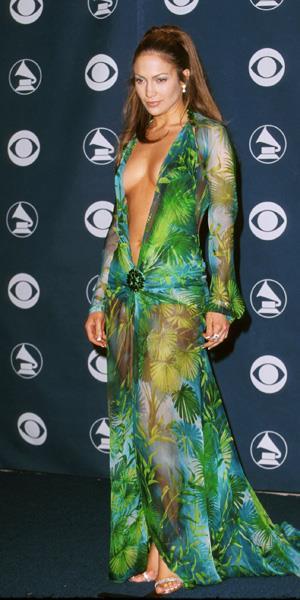 The Grammy Awards tend to be the show that celebrities go crazy in the wardrobe department, but this year, a dress code warning has been issued to those attending. 

According to Buzzfeed, CBS Program Practices, who will air the awards show this Sunday, February 10, has issued a "Wardrobe Advisory" to those who plan to attend the show. 

The email reads the following:

"CBS Program Practices advises that all talent appearing on camera please adhere to Network policy concerning wardrobe.

Please be sure that buttocks and female breasts are adequately covered. Thong type costumes are problematic. Please avoid exposing bare fleshy under curves of the buttocks and buttock crack. Bare sides or under curvature of the breasts is also problematic. Please avoid sheer see-through clothing that could possibly expose female breast nipples. Please be sure the genital region is adequately covered so that there is no visible 'puffy' bare skin exposure. Please avoid commercial identification of actual brand name products on T-shirts. 

More from Living: The top Grammys gowns of all time

Foreign language on wardrobe will need to be cleared. OBSCENITY OR PARTIALLY SEEN OBSCENITY ON WARDROBE IS UNACCEPTABLE FOR BROADCAST. This as well, pertains to audience members that appear on camera. 

More from Living: The most unforgettable Grammys performances

Finally, The Network requests that any organized cause visibly spelled out on talent's wardrobe be avoided. This would include lapel pins or any other form of accessory."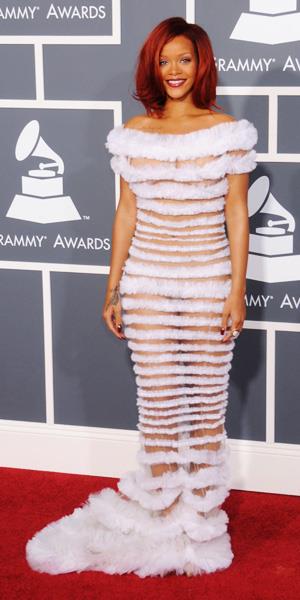 The dress code is creating a lot of buzz in the media world, considering some of the scandalous outfits that have graced the red carpet in past years. From Rihanna to Jennifer Lopez in that infamous green Versace dress, the outfits at the Grammys have always caused a stir. But the question remains, will the warning to avoid problematic "thong type costumes" and the request for no "puffy bare skin exposure" be followed? We shall see, but we're thinking this will only make attendees want to up the ante even more!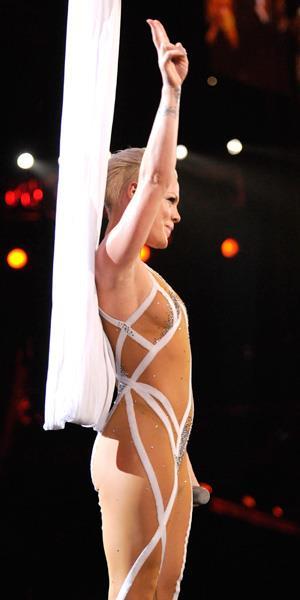 Tell us: Do you think celebs dress too scandalously at the Grammys?
Photos: Gregg DeGuire/FilmMagic/Ge​tty Images, Kevin Mazur/WireImage/Gett​y Images, Sam Levi/WireImage/Getty​ Images

Bing: Extreme Grammys fashion

More from Simply Chic:
Do women really age more quickly than men?
Khloe Kardashian's best makeup advice
The most "OMG, WHAT!?" looks from London Men's Fashion Week
beauty tips and style advice
OK, you're pushing 30 . . . don't panic! Even if you were a complete antiaging recluse in your 20s, there is still time to enter the next decade with endless grace and fewer wrinkles. And who better to steal skin care secrets from than the actresses who remain looking forever young? These Hollywood starlets may be in their 30s, but there's nary a dark spot in sight. Their beauty favorites range from drugstore classics to cult luxury elixirs and even a DIY recipe. With this shopping list under your belt, you can celebrate your 30s without a worry line in sight.

Instead of just slapping on five creams—then washing your face because, seriously, that stuff is heavy—follow the lead of the pros.

Forget about simple straightening--the flat iron is so much more versatile than that.

Assuming that you've had tons of practice doing your own makeup on a daily basis, attempting to do it yourself on your wedding day actually isn't that much more difficult. After all, no one knows your face better than you do, and chances are you have many of the tools and products that you need for the big day right at your fingertips—you just need to know how to use them.

There's a particular episode of 30 Rock ("Black Light Attack!", for all the fellow 30 Rock historians out there) in which Jane Krakowski's youth-obsessed character Jenna goes on a Gossip Girl audition. She thinks it's for the role of an Upper East Side high schooler, but as she learns in the middle of the tryout, it's for that of her mother instead. While Tina Fey's brilliant Liz Lemon later tries to talk Jenna off the cliff, she says, "You can try to fight getting older. You can be like Madonna, and cling to youth with your Gollum arms. Or you can be like Meryl Streep and embrace your age with elegance."

Save money and look great.