Buttocks and female breast nipples banned from this year's Grammy Awards
Grammy Awards implement dress code.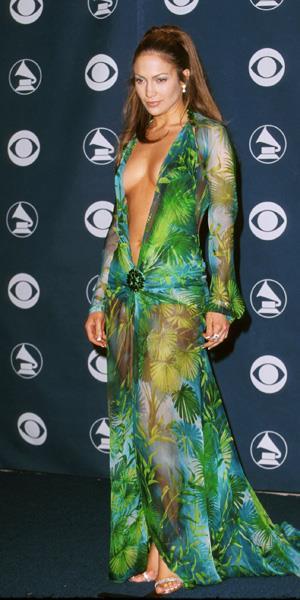 The Grammy Awards tend to be the show that celebrities go crazy in the wardrobe department, but this year, a dress code warning has been issued to those attending. 

According to Buzzfeed, CBS Program Practices, who will air the awards show this Sunday, February 10, has issued a "Wardrobe Advisory" to those who plan to attend the show. 

The email reads the following:

"CBS Program Practices advises that all talent appearing on camera please adhere to Network policy concerning wardrobe.

Please be sure that buttocks and female breasts are adequately covered. Thong type costumes are problematic. Please avoid exposing bare fleshy under curves of the buttocks and buttock crack. Bare sides or under curvature of the breasts is also problematic. Please avoid sheer see-through clothing that could possibly expose female breast nipples. Please be sure the genital region is adequately covered so that there is no visible 'puffy' bare skin exposure. Please avoid commercial identification of actual brand name products on T-shirts. 

More from Living: The top Grammys gowns of all time

Foreign language on wardrobe will need to be cleared. OBSCENITY OR PARTIALLY SEEN OBSCENITY ON WARDROBE IS UNACCEPTABLE FOR BROADCAST. This as well, pertains to audience members that appear on camera. 

More from Living: The most unforgettable Grammys performances

Finally, The Network requests that any organized cause visibly spelled out on talent's wardrobe be avoided. This would include lapel pins or any other form of accessory."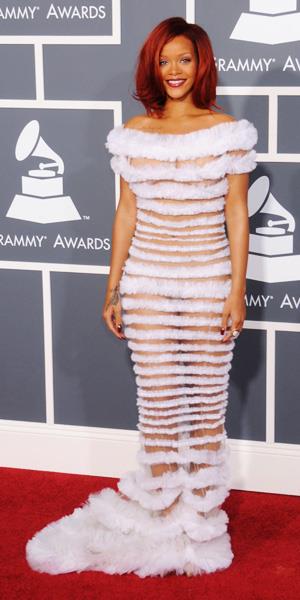 The dress code is creating a lot of buzz in the media world, considering some of the scandalous outfits that have graced the red carpet in past years. From Rihanna to Jennifer Lopez in that infamous green Versace dress, the outfits at the Grammys have always caused a stir. But the question remains, will the warning to avoid problematic "thong type costumes" and the request for no "puffy bare skin exposure" be followed? We shall see, but we're thinking this will only make attendees want to up the ante even more!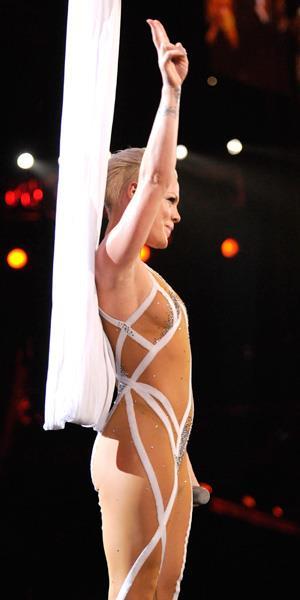 Tell us: Do you think celebs dress too scandalously at the Grammys?
Photos: Gregg DeGuire/FilmMagic/Ge​tty Images, Kevin Mazur/WireImage/Gett​y Images, Sam Levi/WireImage/Getty​ Images

Bing: Extreme Grammys fashion

More from Simply Chic:
Do women really age more quickly than men?
Khloe Kardashian's best makeup advice
The most "OMG, WHAT!?" looks from London Men's Fashion Week
beauty tips and style advice
For any trade, it's totally counterintuitive that an industry could so obviously not cater to the largest demographic out there — but that's exactly how the plus-size world is.

Sorry, Kate Upton. You may be having a moment now, but the lovely supermodels of the '90s (and '80s) have been going strong for decades, and their careers and stunning looks are showing no signs of slowing down. In fact, we think they've only gotten sexier throughout the years.

Look stylish, even when you have absolutely no idea what to wear, with these totally amazing style hacks.

Your strands are saying more than you think. Not only can your facial features tell you a thing or two about yourself, "your hairstyle can also reveal things about you," Jean Haner, an expert in face reading and author of The Wisdom of Your Face, says. Here, Haner tells what your strands most likely are saying about you, based on her studies in 3,000-year-old face reading derived from Chinese medicine.

Realized that pixie or bob haircut isn't for you? Luckily, it is possible to make a graceful transition back to long.

Not everyone was pleased with free copy of 'GQ" featuring Emily Ratajkowski.

Not everyone was pleased with free copy of 'GQ" featuring Emily Ratajkowski.

Could you go that long without using cosmetics?

Controversial.... Or empowering?

From a young age, little girls learn the word "pretty," but in the last few years, everything has been changing — for the better.

If you want to look picture-perfect in your beautiful wedding dress, you have to invest in the proper undergarments. From comfy shapewear to no-slip strapless bras, we've got answers to every burning question you have about what you need to wear beneath that gown. Your next dress fitting just got way easier. Q: I'm plus-size. [...]

You've seen many a star hit the red carpet in glamorous curls. But, most of the time, these coiled updos come courtesy of a curling iron, which leaves us craving some all-natural inspiration.