American Apparel in trouble for 'sexist' ad campaign
A series of ads featuring a unisex flannel shirt causes a stir.

It seems that quite a few clothing companies are getting themselves in hot water these days. After last week's Abercrombie & Fitch scandal and this week's viral video created to get revenge on the company, now it's fashion brand American Apparel that is getting the backlash. The company is under fire for the "sexist," "sleazy" and "degrading ads for a unisex shirt.

According to the Daily Mail, the digital campaign features "provocative images of half-naked women sporting the unbuttoned plaid top in a series of highly sexualized poses – often wearing no underpants or just a pair of tiny G-strings – while the male models involved in the campaign are fully clothed and sombre."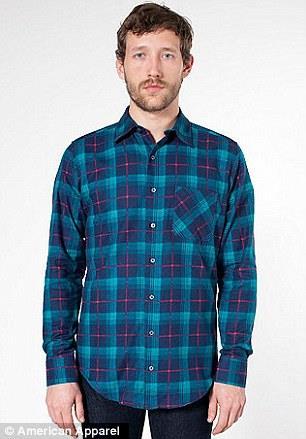 More Living Style: The most iconic workwear of all time

Consumers are not pleased, calling the brand out as being degrading, but American Apparel disagrees, claiming the ads are just "artistic." 

Subscribe to Simply Chic

"As a company, American Apparel is very sensitive to gender and sexual issues, just as we have been to issues like immigration and gay marriage," said a representative for the brand. "In this case, the actual product model photo for this unisex item is fully clothed for women, just as it is for men. Unfortunately, some bloggers have confused an artistic photoshoot which accompany the pages with a product shot and a controversy erupted as a result."

More Living Style: 31 May outfit ideas

The representative added that the brand is known for this type of advertising. "American Apparel is well known for its provocative imagery, artistic photographs and its stance on free expression within the fashion industry. Our style deliberately eschews the Photoshopped and impossibly unreal aesthetics of many of our competitors. We don't think there is anything in these photos out of sync with our standards, and we think they portray the garments and the models in an attractive way and are not even the slightest discriminatory. Clearly we'd never seek to upset anyone, and we're sorry to anyone who is upset."

Tell us: Do these ads offend you?

More Simply Chic:
Abercrombie wants only thin and beautiful people in its stores
Company designs clothing brand for single people
H&M decides to use real-looking women to model swimwear

Bing: American Apparel scandals

Photos: American Apparel
beauty tips and style advice
These travel-sized beauty products will do double-duty while you're on the road.

And before you ask, sorry, the $325 dress is SOLD OUT on Matches.com and DVF.com—you snooze, you loose.

Click through the slideshow to shop some of our spring favorites.

French braid? Been there. Fishtail? Done that. The newest styles are all about unexpected texture, major volume, and one man's wild imagination.

Long hair, don't care? Think again…

She dishes on the routine that keeps her looking polished, even when she's pulling up to the <i>Mad Men</i> set at 5 a.m. Plus, the fragrance that helps Christina get her Joan on.

For inspiration, we've rounded up gorgeous (and easy to replicate) wedding makeup looks from the red carpet.

With a few insider tricks, you can enjoy short hair 365 days of the year and have a gorgeous style on your wedding day. Wedding hairstyles for short hair do exist.

I'm beyond excited to finally ditch my winter coat and heavy layers, but I'm not so eager to ditch my tights. Let's just say my legs are not as smooth and bronzed as they were the last time I showed them off many, many months ago.

After a jam-packed week in New Zealand, Kate Middleton and Prince William finally enjoyed a day off, but as of last night (or this morning..? Ah, time change!) they're back on the road again.

Neatly sidestepping high fashion, the smiling, cheerful Kate Middleton is fast becoming the Duchess of Normcore.

This December, New Yorkers might notice something missing in the Christmas air.