Unattractive people more likely to be bullied at work
Colleagues may be just as harsh when it comes to bullying as high school students.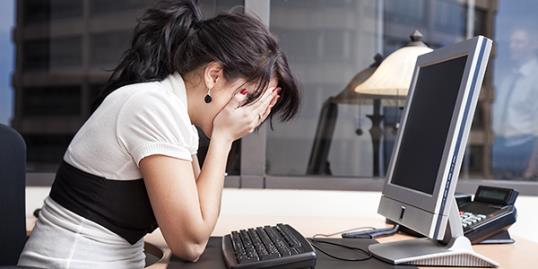 Many adults couldn't wait to get out of high school to get away from all that petty, immature behavior and those ridiculous cliques. But now that we're adults, it may not actually be any better.

Living style: 8 office-friendly summer work looks

According to Science Daily, a new study finds that work colleagues may be just as harsh when it comes to bullying as high school students.

Living inspired life: 20 ways to boost your confidence in 5 minutes or less

The "Beauty, Personality, and Affect as Antecedents of Counterproductive Work Behavior Receipt" study, conducted by Timothy Judge, professor of management at the University of Notre Dame's Mendoza College of Business, and Brent Scott, from Michigan State University, links unattractiveness to cruel behavior in the office.

Living inspire me: 9 simple ways to de-stress at home

The findings were quite shocking, confirming that physical attractiveness has a direct impact on how people treat their coworkers. "Our research is novel because it focuses on how coworkers treat attractive and unattractive colleagues," says Judge. "We find that unattractive individuals are more likely the subject of rude, uncivil and even cruel treatment by their coworkers. And, not only do we, as a society, perceive attractive and unattractive coworkers differently, we act on those perceptions in ways that are hurtful." And that's not all. "Given that physical attractiveness is not a bona fide occupational qualification for most jobs, our new findings are problematic for society," Judge says. "Worse, research reliably shows that we're more influenced by attractiveness than we are willing to admit."

Simply Chic: What to wear when you want people to listen

But the most troubling part about it is there really isn't an easy solution. But Judge says society can start with acknowledgement. "Awareness is surely one important step," Judge says. "If we recognize our biases and are more open and honest about their pervasiveness, we'll be in much better shape to combat the influence."

Tell us: Do you know people who are bullied at work?

Subscribe to Simply Chic | Friend us on Facebook | Follow us on Twitter | Find us on Pinterest

More Simply Chic...
Plus-size model Robyn Lawley debuts swim collection
Smile! It turns out happy people have better skin
Protesters stand in their underwear to promote positive body image

Photo: Justin Horrocks/Getty Images
beauty tips and style advice
Click to see 10 must-have hair tools to streamline your beauty routine.

See 9 of the prettiest holiday hair accessories for the holidays.

Here's how to choose the neckline style that looks best on you.

This season, let your nails be as merry—and bright—as your mood.

Sure, a little black dress or le smoking is always on par for the party scene, but who says holiday dressing has to be so cut and dry? We have 15 ideas for switching it up this season—getting festive just got a whole lot more fun.

Super-fast (and easy) hair, makeup, and nail ideas that'll make you party-ready in minutes. Sorry, no more last-minute bailing because you're running late.

From straight and sleek to intricate braids and sky high topknots, some celebs just know how to do party hair

From a structured blazer to that awe-inducing statement clutch, Rachel Zoe shares her picks for December dressing with InStyle.com exclusively.

Simple style tricks to help your hair look better in an instant.

7 hairstyles to try this holiday season.

You know that classic nightmare where you walk into school or work completely naked? That's how I feel when I'm having a bad hair day. Like I don't want anyone to look at me and it takes everything I have not to immediately turn around and run back home.

Victoria Beckham will share her fashion story and give inside access to her brand via The Skype Collaboration Project in January 2014.