All the fascinating statistics of Kate Middleton's flawless style
Vogue compiles interesting stats in regards to Kate Middleton's style.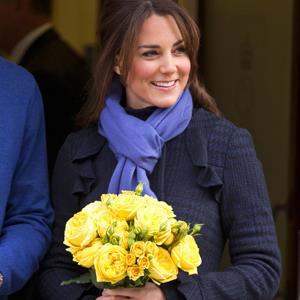 Have you ever wondered how many dresses the Duchess of Cambridge takes with her on vacation, or what her favorite shoe brand is? Well now you can learn everything you ever wanted to know about Kate's makeup, hair and wardrobe (and even her teeth), thanks to Vogue.

More from Living: 50 new hair ideas for the New Year

The fashion bible has taken the work out of figuring all of that out for us by compiling a detailed, comprehensive guide to the style of Kate Middleton in its February issue. All in all, it's nothing short of fab. 

More from Living: Princess Diana and Kate Middleton's similar styles

Let's take a look at some of the most fascinating stats, as reported by the Daily Mail:

Her favorite color is blue, which she has worn on 24 percent of occasions.

Most outfits come from LK Bennett – worn on 28 public occasions, with Alexander McQueen followed as next favorite label.

She took 61 items of clothing to SE Asia, at an average cost of 1,427 pounds ($2280.00) per outfit (compared to 4,270 ($6840.00) for Diana).

She wears a glossy 'chelsea blow dry' 73.4 percent of the time and has a hair dresser on call 24 hours a day.

Her hats/fascinators are always to the right at a 50 degree angle.

Her favorite shoes are buy Stuart Weitzman, followed by Jimmy Choo.

She shows an average of 8.6 teeth when she smiles.

And now that we know where she buys her outfits, how her teeth look so white and the name of her enviable glossy 'do, we're that much closer to royalty (well, maybe not. But regardless it was pretty entertaining to read them.)
Tell us: What's your favorite statistic out of these?


Photo: Indigo/Getty Images
Bing:
Kate Middleton celebrates 31st birthday
More from Simply Chic:

The 'Kim effect' is more powerful than the 'Kate effect'
Models covered in manure for photo shoot
Has the cat trend officially jumped the shark?
Are you sure you want to delete this comment?
beauty tips and style advice
Once the summer heat kicks in, it's all we can do not to slip into the breeziest beach dresses and flip-flops for the morning commute. So trust us when we say we understand that the humidity can have a powerful effect on your wardrobe — still, there are some things you just can't wear to your place of employment, no matter how hot it gets.

Wrinkle no blouse, tangle no jewelry, leave no beauty product behind, and still have room to spare.

Hue-changing dos we absolutely love.

Why your jean size varies from store to store.

Wait a month between waxing visits? Check. Pop a preappointment Advil? Duh. We all know the basics, but here are the tricks you don't know.

What to always—and never, ever—do to keep hair in top shape.

Get inspired to try these sweet and summery looks.

Stunning wedding styles that create a statement.

I attended the Abercrombie and Fitch holiday-season press preview yesterday, and in between checking out the cute gear that will hit stores this November, I picked up a little nugget of information I just have to share.

How to wear this cool-weather staple in the summer.

See how Miranda Kerr made a pair of Birkenstocks chic.

We love how a new nail polish has the ability to instantly change your look and your mood with a simple swipe. While happy lime greens and aquas are ruling the five million #nailpolish Instagrams this summer, there are a variety of great colors to choose from—whether you want an office-appropriate neutral or a fun going-out shade that'll give your LBD a punch of color.