All the fascinating statistics of Kate Middleton's flawless style
Vogue compiles interesting stats in regards to Kate Middleton's style.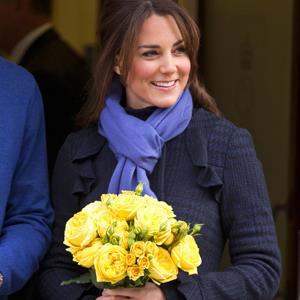 Have you ever wondered how many dresses the Duchess of Cambridge takes with her on vacation, or what her favorite shoe brand is? Well now you can learn everything you ever wanted to know about Kate's makeup, hair and wardrobe (and even her teeth), thanks to Vogue.

More from Living: 50 new hair ideas for the New Year

The fashion bible has taken the work out of figuring all of that out for us by compiling a detailed, comprehensive guide to the style of Kate Middleton in its February issue. All in all, it's nothing short of fab. 

More from Living: Princess Diana and Kate Middleton's similar styles

Let's take a look at some of the most fascinating stats, as reported by the Daily Mail:

Her favorite color is blue, which she has worn on 24 percent of occasions.

Most outfits come from LK Bennett – worn on 28 public occasions, with Alexander McQueen followed as next favorite label.

She took 61 items of clothing to SE Asia, at an average cost of 1,427 pounds ($2280.00) per outfit (compared to 4,270 ($6840.00) for Diana).

She wears a glossy 'chelsea blow dry' 73.4 percent of the time and has a hair dresser on call 24 hours a day.

Her hats/fascinators are always to the right at a 50 degree angle.

Her favorite shoes are buy Stuart Weitzman, followed by Jimmy Choo.

She shows an average of 8.6 teeth when she smiles.

And now that we know where she buys her outfits, how her teeth look so white and the name of her enviable glossy 'do, we're that much closer to royalty (well, maybe not. But regardless it was pretty entertaining to read them.)
Tell us: What's your favorite statistic out of these?


Photo: Indigo/Getty Images
Bing:
Kate Middleton celebrates 31st birthday
More from Simply Chic:

The 'Kim effect' is more powerful than the 'Kate effect'
Models covered in manure for photo shoot
Has the cat trend officially jumped the shark?
Are you sure you want to delete this comment?
beauty tips and style advice
Controversial.... Or empowering?

These jeans aren't just distressed; they're destroyed — and all the cooler for it. They're also the perfect way to make a basic T-shirt feel totally wild.

Good news for your feet: Sneakers are everywhere this fall. Fashion insiders and celebs alike are sporting athletic shoes with their chicest outfits, making them an essential fall fashion trend. With an abundance of styles in stores right now, it might seem daunting to find the pair that's right for you. We handpicked the 35 best sneaker styles to try.

We're just going to say it: Ankle boots might be are our favorite type of boots. They're tough like classic motos when paired with skinny jeans or leather pants. But they also work in place of fussy heels with a flared skirt or cocktail dress for an unexpected downtown-cool vibe. And, let's be honest, the ankle height just feels more relaxed and comfortable. Never mind that booties take up way less room in your closet too. Wait. Do you know what that means? You can buy more than just one pair this fall—especially since ankle boots come in so many styles, shapes, colors, heel heights, and price points. So check out these 20 booties for fall.

Fall just gives us the warm fuzzies—and not because of the turning of the leaves, football games, or the excuse to eat pumpkin-flavored everything. We can finally wear our very best coats incorporating the newest fashion trends (and there are so many options out there). So make the most of this wonderful time—before the puffy-jacket-required winter rears its blustery head—with these 15 coat and jacket picks for all budgets.

As beauty editors, we thought we had heard (and made!) every hairstyling mistake out there. We no longer use uncoated elastics or rough up our hair with a towel when we get out of the shower, and we even fully embrace the benefits of hair masks. But during a visit with Herbal Essences celebrity stylist Charles Baker Strahan, we learned some new, seriously next-level tips. Read on for better hair days ahead.