All the fascinating statistics of Kate Middleton's flawless style
Vogue compiles interesting stats in regards to Kate Middleton's style.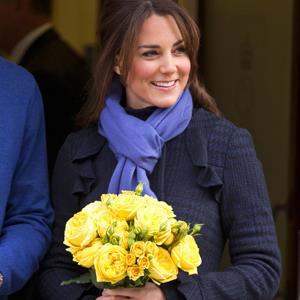 Have you ever wondered how many dresses the Duchess of Cambridge takes with her on vacation, or what her favorite shoe brand is? Well now you can learn everything you ever wanted to know about Kate's makeup, hair and wardrobe (and even her teeth), thanks to Vogue.

More from Living: 50 new hair ideas for the New Year

The fashion bible has taken the work out of figuring all of that out for us by compiling a detailed, comprehensive guide to the style of Kate Middleton in its February issue. All in all, it's nothing short of fab. 

More from Living: Princess Diana and Kate Middleton's similar styles

Let's take a look at some of the most fascinating stats, as reported by the Daily Mail:

Her favorite color is blue, which she has worn on 24 percent of occasions.

Most outfits come from LK Bennett – worn on 28 public occasions, with Alexander McQueen followed as next favorite label.

She took 61 items of clothing to SE Asia, at an average cost of 1,427 pounds ($2280.00) per outfit (compared to 4,270 ($6840.00) for Diana).

She wears a glossy 'chelsea blow dry' 73.4 percent of the time and has a hair dresser on call 24 hours a day.

Her hats/fascinators are always to the right at a 50 degree angle.

Her favorite shoes are buy Stuart Weitzman, followed by Jimmy Choo.

She shows an average of 8.6 teeth when she smiles.

And now that we know where she buys her outfits, how her teeth look so white and the name of her enviable glossy 'do, we're that much closer to royalty (well, maybe not. But regardless it was pretty entertaining to read them.)
Tell us: What's your favorite statistic out of these?


Photo: Indigo/Getty Images
Bing:
Kate Middleton celebrates 31st birthday
More from Simply Chic:

The 'Kim effect' is more powerful than the 'Kate effect'
Models covered in manure for photo shoot
Has the cat trend officially jumped the shark?
Are you sure you want to delete this comment?
beauty tips and style advice
Neatly sidestepping high fashion, the smiling, cheerful Kate Middleton is fast becoming the Duchess of Normcore.

This December, New Yorkers might notice something missing in the Christmas air.

When Madonna posted an image of herself wearing a full on Game of Thrones Khaleesi costume on Instagram last week we weren't exactly surprised—this is the woman who rolled into the Grammy Awards wearing a tuxedo and a grill earlier this winter, so why not celebrate the Jewish holiday of Purim with a leather corset and a pair of tiny dragons? Still, we were hypnotized by her white-blonde, braided Daenerys Targaryen hair. Functioning as a bleached out cultural weather vane of sorts, it tapped into multiple obsessions at once—the return of "Game of Thrones" to HBO, spring's new extreme hair lengths and, most notably, fashion's current platinum mania. Our own love of ice-blonde hair—which transforms any look from everyday to extraordinary—has been well documented of late, but last night's Game of Thrones premiere sent our platinum fever into overdrive. In celebration of fashion's favorite hair color, a look at the best platinum moments in history.

While you were sleeping, fast retail chain H&M H&M announced that its next designer collaboration is with Alexander Wang.

Formal, beachy, country club-chic or gorgeously rustic whatever the setting calls for, we've found a bevy of beautiful dresses to wear to a wedding this season.

Puffy, tired, weary no more. These tips take years off and create that "I slept great, thanks!" effect.