All the fascinating statistics of Kate Middleton's flawless style
Vogue compiles interesting stats in regards to Kate Middleton's style.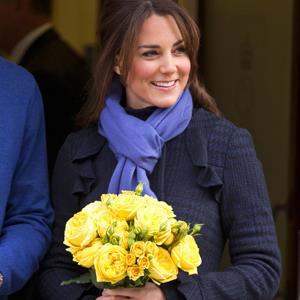 Have you ever wondered how many dresses the Duchess of Cambridge takes with her on vacation, or what her favorite shoe brand is? Well now you can learn everything you ever wanted to know about Kate's makeup, hair and wardrobe (and even her teeth), thanks to Vogue.

More from Living: 50 new hair ideas for the New Year

The fashion bible has taken the work out of figuring all of that out for us by compiling a detailed, comprehensive guide to the style of Kate Middleton in its February issue. All in all, it's nothing short of fab. 

More from Living: Princess Diana and Kate Middleton's similar styles

Let's take a look at some of the most fascinating stats, as reported by the Daily Mail:

Her favorite color is blue, which she has worn on 24 percent of occasions.

Most outfits come from LK Bennett – worn on 28 public occasions, with Alexander McQueen followed as next favorite label.

She took 61 items of clothing to SE Asia, at an average cost of 1,427 pounds ($2280.00) per outfit (compared to 4,270 ($6840.00) for Diana).

She wears a glossy 'chelsea blow dry' 73.4 percent of the time and has a hair dresser on call 24 hours a day.

Her hats/fascinators are always to the right at a 50 degree angle.

Her favorite shoes are buy Stuart Weitzman, followed by Jimmy Choo.

She shows an average of 8.6 teeth when she smiles.

And now that we know where she buys her outfits, how her teeth look so white and the name of her enviable glossy 'do, we're that much closer to royalty (well, maybe not. But regardless it was pretty entertaining to read them.)
Tell us: What's your favorite statistic out of these?


Photo: Indigo/Getty Images
Bing:
Kate Middleton celebrates 31st birthday
More from Simply Chic:

The 'Kim effect' is more powerful than the 'Kate effect'
Models covered in manure for photo shoot
Has the cat trend officially jumped the shark?
Are you sure you want to delete this comment?
beauty tips and style advice
Telling a brand their model looks like she needs a sandwich is cruel and helps no one.

If diamonds are a girl's best friend, then fashion is the close friend who completes her circle. Style is unique to each and every one of us, but trends come and go to serve as fun ways to spice up our everyday looks or ways to try out something altogether new and bold. Even bridal wear captures trends each season (hello crop tops!), but brides to be must remember that just because it is being sold, does not mean that it is meant to be worn on one of the most important days of your life. This summer, fashion has a slew of great seasonal fads, but most of them just do not work for a wedding. If you're on the fence about how trendy to be for your wedding day, here are five pieces to avoid during your wedding festivities.

We've done some strange things in the name of beauty (a butt facial for one), but these powerful ingredients would make us gag — if they didn't work so damn well.

The redeeming factor of summer, sadly, not being endless? New seasons require a different wardrobe, and there's no time like the present to start your fall shopping. With autumn creeping up, I already know the boots and sweaters I'll be heaving out of the stuffed containers under my bed that I think of fondly as my second closet…but there's always room for fresh blood. I quizzed Shopbop's fashion director, Elle Strauss, for help with getting the best strategy in place. Herewith, the 10 pieces she suggests picking up now (plus chic ideas for how to start incorporating them into your current closet).

We may have one more month left in summer, but pretty soon you're going to have to start thinking about fall outfits. And what's a bigger fall wardrobe workhorse than denim? Audit your closet to see if you own these jean essentials, and if not, consider adding them to your fall shopping list.

Maybe this sounds familiar: You fall in love with a sweet new face scrub and love it so much that you use it, oh, every day. Morning and night. Until your skin breaks out in protest. Or perhaps you're in the once-a-year pedicure camp, and have to spend hours pumicing your callouses before even thinking about polish. Well, the laissez-faire approach stops now. It's not just which products you choose—but how often you deploy them. Here's a quick rundown of how frequently you should be doing various at-home treatments.