All the fascinating statistics of Kate Middleton's flawless style
Vogue compiles interesting stats in regards to Kate Middleton's style.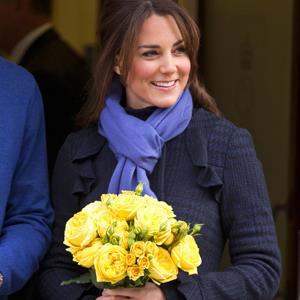 Have you ever wondered how many dresses the Duchess of Cambridge takes with her on vacation, or what her favorite shoe brand is? Well now you can learn everything you ever wanted to know about Kate's makeup, hair and wardrobe (and even her teeth), thanks to Vogue.

More from Living: 50 new hair ideas for the New Year

The fashion bible has taken the work out of figuring all of that out for us by compiling a detailed, comprehensive guide to the style of Kate Middleton in its February issue. All in all, it's nothing short of fab. 

More from Living: Princess Diana and Kate Middleton's similar styles

Let's take a look at some of the most fascinating stats, as reported by the Daily Mail:

Her favorite color is blue, which she has worn on 24 percent of occasions.

Most outfits come from LK Bennett – worn on 28 public occasions, with Alexander McQueen followed as next favorite label.

She took 61 items of clothing to SE Asia, at an average cost of 1,427 pounds ($2280.00) per outfit (compared to 4,270 ($6840.00) for Diana).

She wears a glossy 'chelsea blow dry' 73.4 percent of the time and has a hair dresser on call 24 hours a day.

Her hats/fascinators are always to the right at a 50 degree angle.

Her favorite shoes are buy Stuart Weitzman, followed by Jimmy Choo.

She shows an average of 8.6 teeth when she smiles.

And now that we know where she buys her outfits, how her teeth look so white and the name of her enviable glossy 'do, we're that much closer to royalty (well, maybe not. But regardless it was pretty entertaining to read them.)
Tell us: What's your favorite statistic out of these?


Photo: Indigo/Getty Images
Bing:
Kate Middleton celebrates 31st birthday
More from Simply Chic:

The 'Kim effect' is more powerful than the 'Kate effect'
Models covered in manure for photo shoot
Has the cat trend officially jumped the shark?
Are you sure you want to delete this comment?
beauty tips and style advice
Every flight seems to have one: that girl who, even after spending several hours enduring the same dry, cramped conditions as everybody else, deplanes looking mind-bogglingly dewy and well-rested. She leaves you too intrigued to be jealous, because who survives air travel without getting puffy eyes and dry patches? Does that mean you can as well? According to our editors, the answer is yes. As you'll see in the slideshow above, which includes their in-flight beauty routines, maintaining your skin, health and hair while traveling through the sky all comes down to the right products. Click through to see what they use, and to stock up before your next big trip—next time, you'll be the one everyone notices.

Got a destination on the horizon? Emulate any one of these 19 outfits and you'll have stylish jet-setting fashion down pat in no time.

Take a look at Jessica Alba's new blonde hair and tell us, do you like it?

Make it through the holidays without repeating an outfit! Our editors show you how.

Each year, we dust off our tree ornaments and holiday-party makeup looks (red lips, smoky eyes, and snowflake-size flecks of glitter). But not this winter. We've traded in our frequent flyer miles for bright, beachy shades and a holiday in the sun.

Holiday parties are the perfect opportunity to experiment with the most inspiring celebrity hairstyles you spend the rest of the year pining (and pinning) away for. We've rounded up a month's worth of stunning options, complete with styling tips and product recommendations straight from some of the pros who created them.