Women in Japan are renting out their legs for advertising space
New trend in advertising: Using bare legs to promote brand awareness.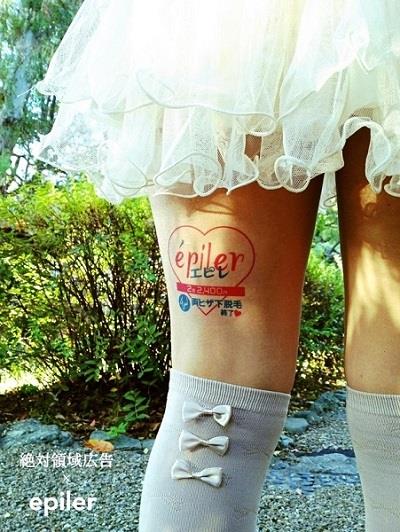 Renting billboard space in prime locations may have been the old way to advertise, but these days, Japan is scouting out new space to rent for their advertising campaigns. According to the Daily Mail, enterprising firms have rented ad space on a Japanese woman's bare legs, paying her to wear a miniskirt 8 hours a day to display their advertising. 

More from Living: 25 most provocative fashion & beauty products

The Daily Mail reports that in order to participate, a woman will get her leg stamped with an ad, then go about her daily life, but make sure she is constantly wearing a short skirt to show off the branding. 

More from Living: 21 style don'ts to live by

The woman must also take a picture of her leg with the advertising on it so that the company knows they are doing their job.

This unique form of advertising is definitely an interesting concept, but is it affective? It is certainly an attention-getter.

Tell us: What do you think of this concept?

Bing: Odd advertising

Photo: via odditycentral.com

More from Simply Chic:
What makes women feel their sexiest?
The 18 cities with the prettiest people
Seeing is believing: Plus-size models may boost body image
beauty tips and style advice
Squeeze days out of your style with smart tricks from blowout queen Alli Webb, founder of Drybar.

Our favorite freckle-faced models and actresses.

Still searching for your dream wedding dress? You'll get a kick out of these fun facts about your most important wedding-day purchase.

From detachable tulle overskirts to romantic off-the-shoulder necklines, check out these emerging trends from the Spring 2015 bridal runways.

Who says you have to wear white on your wedding day? Get some colorful inspiration from these seven wedding dresses.

Since its inception in 1940, the International Best-Dressed List—revealed in Vanity Fair for the last decade—has lauded the most polished, eclectic, and stylish of dressers. From royalty to politicians, athletes to fashion designers, the poll is comprehensive in the personalities it celebrates. Those appearing multiple times over the years are considered for induction into the Hall of Fame—the List's highest honor.