Women in Japan are renting out their legs for advertising space
New trend in advertising: Using bare legs to promote brand awareness.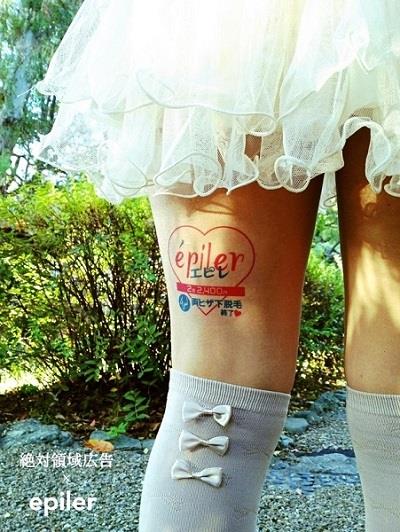 Renting billboard space in prime locations may have been the old way to advertise, but these days, Japan is scouting out new space to rent for their advertising campaigns. According to the Daily Mail, enterprising firms have rented ad space on a Japanese woman's bare legs, paying her to wear a miniskirt 8 hours a day to display their advertising. 

More from Living: 25 most provocative fashion & beauty products

The Daily Mail reports that in order to participate, a woman will get her leg stamped with an ad, then go about her daily life, but make sure she is constantly wearing a short skirt to show off the branding. 

More from Living: 21 style don'ts to live by

The woman must also take a picture of her leg with the advertising on it so that the company knows they are doing their job.

This unique form of advertising is definitely an interesting concept, but is it affective? It is certainly an attention-getter.

Tell us: What do you think of this concept?

Bing: Odd advertising

Photo: via odditycentral.com

More from Simply Chic:
What makes women feel their sexiest?
The 18 cities with the prettiest people
Seeing is believing: Plus-size models may boost body image
beauty tips and style advice
In feel-good fashion news of the day: Victoria Beckham will design a set of mommy-daughter dresses to benefit Born Free Africa, a non-profit with the mission to end mother-to-child HIV transmission by 2015.

See Duchess Catherin's perfect beach look.

These travel-sized beauty products will do double-duty while you're on the road.

And before you ask, sorry, the $325 dress is SOLD OUT on Matches.com and DVF.com—you snooze, you loose.

Click through the slideshow to shop some of our spring favorites.

French braid? Been there. Fishtail? Done that. The newest styles are all about unexpected texture, major volume, and one man's wild imagination.

Long hair, don't care? Think again…

She dishes on the routine that keeps her looking polished, even when she's pulling up to the <i>Mad Men</i> set at 5 a.m. Plus, the fragrance that helps Christina get her Joan on.

For inspiration, we've rounded up gorgeous (and easy to replicate) wedding makeup looks from the red carpet.

With a few insider tricks, you can enjoy short hair 365 days of the year and have a gorgeous style on your wedding day. Wedding hairstyles for short hair do exist.

I'm beyond excited to finally ditch my winter coat and heavy layers, but I'm not so eager to ditch my tights. Let's just say my legs are not as smooth and bronzed as they were the last time I showed them off many, many months ago.

After a jam-packed week in New Zealand, Kate Middleton and Prince William finally enjoyed a day off, but as of last night (or this morning..? Ah, time change!) they're back on the road again.