Women in Japan are renting out their legs for advertising space
New trend in advertising: Using bare legs to promote brand awareness.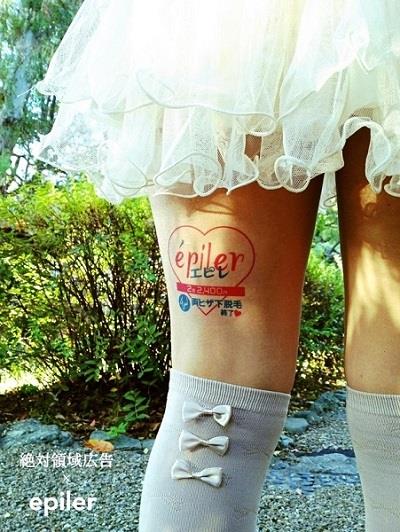 Renting billboard space in prime locations may have been the old way to advertise, but these days, Japan is scouting out new space to rent for their advertising campaigns. According to the Daily Mail, enterprising firms have rented ad space on a Japanese woman's bare legs, paying her to wear a miniskirt 8 hours a day to display their advertising. 

More from Living: 25 most provocative fashion & beauty products

The Daily Mail reports that in order to participate, a woman will get her leg stamped with an ad, then go about her daily life, but make sure she is constantly wearing a short skirt to show off the branding. 

More from Living: 21 style don'ts to live by

The woman must also take a picture of her leg with the advertising on it so that the company knows they are doing their job.

This unique form of advertising is definitely an interesting concept, but is it affective? It is certainly an attention-getter.

Tell us: What do you think of this concept?

Bing: Odd advertising

Photo: via odditycentral.com

More from Simply Chic:
What makes women feel their sexiest?
The 18 cities with the prettiest people
Seeing is believing: Plus-size models may boost body image
beauty tips and style advice
If you're anything like me, you probably haven't gone anywhere near a hair accessory for years—save for the few stretched-out Goody elastics tumbling around at the bottom of your handbag, the slightly rusty bobby pins gathering dust at the back of your medicine cabinet or that scrunchie you use to pull your hair back when washing your face in the morning. For as long as I can remember, hair adornments have been slapped with somewhat of a childish reputation; when's the last time you saw a girl over the age of 11 wearing a barrette or witnessed a woman past her teen years sporting a headband?

When it's hot and humid, pulling your hair into a ponytail is practical. But it can also be fun, easy, unexpected, and mind-blowingly gorgeous. Here, stunning summer hair ideas inspired by our favorite runway and red-carpet looks of the moment—plus expert tips on how to re-create them.

Sure, sunglasses protect your eyes and help you see, but they can also lend an instant, undeniable cool factor to just about anyone. Said cool factor is most apparent when sunglasses fit well, balance your features, and look like they were made for your face. Because one-size-flatters-all shades are unfortunately not a thing, we asked Bobbi Brown, makeup artist, glasses expert, and author of the new book Bobbi Brown: Everything Eyes, for her top tips for finding flattering sunglasses for every face shape.

The leading ladies who make summer beauty look effortless.

Chic accessories for every wedding style.

When it comes to lounging on the beach in the buff, turns out that Germans and Austrians are the most comfortable with their birthday suits, according to a worldwide survey of beachgoing habits around the world.

Chic time-tested shades you'll love for this summer.

Our top picks for staying cool this summer.

Does makeup make you feel more or less like yourself? These women — some makeup junkies, some who never touch the stuff — were brave enough to be photographed with half their faces made up by a pro and half their faces totally bare.

Chic ensembles for every woman.

At almost every age, more men report being satisfied with looks than women.

Wrinkle no blouse, tangle no jewelry, leave no beauty product behind, and still have room to spare.