Women in Japan are renting out their legs for advertising space
New trend in advertising: Using bare legs to promote brand awareness.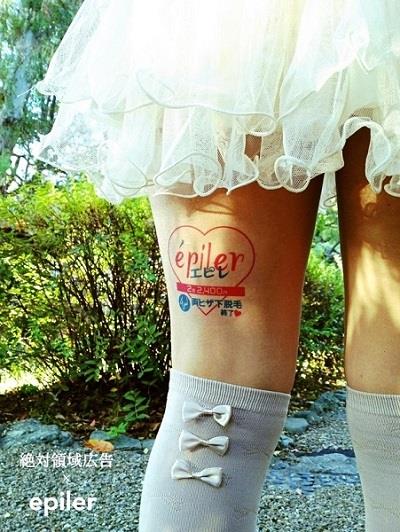 Renting billboard space in prime locations may have been the old way to advertise, but these days, Japan is scouting out new space to rent for their advertising campaigns. According to the Daily Mail, enterprising firms have rented ad space on a Japanese woman's bare legs, paying her to wear a miniskirt 8 hours a day to display their advertising. 

More from Living: 25 most provocative fashion & beauty products

The Daily Mail reports that in order to participate, a woman will get her leg stamped with an ad, then go about her daily life, but make sure she is constantly wearing a short skirt to show off the branding. 

More from Living: 21 style don'ts to live by

The woman must also take a picture of her leg with the advertising on it so that the company knows they are doing their job.

This unique form of advertising is definitely an interesting concept, but is it affective? It is certainly an attention-getter.

Tell us: What do you think of this concept?

Bing: Odd advertising

Photo: via odditycentral.com

More from Simply Chic:
What makes women feel their sexiest?
The 18 cities with the prettiest people
Seeing is believing: Plus-size models may boost body image
beauty tips and style advice
No one will ever accuse Blanchett of being boring. Gorgeous, yes. We can always count on her to wear—and say—something interesting. Here, we trace this risk taker's style evolution over the past 16 years.

Famous brides may have access to elite designers that most of us can only dream of, but we can all delight in the statements they make on their big days. In honor of the pending nuptials of Kim Kardashian and Kanye West, let's take a look at some recent and past famous gorgeous gowns.

Amy Adams has glittered in tiaras and poufy sleeves as a Disney princess, covered up in bonnets and cloaks as a nun, and gone all crop-toppy in The Fighter. Her personal style, on the other hand, has been a lot more straightforward.

Some things never change. And then there's Sandra Bullock's style. It's hard to remember a time when the actress wasn't America's sweetheart—with a closet full of Lanvin and Marchesa to match—but with more than two decades of the red-carpet game under her belt, she's tried just about everything: crop tops, plunging necklines…even frosty lipstick (it was the '90s, after all). Here, our favorite hits and misses.

Before Jennifer Lawrence was "the world's most desirable woman," she was hiding under a pile of tulle skirts, patterned shifts, and unflattering metallics. Here's how the young bombshell learned how to dress like a true A-lister.

A great haircut is just half the battle. What about how to style it each and every morning? Check out these thirteen easy hairstyle ideas from stars like Gabrielle Union, Emma Stone, and Rooney Mara and get ready to rock ponytails, buns, updos and more.

Nothing but the best of what's new for makeup, skin, and hair (nice prices, too).

The preparation is intense; the entrances are unforgettable. Here are the most spectacular, glamorous, inspiring beauty looks in the history of the Academy Awards.

Look your best this Spring with these ever-popular styles

Not everyone will go home with an Oscar at the Academy Awards on March 2, but this year's losing nominees are all guaranteed to walk away with a jammed-packed gift bag.

That was fast! After a brief stint as a brunette, Britney Spears made the switch to a bold red hue late last week.

Applying makeup might be an effective way to cope with embarrassment.