Who cheats more: Women or men?
Women are cheating more than ever, according to new research.
By Madeline Haller, Women's Health
Sure, it may seem like infidelity is a guy thing. But according to research from the Archives of Sexual Behavior, women are just about as guilty of straying, and in fact, they're cheating more than ever.
Researchers had 918 men and women fill out an online questionnaire on whether or not they've cheated on their partners and why they did it. The results show that 19 percent of women admitted to straying outside their relationship -- that's up 5 percentage points from the National Science Foundation's General Social Survey in 2010.
Men aren't much better: 23 percent of them reported cheating, up 4 percent since 2010.
While men still outpace women, it's alarming to see these numbers on the rise for both sexes. According to Dr. Sheri Meyers, a marriage and family therapist and author of
Chatting or Cheating: How to Detect Infidelity, Rebuild Love, and Affair-Proof Your Relationship
, it's not just attractive men that lure us from our relationships, but rather, it's relationship discontent that leads us to stray. In fact, Meyers says the most common reasons for infidelity are feeling lonely and disconnected from your partner;
lack of communication
; love and attention deficit; boredom; a sexual disconnect; or lack of intimacy.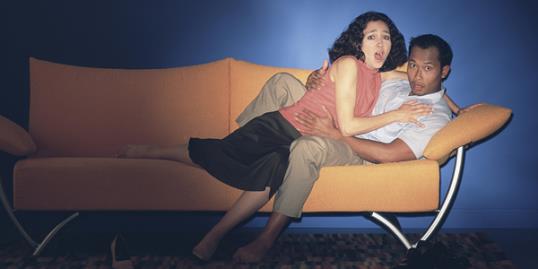 And it doesn't help that a new study published in the journal Hormones and Behavior found that certain points in our cycles make us even more likely to doubt the dude we're dating -- particularly if he's not over-the-top sexy.
In the study, women were significantly more likely to find fault with their partners and feel less close to them during the high-fertility period than the low-fertility period of their cycles.
So what should you do if (or perhaps, when) the grass looks greener on the other side? Put that temptation to rest with these ways to prevent cheating.
This content originally appeared as "Who cheats more: Women or men?" on Women's Health.
Photo: White Packert/Getty Images
Bing: Cheating signs
More from Women's Health:
One guy spills: 'Why I've stayed loyal for 23 years'
Why both men and women are straying from marriage
Maximize your sexual pleasure
fashion: trends & must-haves for your wardrobe
When morning talk shows and local newspapers dole out their seasonal swimsuit shopping advice, I'm usually pretty disappointed by the lack of body types represented. What about the women who don't resemble fruit? (Or aren't boy-shaped—the third "one of these things is not like the other" category I've never quite understood. Couldn't they say "banana?" Or is that somehow more offensive than "apple" and "pear" shapes?)

Ready to refresh your hair and makeup for spring? Well, look no further for your latest batch of inspiration. These ladies are bringing the beauty brilliance with megawatt lipstick shades, sleek haircuts, and must-try hair colors. Get ready to play copycat.

Long, layered, medium or wavy – we're sharing our favorite hairstyles of 2013 with a new 'do each day. Stuck in a hair rut? Check back daily for snappy new looks that are sure to give your locks some beauty inspiration.

Step into spring with style in June Ambrose's new shoe line for HSN.

Revamp your corporate look with graphic prints and bold color.

If you have only five makeup tools in your kit, make sure these are them. They do much more than just look cute on your vanity!

Think all it can do is shellac everything down, helmet-head style? So wrong! A can of whatever's in your cabinet is your secret beauty weapon. Try it like this.

You may not get wrinkles on your hair, but it ages all the same. Grays, dullness, thinning strands, and frizz are all (unfortunately) part of the hair's aging process, which starts happening in your 30s. The good news is that you don't need Botox to fix these problems. Here are six tips for hair that's shiny, bouncy, healthy—and, yes, younger looking.

Our fashion-savvy FLOTUS shows us she is truly a master at mixing high- and low-end designs.

Get ready for summer with these cute and easy to DIY nail art designs.

Brides, it's your big day and you want to look special. Please, whatever you do, don't wear one of these wedding dresses. These are truly the worst.

Even if you're the best friend of all time, no bridesmaid should ever have to wear these worst-ever bridesmaid dresses. Lace, ruffles and satin overload!