Who cheats more: Women or men?
Women are cheating more than ever, according to new research.
By Madeline Haller, Women's Health
Sure, it may seem like infidelity is a guy thing. But according to research from the Archives of Sexual Behavior, women are just about as guilty of straying, and in fact, they're cheating more than ever.
Researchers had 918 men and women fill out an online questionnaire on whether or not they've cheated on their partners and why they did it. The results show that 19 percent of women admitted to straying outside their relationship -- that's up 5 percentage points from the National Science Foundation's General Social Survey in 2010.
Men aren't much better: 23 percent of them reported cheating, up 4 percent since 2010.
While men still outpace women, it's alarming to see these numbers on the rise for both sexes. According to Dr. Sheri Meyers, a marriage and family therapist and author of
Chatting or Cheating: How to Detect Infidelity, Rebuild Love, and Affair-Proof Your Relationship
, it's not just attractive men that lure us from our relationships, but rather, it's relationship discontent that leads us to stray. In fact, Meyers says the most common reasons for infidelity are feeling lonely and disconnected from your partner;
lack of communication
; love and attention deficit; boredom; a sexual disconnect; or lack of intimacy.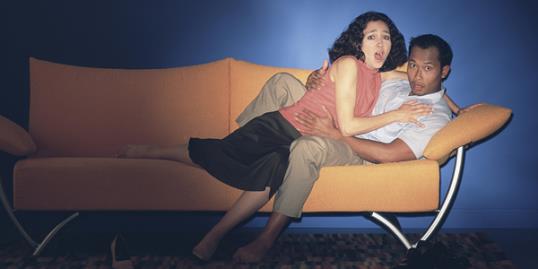 And it doesn't help that a new study published in the journal Hormones and Behavior found that certain points in our cycles make us even more likely to doubt the dude we're dating -- particularly if he's not over-the-top sexy.
In the study, women were significantly more likely to find fault with their partners and feel less close to them during the high-fertility period than the low-fertility period of their cycles.
So what should you do if (or perhaps, when) the grass looks greener on the other side? Put that temptation to rest with these ways to prevent cheating.
This content originally appeared as "Who cheats more: Women or men?" on Women's Health.
Photo: White Packert/Getty Images
Bing: Cheating signs
More from Women's Health:
One guy spills: 'Why I've stayed loyal for 23 years'
Why both men and women are straying from marriage
Maximize your sexual pleasure
beauty tips and style advice
Peach gloss and a swingy ponytail look great. They really do. But with only a month left until September, it's time to have more fun with your summer beauty game. We've come up with a gorgeous beauty idea for every last day in August. Test some now, pin others for later, and look amazing all month long.

That elusive, perfect-every-day haircut can be yours. Don't be skeptical, now; these sweet, shorter styles are as easy to pull off as they are flattering. So chop chop!

The wedding dresses on the spring 2015 runways were beautiful, breezy, and fresh—just like a breath of warm spring air. No matter where or when you'll say your vows (or how big or small your budget is), your dream wedding dress is just a few clicks away.

The results were crazy awesome.

There are no bad bodies, just bad jeans! Consider your denim problem areas solved (thanks to our 50-pair editor try-on).

Mascara wands are getting fatter, but that may not help your lashes. There's a better way to gain weight.

Three summers ago, I bought a pair of soft, white-calfskin Chanel loafers. I spent months trying to keep them pristine, but it wasn't long before a July thunderstorm left them and me soaked. I began steeling myself for what I thought was inevitable: a solemn drop in the trash. But once the loafers dried, I found the shoes' stained stitching—now storm-cloud gray—was lovely and a few new wrinkles in the leather were charming, like smile lines for shoes. I started to wear them freely—taking on puddles and tossing them onto the sand at the beach—and before long, they transformed. The roughened toe-tops reminded me of a welcoming, worn armchair, and a wet-and-hot summer had molded the material perfectly to my feet.

When the clock's ticking, digging though every compact in your bathroom is an exercise in frustration. What you need is one simple bag with a selection of products that help you pull yourself together as quickly as possible, at home or on the road. In it:

You know the freshly scrubbed, athletic look that defines American beauty? Turns out it's been centuries in the making.

According to Hollywood's top hairstylists, celebrity clients get sticky fingers when it comes to these no-fail products.

The American company that helped to popularize the shapewear trend has moved into the world of denim with a new jeans collection.

What to wear and what to avoid the next time you attend a wedding.