Cheating women prefer certain fashion brands
New study says women who cheat shop in specific stores.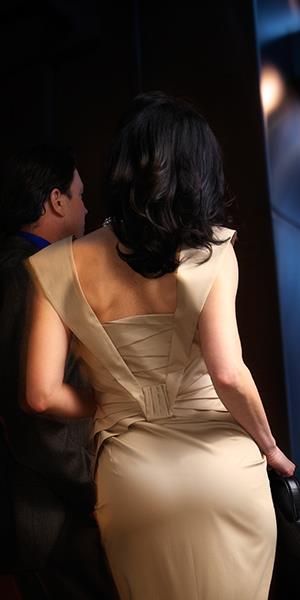 When women are in need of a business suit or an affordable polished outfit, many of them head to Banana Republic. But apparently, they also head to the same clothing store when they have wandering eyes.

According to NY Magazine's The Cut, cheating women are more likely to shop at Banana Republic than at other retail stores. A recent study conducted by cheating site Ashley Madison surveyed more than 50,000 women about which brands and wardrobe staples they prefer if they are cheating on their significant other. While you would think that stores like Victoria's Secret would be frontrunners, it's actually business casual wear that takes the top slot. 

Living style: What to wear to...

"If your spouse suddenly seems more consumed with style and putting outfits together after spending years in sweatpants, that is a telltale sign she could be two timing," Banana Republic CEO Noel Biderman tells The Cut. In addition to brands, the Ashley Madison survey points to "maxi dresses, colored skinny jeans and pencil skirts with slits."

The Heart Beat: Report: More cheating wives in the past 20 years

Subscribe to Simply Chic | Friend us on Facebook | Follow us on Twitter | Find us on Pinterest

More Simply Chic:
More and more women are getting makeovers just to give birth
Fourth of July nail art
Pippa Middleton's style advice: Sunglasses hide tired eyes

Photo: Steve Cicero/Getty Images
beauty tips and style advice
I'm beyond excited to finally ditch my winter coat and heavy layers, but I'm not so eager to ditch my tights. Let's just say my legs are not as smooth and bronzed as they were the last time I showed them off many, many months ago.

After a jam-packed week in New Zealand, Kate Middleton and Prince William finally enjoyed a day off, but as of last night (or this morning..? Ah, time change!) they're back on the road again.

These travel-sized beauty products will do double-duty while you're on the road.

Neatly sidestepping high fashion, the smiling, cheerful Kate Middleton is fast becoming the Duchess of Normcore.

This December, New Yorkers might notice something missing in the Christmas air.

When Madonna posted an image of herself wearing a full on Game of Thrones Khaleesi costume on Instagram last week we weren't exactly surprised—this is the woman who rolled into the Grammy Awards wearing a tuxedo and a grill earlier this winter, so why not celebrate the Jewish holiday of Purim with a leather corset and a pair of tiny dragons? Still, we were hypnotized by her white-blonde, braided Daenerys Targaryen hair. Functioning as a bleached out cultural weather vane of sorts, it tapped into multiple obsessions at once—the return of "Game of Thrones" to HBO, spring's new extreme hair lengths and, most notably, fashion's current platinum mania. Our own love of ice-blonde hair—which transforms any look from everyday to extraordinary—has been well documented of late, but last night's Game of Thrones premiere sent our platinum fever into overdrive. In celebration of fashion's favorite hair color, a look at the best platinum moments in history.

While you were sleeping, fast retail chain H&M H&M announced that its next designer collaboration is with Alexander Wang.

Formal, beachy, country club-chic or gorgeously rustic whatever the setting calls for, we've found a bevy of beautiful dresses to wear to a wedding this season.

Puffy, tired, weary no more. These tips take years off and create that "I slept great, thanks!" effect.

Top dermatologists, cosmetic chemists, makeup artists, and hairstylists reveal quick tips and tricks that can peel back years in a matter of seconds

We're all for sartorial freedom, but there are certain once-on-trend items that, when worn today, appear anything but current. Consider this your official out list.

If you're a practitioner of reselling your clothes—a good way to clear out some space in your wardrobe and make a few extra bucks—you might already be familiar with San Francisco-based thredUP.