Lots of Men Are Getting Their, Uh, Bikini Areas Waxed, Apparently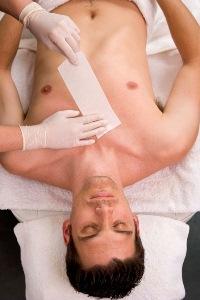 by Danica Lo, Glamour Magazine

The New York Times has been on a beauty streak lately—last week, the newspaper of record was all over nail art; this week, they're breaking the news on how Brazilian bikini waxes are all the rage... for men.

Yes, it's true!

"What we're finding is, it's everybody," Mike Indursky, president of Bliss spas, told the Times . "It's the gay community, it's the straight community, it's very conservative guys, it's very liberal guys. All different age groups are coming in. It's much, much bigger than we ever thought."
The story cites examples of "visibly depilated men" (PS. that's my new favorite phrase of the day) such as David Beckham and The Situation and even found guys who were willing to cop to getting waxes... down there.
Like this guy:

Evan Scott, 32, a music producer who lives in Murray Hill, has been getting a more-basic bikini wax for about two years.

"I like to represent myself in a certain way, from no clothes to fully buttoned up, and I think that this is an extension of my overall presentation," he said.

Noting the prevalence of bikini waxes among women, Mr. Scott also suggested that what's good for the goose is good for the gander.

"If I have that expectation of someone else, I probably would want to return the favor," he said.

What do you think? Have you heard about this trend from guys you know? Do you know any guys who've gotten bikini waxes? Spill it in the comments! I'm dying to know.
Photo: Courtesy photo
beauty tips and style advice
Once the summer heat kicks in, it's all we can do not to slip into the breeziest beach dresses and flip-flops for the morning commute. So trust us when we say we understand that the humidity can have a powerful effect on your wardrobe — still, there are some things you just can't wear to your place of employment, no matter how hot it gets.

Wrinkle no blouse, tangle no jewelry, leave no beauty product behind, and still have room to spare.

Hue-changing dos we absolutely love.

Why your jean size varies from store to store.

Wait a month between waxing visits? Check. Pop a preappointment Advil? Duh. We all know the basics, but here are the tricks you don't know.

What to always—and never, ever—do to keep hair in top shape.

Get inspired to try these sweet and summery looks.

Stunning wedding styles that create a statement.

I attended the Abercrombie and Fitch holiday-season press preview yesterday, and in between checking out the cute gear that will hit stores this November, I picked up a little nugget of information I just have to share.

How to wear this cool-weather staple in the summer.

See how Miranda Kerr made a pair of Birkenstocks chic.

We love how a new nail polish has the ability to instantly change your look and your mood with a simple swipe. While happy lime greens and aquas are ruling the five million #nailpolish Instagrams this summer, there are a variety of great colors to choose from—whether you want an office-appropriate neutral or a fun going-out shade that'll give your LBD a punch of color.