Lots of Men Are Getting Their, Uh, Bikini Areas Waxed, Apparently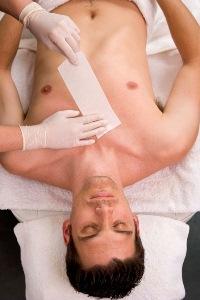 by Danica Lo, Glamour Magazine

The New York Times has been on a beauty streak lately—last week, the newspaper of record was all over nail art; this week, they're breaking the news on how Brazilian bikini waxes are all the rage... for men.

Yes, it's true!

"What we're finding is, it's everybody," Mike Indursky, president of Bliss spas, told the Times . "It's the gay community, it's the straight community, it's very conservative guys, it's very liberal guys. All different age groups are coming in. It's much, much bigger than we ever thought."
The story cites examples of "visibly depilated men" (PS. that's my new favorite phrase of the day) such as David Beckham and The Situation and even found guys who were willing to cop to getting waxes... down there.
Like this guy:

Evan Scott, 32, a music producer who lives in Murray Hill, has been getting a more-basic bikini wax for about two years.

"I like to represent myself in a certain way, from no clothes to fully buttoned up, and I think that this is an extension of my overall presentation," he said.

Noting the prevalence of bikini waxes among women, Mr. Scott also suggested that what's good for the goose is good for the gander.

"If I have that expectation of someone else, I probably would want to return the favor," he said.

What do you think? Have you heard about this trend from guys you know? Do you know any guys who've gotten bikini waxes? Spill it in the comments! I'm dying to know.
Photo: Courtesy photo
beauty tips and style advice
Click to see 10 must-have hair tools to streamline your beauty routine.

See 9 of the prettiest holiday hair accessories for the holidays.

Here's how to choose the neckline style that looks best on you.

This season, let your nails be as merry—and bright—as your mood.

Sure, a little black dress or le smoking is always on par for the party scene, but who says holiday dressing has to be so cut and dry? We have 15 ideas for switching it up this season—getting festive just got a whole lot more fun.

Super-fast (and easy) hair, makeup, and nail ideas that'll make you party-ready in minutes. Sorry, no more last-minute bailing because you're running late.

From straight and sleek to intricate braids and sky high topknots, some celebs just know how to do party hair

From a structured blazer to that awe-inducing statement clutch, Rachel Zoe shares her picks for December dressing with InStyle.com exclusively.

Simple style tricks to help your hair look better in an instant.

7 hairstyles to try this holiday season.

You know that classic nightmare where you walk into school or work completely naked? That's how I feel when I'm having a bad hair day. Like I don't want anyone to look at me and it takes everything I have not to immediately turn around and run back home.

Victoria Beckham will share her fashion story and give inside access to her brand via The Skype Collaboration Project in January 2014.