Lots of Men Are Getting Their, Uh, Bikini Areas Waxed, Apparently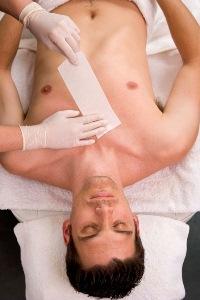 by Danica Lo, Glamour Magazine

The New York Times has been on a beauty streak lately—last week, the newspaper of record was all over nail art; this week, they're breaking the news on how Brazilian bikini waxes are all the rage... for men.

Yes, it's true!

"What we're finding is, it's everybody," Mike Indursky, president of Bliss spas, told the Times . "It's the gay community, it's the straight community, it's very conservative guys, it's very liberal guys. All different age groups are coming in. It's much, much bigger than we ever thought."
The story cites examples of "visibly depilated men" (PS. that's my new favorite phrase of the day) such as David Beckham and The Situation and even found guys who were willing to cop to getting waxes... down there.
Like this guy:

Evan Scott, 32, a music producer who lives in Murray Hill, has been getting a more-basic bikini wax for about two years.

"I like to represent myself in a certain way, from no clothes to fully buttoned up, and I think that this is an extension of my overall presentation," he said.

Noting the prevalence of bikini waxes among women, Mr. Scott also suggested that what's good for the goose is good for the gander.

"If I have that expectation of someone else, I probably would want to return the favor," he said.

What do you think? Have you heard about this trend from guys you know? Do you know any guys who've gotten bikini waxes? Spill it in the comments! I'm dying to know.
Photo: Courtesy photo
beauty tips and style advice
You know that classic nightmare where you walk into school or work completely naked? That's how I feel when I'm having a bad hair day. Like I don't want anyone to look at me and it takes everything I have not to immediately turn around and run back home.

Victoria Beckham will share her fashion story and give inside access to her brand via The Skype Collaboration Project in January 2014.

Just when we thought Pamela Anderson's sleek pixie marked her biggest hair makeover this year, the star ditched her trademark blonde hue.

Yes! Lupita Nyong'O shows us how.

Take the health of your hair up a notch with these natural treatments

Nope, it's not your resume.

This is why a short wedding dress makes sense.

The Queen is a handbag trendsetter, apparently.

You know winter is here when you pull off your clothes and find the insides lined with a thin coating of tiny dry skin particles. (Am I alone here, or do I have more serious dry skin issues than I thought?)

Yesterday I popped by the Clear Clinic, a dedicated acne treatment center that a lot of people (including a Glamour beauty blogger or two) swear have helped cure them of the dreaded spots.

The first thing I noticed about this photo of Keira Knightley at a London gala last night was her 90s-chic makeup, featuring matte pale foundation and lots of black eyeliner.

It's the stuff of pinups, old Hollywood glamour, and even science study after study says guys really go for it. But that classic Rita Hayworth red doesn't necessarily flatter every complexion. We rounded up the absolute best reds for every skin tone, so you can breeze through the sea of cherries, raspberries, and any other scarlet fruit.