Robot Prostitutes: The Future of Sex Tourism
If 'The Jetsons' don't pay well, Rosie has another option.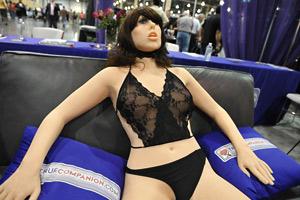 The world's first "sex robot" debuted two years ago at the Adult Entertainment Expo in Las Vegas. Her name was Roxxxy, and she was considerably lifelike. She could sense touch and even make idle conversation, like: "I love holding hands with you."
Well, according to an article recently published in Futures, Roxxxy might just be a pioneer for robot sex. The study's highlights predict:
"Having sex with a robot is the future of sex tourism in Amsterdam."
The researchers expect that by 2050, "Amsterdam's red light district will all be about android prostitutes."
So many questions. Namely—why?
"Human trafficking, sexual transmitted diseases, beauty and physical perfection, pleasure for sex toys, emotional connection to robots and the importance of sex in Amsterdam" would all be driving forces behind the cultural trend, says the article.
Sounds logical—I guess—but I see too many concerns arising. For example, would this be considered cheating, or are these robots just really fancy sex toys? Will 'sex with a robot' accompany 'irreconcilable differences' as grounds for divorce? 
Mostly though, I fear a robostitute malfunction—a glitch causes the robot to violently break down on a client, resulting in a brutal and macabre death. Maybe I've seen too many dystopian movies.
But others are skeptical, too, as you might imagine. Dennis Hof, the owner of the Moonlite Bunny Ranch in Carson City, Nevada, told CBS Las Vegas:
"Those Australian researchers ought to come to the Bunny Ranch to see what real American sex is like – there's no way to duplicate it."
Photo:
ROBYN BECK/AFP/Getty Images) The "True Companion" sex robot, Roxxxy, on display at the TrueCompanion.com booth at the AVN Adult Entertainment Expo in Las Vegas, Nevada, January 9, 2010.  In what is billed as a world first, a life-size robotic girlfriend complete with artificial intelligence and flesh-like synthetic skin was introduced to adoring fans at the AVN Adult Entertainment Expo.
beauty tips and style advice
Once the summer heat kicks in, it's all we can do not to slip into the breeziest beach dresses and flip-flops for the morning commute. So trust us when we say we understand that the humidity can have a powerful effect on your wardrobe — still, there are some things you just can't wear to your place of employment, no matter how hot it gets.

Wrinkle no blouse, tangle no jewelry, leave no beauty product behind, and still have room to spare.

Hue-changing dos we absolutely love.

Why your jean size varies from store to store.

Wait a month between waxing visits? Check. Pop a preappointment Advil? Duh. We all know the basics, but here are the tricks you don't know.

What to always—and never, ever—do to keep hair in top shape.

Get inspired to try these sweet and summery looks.

Stunning wedding styles that create a statement.

I attended the Abercrombie and Fitch holiday-season press preview yesterday, and in between checking out the cute gear that will hit stores this November, I picked up a little nugget of information I just have to share.

How to wear this cool-weather staple in the summer.

See how Miranda Kerr made a pair of Birkenstocks chic.

We love how a new nail polish has the ability to instantly change your look and your mood with a simple swipe. While happy lime greens and aquas are ruling the five million #nailpolish Instagrams this summer, there are a variety of great colors to choose from—whether you want an office-appropriate neutral or a fun going-out shade that'll give your LBD a punch of color.