Robot Prostitutes: The Future of Sex Tourism
If 'The Jetsons' don't pay well, Rosie has another option.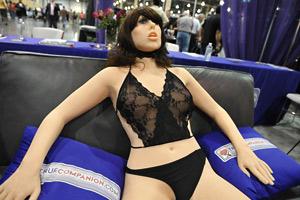 The world's first "sex robot" debuted two years ago at the Adult Entertainment Expo in Las Vegas. Her name was Roxxxy, and she was considerably lifelike. She could sense touch and even make idle conversation, like: "I love holding hands with you."
Well, according to an article recently published in Futures, Roxxxy might just be a pioneer for robot sex. The study's highlights predict:
"Having sex with a robot is the future of sex tourism in Amsterdam."
The researchers expect that by 2050, "Amsterdam's red light district will all be about android prostitutes."
So many questions. Namely—why?
"Human trafficking, sexual transmitted diseases, beauty and physical perfection, pleasure for sex toys, emotional connection to robots and the importance of sex in Amsterdam" would all be driving forces behind the cultural trend, says the article.
Sounds logical—I guess—but I see too many concerns arising. For example, would this be considered cheating, or are these robots just really fancy sex toys? Will 'sex with a robot' accompany 'irreconcilable differences' as grounds for divorce? 
Mostly though, I fear a robostitute malfunction—a glitch causes the robot to violently break down on a client, resulting in a brutal and macabre death. Maybe I've seen too many dystopian movies.
But others are skeptical, too, as you might imagine. Dennis Hof, the owner of the Moonlite Bunny Ranch in Carson City, Nevada, told CBS Las Vegas:
"Those Australian researchers ought to come to the Bunny Ranch to see what real American sex is like – there's no way to duplicate it."
Photo:
ROBYN BECK/AFP/Getty Images) The "True Companion" sex robot, Roxxxy, on display at the TrueCompanion.com booth at the AVN Adult Entertainment Expo in Las Vegas, Nevada, January 9, 2010.  In what is billed as a world first, a life-size robotic girlfriend complete with artificial intelligence and flesh-like synthetic skin was introduced to adoring fans at the AVN Adult Entertainment Expo.
beauty tips and style advice
Kate Middleton put her perfect hair in a perfect ponytail yesterday at a wreath-laying service at a war memorial in New Zealand, and, of course, the whole thing was perfect.

Find out what Pippa's portrait will look like.

While you were sleeping, the Duchess stepped out in two brand-new outfits.

Now that April is underway, we've officially entered the fickle season of on-again, off-again rain showers, thus complicating the already painful task of getting out of bed in the morning and starting the day. As if it isn't already hard enough to quickly put together a nice work outfit, the bipolar nature of spring weather demands a careful mix of lightweight, waterproof layers, as well as appropriate footwear. Realistically, no one wants to wear a pair of chunky rubber boots around all day, but the only other alternative is to lug around a variety of gym shoes, heels, and flats to meet all of the day's needs.

Here at Lucky, when we find something we like, we can't stop talking about it—especially when we score it for a ridiculously amazing price. We're loving that the latest batch of genius hair, makeup, skincare and nail products are not only all under $20, but you can find them easily at your local drugstore, too. Above, our favorite products to refresh your beauty routine.

Coachella weekend kicks off this weekend, then there's Glastonbury, Lollapalooza, and so on. Some festivals are one-day events, others let you unleash your inner hippie and camp out on the grounds (or if you're like me, book the nearest hotel).