Robot Prostitutes: The Future of Sex Tourism
If 'The Jetsons' don't pay well, Rosie has another option.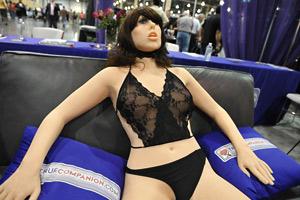 The world's first "sex robot" debuted two years ago at the Adult Entertainment Expo in Las Vegas. Her name was Roxxxy, and she was considerably lifelike. She could sense touch and even make idle conversation, like: "I love holding hands with you."
Well, according to an article recently published in Futures, Roxxxy might just be a pioneer for robot sex. The study's highlights predict:
"Having sex with a robot is the future of sex tourism in Amsterdam."
The researchers expect that by 2050, "Amsterdam's red light district will all be about android prostitutes."
So many questions. Namely—why?
"Human trafficking, sexual transmitted diseases, beauty and physical perfection, pleasure for sex toys, emotional connection to robots and the importance of sex in Amsterdam" would all be driving forces behind the cultural trend, says the article.
Sounds logical—I guess—but I see too many concerns arising. For example, would this be considered cheating, or are these robots just really fancy sex toys? Will 'sex with a robot' accompany 'irreconcilable differences' as grounds for divorce? 
Mostly though, I fear a robostitute malfunction—a glitch causes the robot to violently break down on a client, resulting in a brutal and macabre death. Maybe I've seen too many dystopian movies.
But others are skeptical, too, as you might imagine. Dennis Hof, the owner of the Moonlite Bunny Ranch in Carson City, Nevada, told CBS Las Vegas:
"Those Australian researchers ought to come to the Bunny Ranch to see what real American sex is like – there's no way to duplicate it."
Photo:
ROBYN BECK/AFP/Getty Images) The "True Companion" sex robot, Roxxxy, on display at the TrueCompanion.com booth at the AVN Adult Entertainment Expo in Las Vegas, Nevada, January 9, 2010.  In what is billed as a world first, a life-size robotic girlfriend complete with artificial intelligence and flesh-like synthetic skin was introduced to adoring fans at the AVN Adult Entertainment Expo.
beauty tips and style advice
From Monica, Rachel, and Phoebe on Friends to Blair and Serena on Gossip Girl, here are the most memorable wedding dresses to grace the small screen.

If diamonds are a girl's best friend, then fashion is the close friend who completes her circle. Style is unique to each and every one of us, but trends come and go to serve as fun ways to spice up our everyday looks or ways to try out something altogether new and bold. Even bridal wear captures trends each season (hello crop tops!), but brides to be must remember that just because it is being sold, does not mean that it is meant to be worn on one of the most important days of your life. This summer, fashion has a slew of great seasonal fads, but most of them just do not work for a wedding. If you're on the fence about how trendy to be for your wedding day, here are five pieces to avoid during your wedding festivities.

We've done some strange things in the name of beauty (a butt facial for one), but these powerful ingredients would make us gag — if they didn't work so damn well.

The redeeming factor of summer, sadly, not being endless? New seasons require a different wardrobe, and there's no time like the present to start your fall shopping. With autumn creeping up, I already know the boots and sweaters I'll be heaving out of the stuffed containers under my bed that I think of fondly as my second closet…but there's always room for fresh blood. I quizzed Shopbop's fashion director, Elle Strauss, for help with getting the best strategy in place. Herewith, the 10 pieces she suggests picking up now (plus chic ideas for how to start incorporating them into your current closet).

We may have one more month left in summer, but pretty soon you're going to have to start thinking about fall outfits. And what's a bigger fall wardrobe workhorse than denim? Audit your closet to see if you own these jean essentials, and if not, consider adding them to your fall shopping list.

Maybe this sounds familiar: You fall in love with a sweet new face scrub and love it so much that you use it, oh, every day. Morning and night. Until your skin breaks out in protest. Or perhaps you're in the once-a-year pedicure camp, and have to spend hours pumicing your callouses before even thinking about polish. Well, the laissez-faire approach stops now. It's not just which products you choose—but how often you deploy them. Here's a quick rundown of how frequently you should be doing various at-home treatments.