Robot Prostitutes: The Future of Sex Tourism
If 'The Jetsons' don't pay well, Rosie has another option.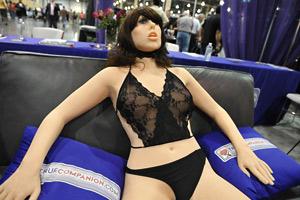 The world's first "sex robot" debuted two years ago at the Adult Entertainment Expo in Las Vegas. Her name was Roxxxy, and she was considerably lifelike. She could sense touch and even make idle conversation, like: "I love holding hands with you."
Well, according to an article recently published in Futures, Roxxxy might just be a pioneer for robot sex. The study's highlights predict:
"Having sex with a robot is the future of sex tourism in Amsterdam."
The researchers expect that by 2050, "Amsterdam's red light district will all be about android prostitutes."
So many questions. Namely—why?
"Human trafficking, sexual transmitted diseases, beauty and physical perfection, pleasure for sex toys, emotional connection to robots and the importance of sex in Amsterdam" would all be driving forces behind the cultural trend, says the article.
Sounds logical—I guess—but I see too many concerns arising. For example, would this be considered cheating, or are these robots just really fancy sex toys? Will 'sex with a robot' accompany 'irreconcilable differences' as grounds for divorce? 
Mostly though, I fear a robostitute malfunction—a glitch causes the robot to violently break down on a client, resulting in a brutal and macabre death. Maybe I've seen too many dystopian movies.
But others are skeptical, too, as you might imagine. Dennis Hof, the owner of the Moonlite Bunny Ranch in Carson City, Nevada, told CBS Las Vegas:
"Those Australian researchers ought to come to the Bunny Ranch to see what real American sex is like – there's no way to duplicate it."
Photo:
ROBYN BECK/AFP/Getty Images) The "True Companion" sex robot, Roxxxy, on display at the TrueCompanion.com booth at the AVN Adult Entertainment Expo in Las Vegas, Nevada, January 9, 2010.  In what is billed as a world first, a life-size robotic girlfriend complete with artificial intelligence and flesh-like synthetic skin was introduced to adoring fans at the AVN Adult Entertainment Expo.
beauty tips and style advice
Because it actually takes some makeup—maybe even a few false lashes—to look beautifully bare-faced.

Make a good impression by presenting the best form of yourself. Even when luck's against you--for instance, you encounter a huge zit the week before an important presentation--take action now. Here are fixes for your most common grooming mishaps.

We're still dreaming about Olivia Palermo's unconventional yet impossibly chic wedding-day ensemble. The shorts! The jutting tulle skirt overlay! The creamy cashmere sweater! Everything about this layered look is as trend-setting as it is unique.And though she may be the first star to walk down the aisle in shorts, Olivia isn't the first celebrity to say "I do" in something nontraditional. Several boundary-pushing stars have skipped the all-white look, and instead opted for a colorful wedding dress.

Keep your tresses looking their best, even on the muggiest of summer days, with these tips

Wide-leg pants are blowing up. Six women show us how to style a pair by Lauren Ralph Lauren.

It's the best and worst time to be a single girl in the dating world. On the one hand, past generations of women didn't have the freedom, financial independence, access to birth control (depending on your state and employer, of course), or plethora of options to meet new people—online and off—that we enjoy today. On the other hand, they also didn't have to worry about sexting, selecting the best selfie for their profile picture, or accidentally swiping right on a coworker.