Robot Prostitutes: The Future of Sex Tourism
If 'The Jetsons' don't pay well, Rosie has another option.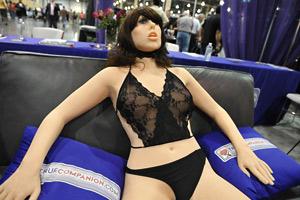 The world's first "sex robot" debuted two years ago at the Adult Entertainment Expo in Las Vegas. Her name was Roxxxy, and she was considerably lifelike. She could sense touch and even make idle conversation, like: "I love holding hands with you."
Well, according to an article recently published in Futures, Roxxxy might just be a pioneer for robot sex. The study's highlights predict:
"Having sex with a robot is the future of sex tourism in Amsterdam."
The researchers expect that by 2050, "Amsterdam's red light district will all be about android prostitutes."
So many questions. Namely—why?
"Human trafficking, sexual transmitted diseases, beauty and physical perfection, pleasure for sex toys, emotional connection to robots and the importance of sex in Amsterdam" would all be driving forces behind the cultural trend, says the article.
Sounds logical—I guess—but I see too many concerns arising. For example, would this be considered cheating, or are these robots just really fancy sex toys? Will 'sex with a robot' accompany 'irreconcilable differences' as grounds for divorce? 
Mostly though, I fear a robostitute malfunction—a glitch causes the robot to violently break down on a client, resulting in a brutal and macabre death. Maybe I've seen too many dystopian movies.
But others are skeptical, too, as you might imagine. Dennis Hof, the owner of the Moonlite Bunny Ranch in Carson City, Nevada, told CBS Las Vegas:
"Those Australian researchers ought to come to the Bunny Ranch to see what real American sex is like – there's no way to duplicate it."
Photo:
ROBYN BECK/AFP/Getty Images) The "True Companion" sex robot, Roxxxy, on display at the TrueCompanion.com booth at the AVN Adult Entertainment Expo in Las Vegas, Nevada, January 9, 2010.  In what is billed as a world first, a life-size robotic girlfriend complete with artificial intelligence and flesh-like synthetic skin was introduced to adoring fans at the AVN Adult Entertainment Expo.
beauty tips and style advice
Buying a brush is like getting a new smartphone: once you learn how to use it, it's indispensable.

Surfers are the epitome of cool, laid-back American style. And if we can't be them, at least we can copy their hair.

It's time for bridal beauty to loosen up. Hair doesn't have to be tightly wound, makeup perfectly contoured, and nails French manicured (on this last point, really, please don't). You can, in fact, look gorgeously and timelessly cool at your wedding. Here's how.

Thirty-year-old Lisa Conn was shamed for her American Apparel swim suit.

This Instagram should be an ad campaign on billboards everywhere immediately.

The famous Parisian shoe designer has unveiled a luxurious new nail polish, his first foray into the world of beauty, and there are no prizes for guessing what color it comes in.

Once the summer heat kicks in, it's all we can do not to slip into the breeziest beach dresses and flip-flops for the morning commute. So trust us when we say we understand that the humidity can have a powerful effect on your wardrobe — still, there are some things you just can't wear to your place of employment, no matter how hot it gets.

Average shoe size is up about two sizes since the '70s, study says.

They can't escape wedding season, so they might as well look their best.

Front-row style star Miroslava Duma just clears 5′, Oscar winner Reese Witherspoon one-ups her—literally—at 5′ 1″, and fashion crush Rachel Bilson barely tops them both at a whopping 5′ 2″. But aside from standing at the diminutive end of the height spectrum, these three ladies have something else in common: the ability to nail every summer fashion trend. If you're part of the petite girls' club, take a look at these 12 fashion essentials—from closet staples to chic accessories—to keep you at the top of your style game this summer.

Quick, easy, everywhere-appropriate: There's no summer piece quite as versatile--or flattering.

These fresh, cute outfit ideas range from unexpected mash-ups to completely coordinated looks. What they all have in common is they'll get you out the door feeling totally confident.