Robot Prostitutes: The Future of Sex Tourism
If 'The Jetsons' don't pay well, Rosie has another option.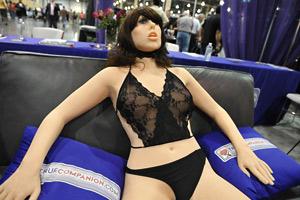 The world's first "sex robot" debuted two years ago at the Adult Entertainment Expo in Las Vegas. Her name was Roxxxy, and she was considerably lifelike. She could sense touch and even make idle conversation, like: "I love holding hands with you."
Well, according to an article recently published in Futures, Roxxxy might just be a pioneer for robot sex. The study's highlights predict:
"Having sex with a robot is the future of sex tourism in Amsterdam."
The researchers expect that by 2050, "Amsterdam's red light district will all be about android prostitutes."
So many questions. Namely—why?
"Human trafficking, sexual transmitted diseases, beauty and physical perfection, pleasure for sex toys, emotional connection to robots and the importance of sex in Amsterdam" would all be driving forces behind the cultural trend, says the article.
Sounds logical—I guess—but I see too many concerns arising. For example, would this be considered cheating, or are these robots just really fancy sex toys? Will 'sex with a robot' accompany 'irreconcilable differences' as grounds for divorce? 
Mostly though, I fear a robostitute malfunction—a glitch causes the robot to violently break down on a client, resulting in a brutal and macabre death. Maybe I've seen too many dystopian movies.
But others are skeptical, too, as you might imagine. Dennis Hof, the owner of the Moonlite Bunny Ranch in Carson City, Nevada, told CBS Las Vegas:
"Those Australian researchers ought to come to the Bunny Ranch to see what real American sex is like – there's no way to duplicate it."
Photo:
ROBYN BECK/AFP/Getty Images) The "True Companion" sex robot, Roxxxy, on display at the TrueCompanion.com booth at the AVN Adult Entertainment Expo in Las Vegas, Nevada, January 9, 2010.  In what is billed as a world first, a life-size robotic girlfriend complete with artificial intelligence and flesh-like synthetic skin was introduced to adoring fans at the AVN Adult Entertainment Expo.
fashion: trends & must-haves for your wardrobe
When it was revealed that Kim Kardashian was expecting her first child with boyfriend Kanye West, we wondered what would happen to her fondness for curve-hugging clothes and stilettos. As it turns out, nothing at all! Kardashian has been criticized for some of her attempts at adapting her everyday style to her growing belly, but we've rounded up her best bump looks, along with the lessons expectant moms can learn from them.

It's official: Bangs are back in a big way this season. Whether you have curly, wavy, or straight hair, there's flattering fringe that will work for you. Check out these celebrity haircuts for inspiration.

Hard work, talent and perseverance are the three keys to professional success—but sometimes a really great haircut helps, too.

There's no miracle cure for acne, but the products and tips below come pretty darn close.

Beauty truth: You can't buy the best makeup and body potions stars use; their makeup pros are whipping up mystery formulas. And beauty sleuth Andrea Pomerantz Lustig learned 'em!

What can make a face softer but edgier at the same time? (Don't worry, this isn't some complicated riddle.) Bangs can enhance any face shape—if you wear them the right way, that is. We've rounded up five ideas with fringe benefits, along with hairstylist Nathaniel Hawkins's tips for pulling them off.

We all know we need moisturizer. The confusing part? Picking one that works for your skin—and your budget. Well, here's your cheat sheet: Using the Allure Beauty Product Finder, we found the ten best drugstore moisturizers for every skin type, all for under $20. So whether your skin is dry, acne-prone, or you've got dark spots or fine lines, we've got you—and your wallet—covered.

Growing pains? Totally unnecessary. Getting—and keeping—long, shiny, sexy hair has never been easier.

You may have spent years studiously ignoring your mother's advice (and she was right about that guy in high school, admit it), but eventually all that bossing and nagging adds up to something truly useful. Here, Allure staffers share their mothers' wisest words about beauty.

Just like a good pair of shoes, the right hair accessory can change your entire mood (and look!). We rounded up some of our favorites from the spring 2013 runways.

You can make your eyes look younger, brighter — even more lifted — in minutes, using just your basic makeup. Find your issue here, then follow our how-to guide to learn the techniques. It's so easy, you won't believe your eyes.

It's one of those workhorse pieces that can make women look crisp, laid-back, professional, or dead sexy. Meet the one shirt dress you'll wear for life.