InStyle poll results: 51% feel guilty returning holiday gifts
Will you be returning gifts this year?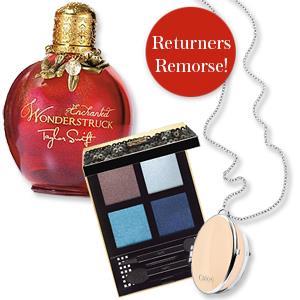 By Jennifer Davis, InStyle magazine

Did you get everything you wanted for the holidays, and then some? Well, it's that some that sometimes you just don't know what to do with, which is why we polled readers in a recent issue to find out if they felt guilty returning gifts.

RELATED:10 Items You Need for 2013

And it was a close call for the results! 51% of you said that you felt guilty when you returned gifts, while 49% said that you were guilt-free. Now that you've received your presents this season, are you planning on to return or exchange your goods? Tell us in the comments below!

RELATED: Target + Neiman Marcus Collection 70% Off!

Plus, if you're exchanging, check out some of our favorite items to snap up in our gift guide!

MORE:
• Returners Remorse: The Poll Results
• Shop the Victoria's Secret Semi-Annual Sale
• Hollywood's Newest Moms
Photo: Courtesy Photo (3)

I don't return gifts.  I just put them with the other stuff.  Shopping is bad enough without having to stand in a line to exchange something you have no investment in. I hoard gift cards like money.  My thought is well I MIGHT go there sometime and see something I would normally buy for myself. Generally when I'm in there I don't have the card so I pay for it myself.  It took me three years to get enough stuff at Walmart to use up a $25 card. I've got two $10 gas cards I got as a "refund" that are 8 months old. I don't know how many cards got nibbled to death with the monthly fees if you don't use them.

I learned long ago to not give stupid gifts.   Gift cards, wine, steaks, etc. for friends,  something specifically requested (I mean hinted at) for the wife, cash for the kids.   These are never returned.  I just hope the gift cards get used (try to give them their likes, movie passes, their favorite resturant, or even paint ball works).   Never give a "clam lamp" because you think it's cool.

When I was married to my ex-husband, we received a really strange Christmas gift the first year we were married.  It was a baby blue plastic clam shell lamp with lights that changed color.  While I've always been taught that it's the thought that counts, I desperately wanted to return this gift but my former spouse wouldn't let me stating that it would really hurt his sister-in-law's feelings if she found out.  He told me to just store it somewhere in the apartment in case they ever came to visit; we could haul it out and tell her how much we appreciated the gift.  I "accidently" stored it under some very heavy workout weights and ooops, it was crushed into a million blue plastic pieces.  While it plagued my conscience to pull something deceptive like that, I wasn't at all bothered by the fact that the item needn't be displayed in our apartment.  I would have returned or exchanged the item, but there was no gift receipt in the box and my ex was too chicken to ask where she got it. 
Are you sure you want to delete this comment?
beauty tips and style advice
Celebrity beauty looks made headlines this year. Super short cuts topped the news, but that wasn't the only trend creating a buzz. Punk looks turned haute, peroxide blonde became the color of the moment, and braids reached an unprecedented level of artistry. Here, we look back at the most memorable hits and misses. For more year-end roundups, check out the Best and Worst Red Carpet Looks of 2013.

From the good, the bad, to the just plain bizarre, we've rounded up the top 13 hits and misses to grace the red carpet this year. For more year-end roundups, check out the Best Hairstyles of 2013.

=Hairdresser Rossano Ferretti can expect plenty of business following my news that the Duchess of Cambridge booked in to his luxury hair spa for a marathon six-hour session recently.

Selena Gomez with short hair? Behold the evidence at the KISS FM Jingle Ball last night.

Having a sister means stealing each other's clothes and fighting over the bathroom mirror. It also means enjoying two wardrobes and sharing new beauty-product tips and tricks. Here, our five favorite sets of celebrity sisters and the beauty lessons we've learned from them.

Most regrettable trends come with warning signs: Do your teeth set off metal detectors? Are your lashes prone to tangling? Are your shoes ugly and uncomfortable? Here is this year's crop of bad fads.

Restoring botched brows can be a major pain in the...arch.

In order to cope with the intense feelings of jealousy I experienced when seeing Jennifer Garner's flawless hairstyle last week, I decided to contact the stylist responsible for the look, Kylee Heath, and find out what exactly she did to produce these glorious results.

Apparently, every celebrity in the world decided to dye her hair over the last few days—or at least Duchess Catherine, Sienna Miller, and Pamela Anderson did.

It was the chicest family night out ever in London yesterday, as Victoria Beckham hit the red carpet, along with her ADORABLE sons, Brooklyn, little fashionisto Romeo, and Cruz, to support the premiere of the soccer football documentary Class of '92, featuring superstar dad David. And she looked perfect as always—in Victoria Beckham, of course.

There will always be a special place in our hearts for Pez—the completely absurd and impractical oblong candy that children are somehow meant to be patient enough to dispense, one by one, from a creaky plastic spring-loaded drawer contraption—and a newly minted shoe designer Camilla Elphick, a Cordwainers College graduate, has tapped into our oral fixation.

When it comes to her latest hair change, it's pretty clear that Sienna Miller was thinking pink!