InStyle poll results: 51% feel guilty returning holiday gifts
Will you be returning gifts this year?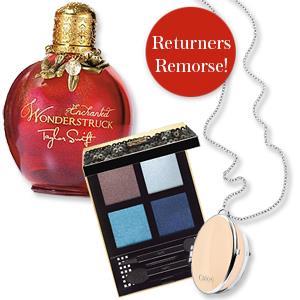 By Jennifer Davis, InStyle magazine

Did you get everything you wanted for the holidays, and then some? Well, it's that some that sometimes you just don't know what to do with, which is why we polled readers in a recent issue to find out if they felt guilty returning gifts.

RELATED:10 Items You Need for 2013

And it was a close call for the results! 51% of you said that you felt guilty when you returned gifts, while 49% said that you were guilt-free. Now that you've received your presents this season, are you planning on to return or exchange your goods? Tell us in the comments below!

RELATED: Target + Neiman Marcus Collection 70% Off!

Plus, if you're exchanging, check out some of our favorite items to snap up in our gift guide!

MORE:
• Returners Remorse: The Poll Results
• Shop the Victoria's Secret Semi-Annual Sale
• Hollywood's Newest Moms
Photo: Courtesy Photo (3)

I don't return gifts.  I just put them with the other stuff.  Shopping is bad enough without having to stand in a line to exchange something you have no investment in. I hoard gift cards like money.  My thought is well I MIGHT go there sometime and see something I would normally buy for myself. Generally when I'm in there I don't have the card so I pay for it myself.  It took me three years to get enough stuff at Walmart to use up a $25 card. I've got two $10 gas cards I got as a "refund" that are 8 months old. I don't know how many cards got nibbled to death with the monthly fees if you don't use them.

I learned long ago to not give stupid gifts.   Gift cards, wine, steaks, etc. for friends,  something specifically requested (I mean hinted at) for the wife, cash for the kids.   These are never returned.  I just hope the gift cards get used (try to give them their likes, movie passes, their favorite resturant, or even paint ball works).   Never give a "clam lamp" because you think it's cool.

When I was married to my ex-husband, we received a really strange Christmas gift the first year we were married.  It was a baby blue plastic clam shell lamp with lights that changed color.  While I've always been taught that it's the thought that counts, I desperately wanted to return this gift but my former spouse wouldn't let me stating that it would really hurt his sister-in-law's feelings if she found out.  He told me to just store it somewhere in the apartment in case they ever came to visit; we could haul it out and tell her how much we appreciated the gift.  I "accidently" stored it under some very heavy workout weights and ooops, it was crushed into a million blue plastic pieces.  While it plagued my conscience to pull something deceptive like that, I wasn't at all bothered by the fact that the item needn't be displayed in our apartment.  I would have returned or exchanged the item, but there was no gift receipt in the box and my ex was too chicken to ask where she got it. 
Are you sure you want to delete this comment?
beauty tips and style advice
Sprinkle in these wet weather essentials so you'll be ready for whatever these springtime days bring.

Let's face it: winter's bitter cold left us feeling disillusioned with our wardrobes. So with warmer days ahead, it's time to shop for must-have pieces that'll keep your look fresh for months to come.

Every bride deserves to look flawless on her wedding day. So we say: Indulge a little. Book a facial (or six!) and invest in a great waterproof mascara. With this guide, getting ready for your big day has never been easier.

Reality TV: such a mindless guilty pleasure, mostly filled with questionable spray tans and insane hair extensions. But in honor of the season premiere of one of our favorites, The Real Housewives of Orange County, we decided to celebrate a select few reality stars who've displayed legitimately great hair and makeup. Yes, there actually are a few! And we had to go all the way back to The Real World of the mid-'90s to find our first.

I can't tell you how many times one ill-timed sneeze ruined all of my hard work with a mascara wand. #allergyproblems.

While we're not averse to shelling out upwards of $30 for an amazing lipstick, many of our standby lip colors cost a whole lot less than that. The drugstore is full of high-quality, long-lasting lipsticks in gorgeous shades that—wait for it!—ring in under $10. Click through above to shop our favorites!

What's the perfect add-on to your beauty look? A hair accessory, of course! Just when you think you've seen it all, every year there seems to be a new "it" hair piece that rules the moment. In the '50s, a dainty bow-tied head scarf was perfectly housewife-chic. In the '60s and '70s, real flower crowns officially became the epitome of boho style—your outfit simply wasn't complete without a daisy topper. Fast-forward to the '90s and you had a bevy of creative hair charms and baubles, including butterfly clips, hair wraps and those infamous bra strap headbands (shudder).

The right blush can warm up your complexion, create the illusion of cheekbones, and even make you look younger. (Yes, really!) Here, the most flattering shades for fair, medium, olive, and dark skin.

Think you can't put a price on looking younger? Well, we did—and it's $25. We challenged dermatologists to find great products that don't cost even one cent over that amount.

You want to dress in a way that's young and cool but that doesn't suggest you're on your way to a One Direction concert. "The trick to looking younger is adding one fashionable piece to a classic outfit," says stylist Cher Coulter. Here's how to nail it.

Hair color is one of the most effective anti-aging tools we have—except when it isn't. Take your dye job too far (or inky, or frosty) and you can add years to your appearance. Three top colorists weigh in on what to avoid.

News flash: Your youth fix doesn't have to come in a bottle—or a needle. Your hairstyle could actually take years off (or add them to) your look. Don't believe us? Check out these celebrities—each one gorgeous, of course, but also looking older due to certain overly perfect hairdos. Anti-aging tip number one? Mess it up a little.