InStyle poll results: 51% feel guilty returning holiday gifts
Will you be returning gifts this year?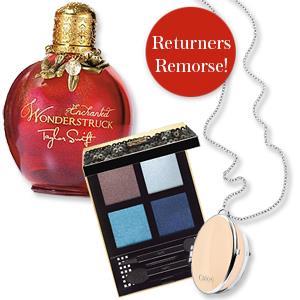 By Jennifer Davis, InStyle magazine

Did you get everything you wanted for the holidays, and then some? Well, it's that some that sometimes you just don't know what to do with, which is why we polled readers in a recent issue to find out if they felt guilty returning gifts.

RELATED:10 Items You Need for 2013

And it was a close call for the results! 51% of you said that you felt guilty when you returned gifts, while 49% said that you were guilt-free. Now that you've received your presents this season, are you planning on to return or exchange your goods? Tell us in the comments below!

RELATED: Target + Neiman Marcus Collection 70% Off!

Plus, if you're exchanging, check out some of our favorite items to snap up in our gift guide!

MORE:
• Returners Remorse: The Poll Results
• Shop the Victoria's Secret Semi-Annual Sale
• Hollywood's Newest Moms
Photo: Courtesy Photo (3)

I don't return gifts.  I just put them with the other stuff.  Shopping is bad enough without having to stand in a line to exchange something you have no investment in. I hoard gift cards like money.  My thought is well I MIGHT go there sometime and see something I would normally buy for myself. Generally when I'm in there I don't have the card so I pay for it myself.  It took me three years to get enough stuff at Walmart to use up a $25 card. I've got two $10 gas cards I got as a "refund" that are 8 months old. I don't know how many cards got nibbled to death with the monthly fees if you don't use them.

I learned long ago to not give stupid gifts.   Gift cards, wine, steaks, etc. for friends,  something specifically requested (I mean hinted at) for the wife, cash for the kids.   These are never returned.  I just hope the gift cards get used (try to give them their likes, movie passes, their favorite resturant, or even paint ball works).   Never give a "clam lamp" because you think it's cool.

When I was married to my ex-husband, we received a really strange Christmas gift the first year we were married.  It was a baby blue plastic clam shell lamp with lights that changed color.  While I've always been taught that it's the thought that counts, I desperately wanted to return this gift but my former spouse wouldn't let me stating that it would really hurt his sister-in-law's feelings if she found out.  He told me to just store it somewhere in the apartment in case they ever came to visit; we could haul it out and tell her how much we appreciated the gift.  I "accidently" stored it under some very heavy workout weights and ooops, it was crushed into a million blue plastic pieces.  While it plagued my conscience to pull something deceptive like that, I wasn't at all bothered by the fact that the item needn't be displayed in our apartment.  I would have returned or exchanged the item, but there was no gift receipt in the box and my ex was too chicken to ask where she got it. 
Are you sure you want to delete this comment?
beauty tips and style advice
These travel-sized beauty products will do double-duty while you're on the road.

Neatly sidestepping high fashion, the smiling, cheerful Kate Middleton is fast becoming the Duchess of Normcore.

This December, New Yorkers might notice something missing in the Christmas air.

When Madonna posted an image of herself wearing a full on Game of Thrones Khaleesi costume on Instagram last week we weren't exactly surprised—this is the woman who rolled into the Grammy Awards wearing a tuxedo and a grill earlier this winter, so why not celebrate the Jewish holiday of Purim with a leather corset and a pair of tiny dragons? Still, we were hypnotized by her white-blonde, braided Daenerys Targaryen hair. Functioning as a bleached out cultural weather vane of sorts, it tapped into multiple obsessions at once—the return of "Game of Thrones" to HBO, spring's new extreme hair lengths and, most notably, fashion's current platinum mania. Our own love of ice-blonde hair—which transforms any look from everyday to extraordinary—has been well documented of late, but last night's Game of Thrones premiere sent our platinum fever into overdrive. In celebration of fashion's favorite hair color, a look at the best platinum moments in history.

While you were sleeping, fast retail chain H&M H&M announced that its next designer collaboration is with Alexander Wang.

Formal, beachy, country club-chic or gorgeously rustic whatever the setting calls for, we've found a bevy of beautiful dresses to wear to a wedding this season.

Puffy, tired, weary no more. These tips take years off and create that "I slept great, thanks!" effect.

Top dermatologists, cosmetic chemists, makeup artists, and hairstylists reveal quick tips and tricks that can peel back years in a matter of seconds

We're all for sartorial freedom, but there are certain once-on-trend items that, when worn today, appear anything but current. Consider this your official out list.

If you're a practitioner of reselling your clothes—a good way to clear out some space in your wardrobe and make a few extra bucks—you might already be familiar with San Francisco-based thredUP.

A picture may be worth a thousand words, but emoji must be worth at least a million. Here we show you how to channel your favorites: Go ahead, express yourself!

11 earth-friendly beauty products we love.