InStyle poll results: 51% feel guilty returning holiday gifts
Will you be returning gifts this year?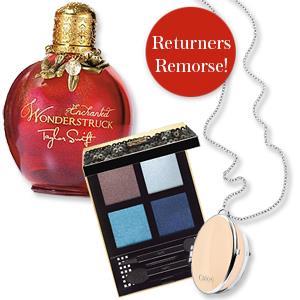 By Jennifer Davis, InStyle magazine

Did you get everything you wanted for the holidays, and then some? Well, it's that some that sometimes you just don't know what to do with, which is why we polled readers in a recent issue to find out if they felt guilty returning gifts.

RELATED:10 Items You Need for 2013

And it was a close call for the results! 51% of you said that you felt guilty when you returned gifts, while 49% said that you were guilt-free. Now that you've received your presents this season, are you planning on to return or exchange your goods? Tell us in the comments below!

RELATED: Target + Neiman Marcus Collection 70% Off!

Plus, if you're exchanging, check out some of our favorite items to snap up in our gift guide!

MORE:
• Returners Remorse: The Poll Results
• Shop the Victoria's Secret Semi-Annual Sale
• Hollywood's Newest Moms
Photo: Courtesy Photo (3)

I don't return gifts.  I just put them with the other stuff.  Shopping is bad enough without having to stand in a line to exchange something you have no investment in. I hoard gift cards like money.  My thought is well I MIGHT go there sometime and see something I would normally buy for myself. Generally when I'm in there I don't have the card so I pay for it myself.  It took me three years to get enough stuff at Walmart to use up a $25 card. I've got two $10 gas cards I got as a "refund" that are 8 months old. I don't know how many cards got nibbled to death with the monthly fees if you don't use them.

I learned long ago to not give stupid gifts.   Gift cards, wine, steaks, etc. for friends,  something specifically requested (I mean hinted at) for the wife, cash for the kids.   These are never returned.  I just hope the gift cards get used (try to give them their likes, movie passes, their favorite resturant, or even paint ball works).   Never give a "clam lamp" because you think it's cool.

When I was married to my ex-husband, we received a really strange Christmas gift the first year we were married.  It was a baby blue plastic clam shell lamp with lights that changed color.  While I've always been taught that it's the thought that counts, I desperately wanted to return this gift but my former spouse wouldn't let me stating that it would really hurt his sister-in-law's feelings if she found out.  He told me to just store it somewhere in the apartment in case they ever came to visit; we could haul it out and tell her how much we appreciated the gift.  I "accidently" stored it under some very heavy workout weights and ooops, it was crushed into a million blue plastic pieces.  While it plagued my conscience to pull something deceptive like that, I wasn't at all bothered by the fact that the item needn't be displayed in our apartment.  I would have returned or exchanged the item, but there was no gift receipt in the box and my ex was too chicken to ask where she got it. 
Are you sure you want to delete this comment?
beauty tips and style advice
See 14 holiday dresses you'll love under $100.

This season, let your nails be as merry—and bright—as your mood.

A few things are certain in life: death, taxes and the fact that a gal pretty much can't go bare legged from November to March.

See 15 fragrances for every personality on your holiday list.

Click to see 15 dog-walking outfits inspired by celebrities.

We're sure this enigmatic purple shade will be everywhere next year, from fashion and beauty to home, and we're pumped for its impending takeover. We've rounded up some of our favorite celebrity looks in Radiant Orchid, including Jessica Paré, Kristen Bell, Amy Adams, and Krysten Ritter, to give you a preview of what you can expect to see in 2014. Commit Radiant Orchid to memory—you're going to be spotting much more of it in the coming months.

What do you wear to a holiday party? Whether you're heading to a family shindig or an after-work office soiree, crib these style tips and lessons learned from some of our favorite celebrity dos and don'ts of the festive season.

We caught up with the new mommy to find out the trick to keeping her makeup on point—even when she's not in front of the cameras.

Kristen Stewart is known for her casual style, both on and off the red carpet

You can rent a couture dress or a designer bag, but would you rent hair extensions?

To get the scoop on quick office party beauty tricks, we turned to Landy Dean, celebrity makeup artist at Marie Robinson salon. His simple tutorial requires only a handful of products, starting with the darkest, inkiest eyeliner you can find. Dean swears by the Nars Larger Than Life liners smudged over the waterline and lashline, topped off with a few coats of Maybelline The Falsies mascara. Before you dash off to apply product, there's one small step that involves removing makeup. "If your foundation and concealer have caked or creased, I recommend a quick removal with a cleansing towelette and a redo to avoid heavy looking skin," he cautions. For those who would prefer to go the easy route, apply a hydrating moisturizer using a stippling motion and a sponge. Finish the look with a dusting of BareMinerals Mineral Veil—"this will even out discolorations and give a reflective finish that still looks natural"—swap your work bag for a chic clutch, and get ready to ring in the season.

Here's something to brighten up your Tuesday afternoon: The brilliant minds at Moschino have always been masters at combining fashion and whimsical, quirky humor—and this season, they've gone and outdone themselves.