InStyle poll results: 51% feel guilty returning holiday gifts
Will you be returning gifts this year?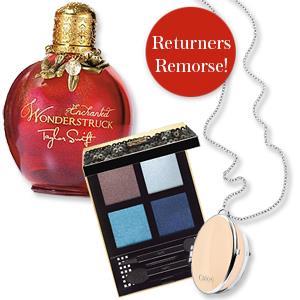 By Jennifer Davis, InStyle magazine

Did you get everything you wanted for the holidays, and then some? Well, it's that some that sometimes you just don't know what to do with, which is why we polled readers in a recent issue to find out if they felt guilty returning gifts.

RELATED:10 Items You Need for 2013

And it was a close call for the results! 51% of you said that you felt guilty when you returned gifts, while 49% said that you were guilt-free. Now that you've received your presents this season, are you planning on to return or exchange your goods? Tell us in the comments below!

RELATED: Target + Neiman Marcus Collection 70% Off!

Plus, if you're exchanging, check out some of our favorite items to snap up in our gift guide!

MORE:
• Returners Remorse: The Poll Results
• Shop the Victoria's Secret Semi-Annual Sale
• Hollywood's Newest Moms
Photo: Courtesy Photo (3)

I don't return gifts.  I just put them with the other stuff.  Shopping is bad enough without having to stand in a line to exchange something you have no investment in. I hoard gift cards like money.  My thought is well I MIGHT go there sometime and see something I would normally buy for myself. Generally when I'm in there I don't have the card so I pay for it myself.  It took me three years to get enough stuff at Walmart to use up a $25 card. I've got two $10 gas cards I got as a "refund" that are 8 months old. I don't know how many cards got nibbled to death with the monthly fees if you don't use them.

I learned long ago to not give stupid gifts.   Gift cards, wine, steaks, etc. for friends,  something specifically requested (I mean hinted at) for the wife, cash for the kids.   These are never returned.  I just hope the gift cards get used (try to give them their likes, movie passes, their favorite resturant, or even paint ball works).   Never give a "clam lamp" because you think it's cool.

When I was married to my ex-husband, we received a really strange Christmas gift the first year we were married.  It was a baby blue plastic clam shell lamp with lights that changed color.  While I've always been taught that it's the thought that counts, I desperately wanted to return this gift but my former spouse wouldn't let me stating that it would really hurt his sister-in-law's feelings if she found out.  He told me to just store it somewhere in the apartment in case they ever came to visit; we could haul it out and tell her how much we appreciated the gift.  I "accidently" stored it under some very heavy workout weights and ooops, it was crushed into a million blue plastic pieces.  While it plagued my conscience to pull something deceptive like that, I wasn't at all bothered by the fact that the item needn't be displayed in our apartment.  I would have returned or exchanged the item, but there was no gift receipt in the box and my ex was too chicken to ask where she got it. 
Are you sure you want to delete this comment?
beauty tips and style advice
Every year, we look to the biggest names in bridal beauty and fashion design to pinpoint the hottest bridal hair and makeup ideas – keeping in mind of course that this is a wedding (no crazy neon mascara here). This year, bridal beauty has gone extra natural and romantic -- think messy braids, wispy hair, natural eye makeup and more.

You've got the dress. You've got the venue, date, and invitations. The last thing you need to complete your wedding day? An amazing pair of shoes to wear as you walk down the aisle!

With the dress as the main focus, you want the hair to be understated. An updo does just that. But there's a difference between understated and boring. Adding simple accessories, like a pin or flower, is just enough decoration to the hair. Let these gorgeous pins serve as inspiration for finding a simple, yet understated, wedding hairstyle.

Just when we were getting used to seeing beards everywhere, it may be time for men who enjoy the attention of the opposite sex to invest in some shaving paraphernalia. In a new University of New South Wales study, researchers found that "when people are confronted by a succession of bearded men, clean-shaven men become [...]

If your arm aches just thinking about blow-drying, take heart: These easy hair-saving tips will cut down on your mirror time and deliver salon-level results.

From designer maxi dresses by Roberto Cavalli and Temperley London to contemporary finds by Alice + Olivia and Zimmermann, there's a dress for every kind of seaside bride.

Mom jeans are back this spring.

We combed our favorite online shopping haunts to find 20 stunning options for the unconventional bride who'd rather splurge on the perfect flowers and a signature cocktail than her aisle-bound gown. These gowns and frocks from Rae Francis, Black Halo Eve and Jill By Jill Stewart €"plus one epic jumpsuit by Rachel Zoe €"are the perfect antidote to the strapless fishtail option most brides seem to favor right now. You're certainly not basic, so why would your dress be?

We've rounded up 10 red carpet inspirations for long hair wedding hairstyles that don't scream "bridal," but are perfect for a walk down the aisle.

We're not in the habit of feeling sorry for supermodels. We reserve our sympathy for a less fortunate set, namely, everyone else on planet Earth.

How to love everything in your closet

Every season, wedding dress designers unveil their latest collections, and without fail, there are a handful of designs that give us pause. We're talking about beautifully designed dresses -- not meant for the fainthearted. For the Fall 2014 and Spring 2015 collections, these are the ones.