Does makeup help or hurt a woman's self-esteem?
According to this study, wearing makeup increases a woman's likeability.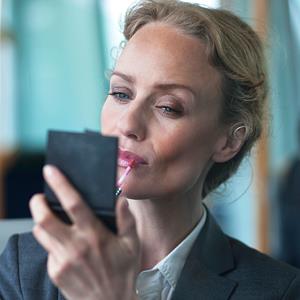 When it comes to leaving the house without lipstick on, many of us just can't bear to do it. Whether we're going to run errands or heading to the office, some women feel strongly about puckering up and applying their go-to shade to feel their best. But is applying makeup before you head into the office good for your career? Perhaps.

More from Living: The craziest nail designs of all time

The debate on the subject is out. According to the New York Times, it could go either way. Some argue that a simple tube of lipstick makes a woman appear more competent, especially in regards to the workplace. A recent survey is confirming that to be the case, with findings that reveal wearing makeup increases a woman's likeability and competence in the workplace.  

More from Living: The country's coolest mobile fashion trucks

Others insist that it should be a choice, not a requirement. "If makeup enhances women's self- confidence, they should by all means wear it," Deborah Rhode a law professor at Stanford and the author of "The Beauty Bias," tells the Times. "But it should be a choice, not a requirement imposed on employees where it is not essential to job performance. The world would be a better place if women were judged more on competence and less on appearance."
Tell us: Do you think lipstick makes or breaks a woman's self esteem?

Bing: Most inspiring women

Photo: Thomas Tolstrup/Getty Images

More from Simply Chic:
The weirdest runway fashions of 2012
Red carpet moments of 2012
Hall of shame: Celeb fashion fails of 2012

I can go either way. In the workplace, I like to look polished. For me, this means a tinted moisturizer with SPF, a light shade of blush, natural eye shadow, mascara, and lip gloss. It sounds like a lot but takes a minute or two to apply and looks very natural. On the other hand, if I am at a play date or the park, I just use a good moisturizer and sunscreen.
If a woman if comfortable with her makeup choice, she will come across as confident. If it feels unnatural to her but she is supposed to wear it, she will feel uncomfortable and self-conscious.
I seldom were makeup and usually only blush and lip gloss. I find foundations and lip sticks uncomfortable and gross. But if you feel you must were those products, replace them every six months and wash your face with a really good cleanser and condition your skin with a non-clogging moisturizer. And above all don't forget your sun screen!

As for the perception that wearing makeup makes a woman look more confident and likeable, it depends on how much she uses and how she uses it, with makeup, less is more!


Are you sure you want to delete this comment?
beauty tips and style advice
Sunglasses: it may seem counterintuitive to invest in a wintertime accessory traditionally viewed as a sunny, warm-weather item. But spring is on the way and we're also currently being exposed to crazy amounts of UV rays—and then, of course, there's the reflective snow situation.

Some people look younger than they are, some look older. Even those with easy access to BOTOX and personal trainers. Can you guess the age of these celebrities?

Did anyone else hear wedding bells on the Oscars red carpet last night?

Then after the show, er, Oscars, it's the after party. Then after the party, it's the... Best Dressed List, of course. Nikki already picked her tops for the Academy Awards red carpet (did you vote yet?), so now it's time to see what the stars wore to the post-celebrations.

As I continue my personal campaign to swap out E!'s mani cam with a back-of-updo cam (and as a service to all the hardworking hairstylists who spent so much time creating beautiful hair looks for the 2014 Oscars), I'd like to point out that we miss a lot of gorgeous detail when we don't get the back view of a star's hair.

The bold new trend on the Oscars red carpet.

Trying new hairstyles is fun (have you picked up Allure Hair: The Ultimate How-To Hair Guide yet?).

When someone says "Julia Roberts," you think teeth. You think hair. But while you may not immediately think fashion, she has had a pretty consistent—and consistently pretty—style since her Mystic Pizza days: clean, classic, menswear-inspired looks that let her natural beauty—and rightly famous smile—take center stage. Here's how she has elevated that look over the years.

Lupita Nyong'o shows off the power of the pixie on the Oscars red carpet.

Walk a mile in a pair of SJP's stilettos? Well yes, we'd love to; thank you for asking.

Anti-aging doesn't have to take over your life. Here, expert tweaks to slow the clock.

We're at the tail end of a jam-packed awards season, with the grand finale—the Oscars, duh—just a few days away. We can't wait to see what our favorite nominees wear—we already know Jennifer Lawrence will step out in a breathtaking Dior, while we hope to see Lupita Nyong'o pick another brilliantly bold monochromatic gown. As for which designer she'll select—Gucci? Ralph Lauren?—that's anyone's guess.