Does makeup help or hurt a woman's self-esteem?
According to this study, wearing makeup increases a woman's likeability.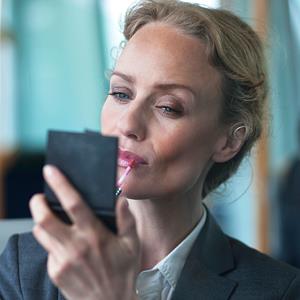 When it comes to leaving the house without lipstick on, many of us just can't bear to do it. Whether we're going to run errands or heading to the office, some women feel strongly about puckering up and applying their go-to shade to feel their best. But is applying makeup before you head into the office good for your career? Perhaps.

More from Living: The craziest nail designs of all time

The debate on the subject is out. According to the New York Times, it could go either way. Some argue that a simple tube of lipstick makes a woman appear more competent, especially in regards to the workplace. A recent survey is confirming that to be the case, with findings that reveal wearing makeup increases a woman's likeability and competence in the workplace.  

More from Living: The country's coolest mobile fashion trucks

Others insist that it should be a choice, not a requirement. "If makeup enhances women's self- confidence, they should by all means wear it," Deborah Rhode a law professor at Stanford and the author of "The Beauty Bias," tells the Times. "But it should be a choice, not a requirement imposed on employees where it is not essential to job performance. The world would be a better place if women were judged more on competence and less on appearance."
Tell us: Do you think lipstick makes or breaks a woman's self esteem?

Bing: Most inspiring women

Photo: Thomas Tolstrup/Getty Images

More from Simply Chic:
The weirdest runway fashions of 2012
Red carpet moments of 2012
Hall of shame: Celeb fashion fails of 2012

I can go either way. In the workplace, I like to look polished. For me, this means a tinted moisturizer with SPF, a light shade of blush, natural eye shadow, mascara, and lip gloss. It sounds like a lot but takes a minute or two to apply and looks very natural. On the other hand, if I am at a play date or the park, I just use a good moisturizer and sunscreen.
If a woman if comfortable with her makeup choice, she will come across as confident. If it feels unnatural to her but she is supposed to wear it, she will feel uncomfortable and self-conscious.
I seldom were makeup and usually only blush and lip gloss. I find foundations and lip sticks uncomfortable and gross. But if you feel you must were those products, replace them every six months and wash your face with a really good cleanser and condition your skin with a non-clogging moisturizer. And above all don't forget your sun screen!

As for the perception that wearing makeup makes a woman look more confident and likeable, it depends on how much she uses and how she uses it, with makeup, less is more!


Are you sure you want to delete this comment?
fashion: trends & must-haves for your wardrobe
Step into spring with style in June Ambrose's new shoe line for HSN.

Revamp your corporate look with graphic prints and bold color.

You may not get wrinkles on your hair, but it ages all the same. Grays, dullness, thinning strands, and frizz are all (unfortunately) part of the hair's aging process, which starts happening in your 30s. The good news is that you don't need Botox to fix these problems. Here are six tips for hair that's shiny, bouncy, healthy—and, yes, younger looking.

Our fashion-savvy FLOTUS shows us she is truly a master at mixing high- and low-end designs.

Long, layered, medium or wavy – we're sharing our favorite hairstyles of 2013 with a new 'do each day. Stuck in a hair rut? Check back daily for snappy new looks that are sure to give your locks some beauty inspiration.

Get ready for summer with these cute and easy to DIY nail art designs.

Brides, it's your big day and you want to look special. Please, whatever you do, don't wear one of these wedding dresses. These are truly the worst.

Even if you're the best friend of all time, no bridesmaid should ever have to wear these worst-ever bridesmaid dresses. Lace, ruffles and satin overload!

As your face changes, so should your hair—the right cut can shave years from your appearance. And while there's no such thing as an age-appropriate length, there are age-appropriate styles. Here, the 30 most gorgeous hairstyles for every age, as seen on Mila Kunis, Jessica Biel, Jennifer Aniston, Diane Keaton, and more.

Stuck in a office-look-rut? Let some of history's most smartly dressed women inspire your everyday uniform.

Few spots are as fashionable as the Cannes Film Festival red carpet. Celebrity style stars pull out all the stops—because if you can't wear a fabulous dress at one of the film industry's biggest events, in one of the world's most glamorous locales, when can you? Here are 25 of the masterpieces we still can't stop staring at.

From demure dresses to covetable coats, the Duchess of Cambridge has a maternity wardrobe that would make any grown woman wish she could be a princess. Click through the gallery to see some of her most stylish looks while pregnant.