Does makeup help or hurt a woman's self-esteem?
According to this study, wearing makeup increases a woman's likeability.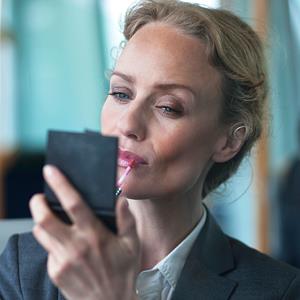 When it comes to leaving the house without lipstick on, many of us just can't bear to do it. Whether we're going to run errands or heading to the office, some women feel strongly about puckering up and applying their go-to shade to feel their best. But is applying makeup before you head into the office good for your career? Perhaps.

More from Living: The craziest nail designs of all time

The debate on the subject is out. According to the New York Times, it could go either way. Some argue that a simple tube of lipstick makes a woman appear more competent, especially in regards to the workplace. A recent survey is confirming that to be the case, with findings that reveal wearing makeup increases a woman's likeability and competence in the workplace.  

More from Living: The country's coolest mobile fashion trucks

Others insist that it should be a choice, not a requirement. "If makeup enhances women's self- confidence, they should by all means wear it," Deborah Rhode a law professor at Stanford and the author of "The Beauty Bias," tells the Times. "But it should be a choice, not a requirement imposed on employees where it is not essential to job performance. The world would be a better place if women were judged more on competence and less on appearance."
Tell us: Do you think lipstick makes or breaks a woman's self esteem?

Bing: Most inspiring women

Photo: Thomas Tolstrup/Getty Images

More from Simply Chic:
The weirdest runway fashions of 2012
Red carpet moments of 2012
Hall of shame: Celeb fashion fails of 2012

I can go either way. In the workplace, I like to look polished. For me, this means a tinted moisturizer with SPF, a light shade of blush, natural eye shadow, mascara, and lip gloss. It sounds like a lot but takes a minute or two to apply and looks very natural. On the other hand, if I am at a play date or the park, I just use a good moisturizer and sunscreen.
If a woman if comfortable with her makeup choice, she will come across as confident. If it feels unnatural to her but she is supposed to wear it, she will feel uncomfortable and self-conscious.
I seldom were makeup and usually only blush and lip gloss. I find foundations and lip sticks uncomfortable and gross. But if you feel you must were those products, replace them every six months and wash your face with a really good cleanser and condition your skin with a non-clogging moisturizer. And above all don't forget your sun screen!

As for the perception that wearing makeup makes a woman look more confident and likeable, it depends on how much she uses and how she uses it, with makeup, less is more!


Are you sure you want to delete this comment?
beauty tips and style advice
You already know wearing white after Labor Day is cool. But menswear is reinventing itself rapidly, leaving some long-held mandates by the wayside, not to mention a bunch of men with a lot of questions. Sure, some style laws are truly inviolable. Showing a quarter-inch of cuff will always be crucial, but with designers and dandies flaunting so many former taboos it's hard to tell what's in play these days. So we thought we'd take this opportunity to let you know which rules no longer apply.

Put down the wrinkled button-down, step away from the Crocs, and open your closet. We need to talk about the new rules of casual.

Buying a brush is like getting a new smartphone: once you learn how to use it, it's indispensable.

Surfers are the epitome of cool, laid-back American style. And if we can't be them, at least we can copy their hair.

It's time for bridal beauty to loosen up. Hair doesn't have to be tightly wound, makeup perfectly contoured, and nails French manicured (on this last point, really, please don't). You can, in fact, look gorgeously and timelessly cool at your wedding. Here's how.

Thirty-year-old Lisa Conn was shamed for her American Apparel swim suit.

This Instagram should be an ad campaign on billboards everywhere immediately.

The famous Parisian shoe designer has unveiled a luxurious new nail polish, his first foray into the world of beauty, and there are no prizes for guessing what color it comes in.

Average shoe size is up about two sizes since the '70s, study says.

They can't escape wedding season, so they might as well look their best.

Front-row style star Miroslava Duma just clears 5′, Oscar winner Reese Witherspoon one-ups her—literally—at 5′ 1″, and fashion crush Rachel Bilson barely tops them both at a whopping 5′ 2″. But aside from standing at the diminutive end of the height spectrum, these three ladies have something else in common: the ability to nail every summer fashion trend. If you're part of the petite girls' club, take a look at these 12 fashion essentials—from closet staples to chic accessories—to keep you at the top of your style game this summer.

Quick, easy, everywhere-appropriate: There's no summer piece quite as versatile--or flattering.