The latest on how designers are printing (yes, printing) shoes, dresses and more!
Could this be the future of fashion?
By
Danica Lo
Will needles and thread become a thing of the past? With the way technology is headed, the answer is: maybe. There has been much talk of late about the advent of 3-D printers to produce design objects, but now fashion designers are getting into the game of printing dresses, shoes, and jewelry. While 3-D printers (actual printers that print using resin instead of ink on paper) aren't available at your local Office Max quite yet, innovators and influencers in the fashion world are experimenting. A look at some of the coolest results so far: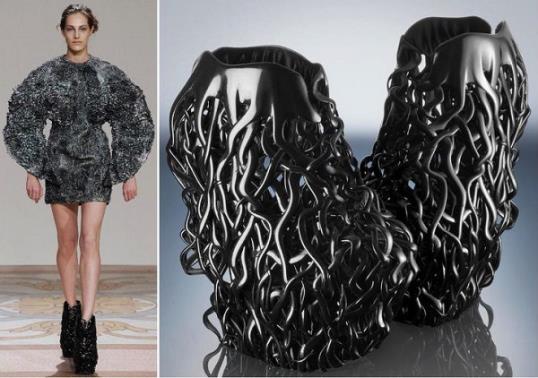 At her fifth haute couture collection show in Paris last week, designer Iris van Herpen teamed up with architect Rem D. Koolhaas, co-founder of United Nude, to create this mind-blowing, sculptural 3-D-printed footwear, above. The shoes, inspired by banyan trees, were so elaborate and wild they looked as if they had organically sprouted from the model's feet. 

More from Glamour: 10 Wardrobe Essentials Every Woman Should Own

"The hardest part was the figuring out of the materials and 3-D printing techniques to be used," Koolhaas said. "Fashion is always a race against time, and 3-D printing allows you to move fast. The promise for the future of this technology is very powerful."

And Dita Von Teese was recently photographed wearing the world's first fully articulated 3-D-printed dress, by designers Michael Schmidt and Francis Bitonti. Check out the mini-documentary of the making of the dress, below. 
We're excited to see what legendary British milliner Stephen Jones comes up with for a 3-D-printed hat, which he announced recently.

The appeal of 3-D-printing technology lies in its speed and convenience. With a printer in the corner of the studio, designers no longer have to rely on costly sampling procedures or the wait of shipping pieces back and forth to factories.
"The fashion designers kind of gave up the fashion business once on the manufacturing side because out factories couldn't retool fast enough, etc., and a lot of it was done offshore," Living in Digital Times founder Robin Raskin told WWD. "I think technology is going to stop mass production to some degree. They're learning how to 3-D-print cloth."

More from Glamour: 15 Hair-Color Makeover Ideas to Try in 2013

So, what if you want to play around with 3-D printing at home? How much will a personal printer run you? On the more moderate end, there's the popular Cubify system, which prints smaller items and is priced starting at $1,299. On the higher end of consumer-grade models, prices can run up to around $4,000. But just like any other popular new technology, the promise of more-affordable options lies just beyond the horizon. A Kickstarter project for The Buccaneer, a $347 3-D printer, reached its funding goals on June 29! We're totally getting our hands on one of those when they come out ... and printing a bunch of brooches. Or something.

Are you excited about 3-D printer technology? Tell us: What would you like to print yourself at home? Shoes? Jewelry? Clothes? The possibilities are endless!

Subscribe to Simply Chic | Friend us on Facebook | Follow us on Twitter | Find us on Pinterest

More from Glamour:
35 Truths About Marriage -- From a Guy's Point of View
10 Hot Date-Night Outfits (According to Guys)
50 Hot-Off-the-Runway Wedding Dresses That Will Make Your Heart Skip a Beat

Photos: Courtesy Iris van Herpen
This is cool, but I'm really digging stuff made of recycled materials right now. My favorite is a hat made of steel belts from old truck tires and old truck tarps from Brazil. It looks old, beat up and patched and likely has more miles on it than there is on me. I like the idea that stuff can be taken out of landfills and be given a new life as something else. I really don't have much use for anything from a 3-d printer at this time, but that can change at a later time too.

Are you sure you want to delete this comment?
beauty tips and style advice
The redeeming factor of summer, sadly, not being endless? New seasons require a different wardrobe, and there's no time like the present to start your fall shopping. With autumn creeping up, I already know the boots and sweaters I'll be heaving out of the stuffed containers under my bed that I think of fondly as my second closet…but there's always room for fresh blood. I quizzed Shopbop's fashion director, Elle Strauss, for help with getting the best strategy in place. Herewith, the 10 pieces she suggests picking up now (plus chic ideas for how to start incorporating them into your current closet).

These jeans aren't just distressed, they're destroyed, and all the cooler for it — the perfect way to make a basic T-shirt feel totally badass.

These products are so great they've attained cult status among beauty insiders—yet you can find them just about anywhere without blowing your budget.

Those awesome back-to-school outfits are begging for some killer kicks! Strut down the hallway in fall's hottest shoe trends.

These stars don't sleep in a hyperbaric chamber (that we know of), yet they seem to look better with each passing year. That's because somewhere along the way, they discovered a few signature makeup tricks that make all the difference. Steal some of their game-changing moves.

Your closet update just got way easier. Sneakers, heels, boots, flats—we've got it all covered.

Dressing right gets tricky when summer turns to fall. It's too warm for tweed, but shorts just don't feel right anymore. Fortunately, Esquire's got it all figured out for you.

When you're flying in a metal tube at 30,000 feet, comfort trumps style. To help you avoid an in-flight fashion faux pas, avoid wearing the 5 items below.

In the pursuit of silky, swingy, frizz-free hair, there are a dizzying number of tempting in-salon services to choose from. We grilled chemists and stylists on what works (and what's safe). Here are the eight things you—and your hair—need to know before you commit.

Beauty products have a lot of power. Applied expertly, they can make you look vibrant, gorgeous and at least five years younger. If you aren't using them correctly, though, the same products can add a few years to your gorgeous visage. But before mothers of the bride go into panic mode, read on. We asked makeup artist Brigitte Reiss-Andersen, who's worked with the likes of Meryl Streep, Michelle Pfeiffer and Rachel Weisz, to divulge common beauty mistakes that you can nip in the bud before your daughter's wedding.

Some people apply makeup at a vanity that's crying out to be on Pinterest, and others rummage through a drawer overflowing with their 103 absolute must-have, use-daily products—but everybody can benefit from a few clever storage tricks. These are the smartest ways we've ever heard to keep your products and tools organized, accessible, and most of all, beautiful.

Squeeze days out of your style with smart tricks from blowout queen Alli Webb, founder of Drybar.