The latest on how designers are printing (yes, printing) shoes, dresses and more!
Could this be the future of fashion?
By
Danica Lo
Will needles and thread become a thing of the past? With the way technology is headed, the answer is: maybe. There has been much talk of late about the advent of 3-D printers to produce design objects, but now fashion designers are getting into the game of printing dresses, shoes, and jewelry. While 3-D printers (actual printers that print using resin instead of ink on paper) aren't available at your local Office Max quite yet, innovators and influencers in the fashion world are experimenting. A look at some of the coolest results so far: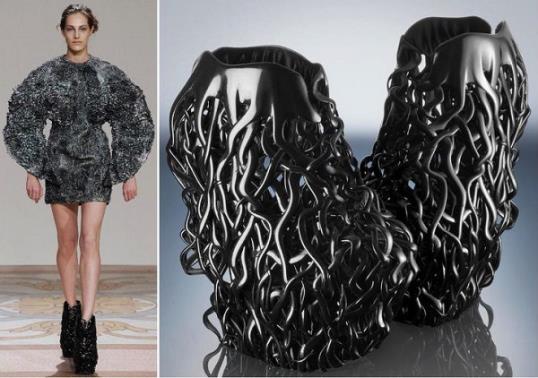 At her fifth haute couture collection show in Paris last week, designer Iris van Herpen teamed up with architect Rem D. Koolhaas, co-founder of United Nude, to create this mind-blowing, sculptural 3-D-printed footwear, above. The shoes, inspired by banyan trees, were so elaborate and wild they looked as if they had organically sprouted from the model's feet. 

More from Glamour: 10 Wardrobe Essentials Every Woman Should Own

"The hardest part was the figuring out of the materials and 3-D printing techniques to be used," Koolhaas said. "Fashion is always a race against time, and 3-D printing allows you to move fast. The promise for the future of this technology is very powerful."

And Dita Von Teese was recently photographed wearing the world's first fully articulated 3-D-printed dress, by designers Michael Schmidt and Francis Bitonti. Check out the mini-documentary of the making of the dress, below. 
We're excited to see what legendary British milliner Stephen Jones comes up with for a 3-D-printed hat, which he announced recently.

The appeal of 3-D-printing technology lies in its speed and convenience. With a printer in the corner of the studio, designers no longer have to rely on costly sampling procedures or the wait of shipping pieces back and forth to factories.
"The fashion designers kind of gave up the fashion business once on the manufacturing side because out factories couldn't retool fast enough, etc., and a lot of it was done offshore," Living in Digital Times founder Robin Raskin told WWD. "I think technology is going to stop mass production to some degree. They're learning how to 3-D-print cloth."

More from Glamour: 15 Hair-Color Makeover Ideas to Try in 2013

So, what if you want to play around with 3-D printing at home? How much will a personal printer run you? On the more moderate end, there's the popular Cubify system, which prints smaller items and is priced starting at $1,299. On the higher end of consumer-grade models, prices can run up to around $4,000. But just like any other popular new technology, the promise of more-affordable options lies just beyond the horizon. A Kickstarter project for The Buccaneer, a $347 3-D printer, reached its funding goals on June 29! We're totally getting our hands on one of those when they come out ... and printing a bunch of brooches. Or something.

Are you excited about 3-D printer technology? Tell us: What would you like to print yourself at home? Shoes? Jewelry? Clothes? The possibilities are endless!

Subscribe to Simply Chic | Friend us on Facebook | Follow us on Twitter | Find us on Pinterest

More from Glamour:
35 Truths About Marriage -- From a Guy's Point of View
10 Hot Date-Night Outfits (According to Guys)
50 Hot-Off-the-Runway Wedding Dresses That Will Make Your Heart Skip a Beat

Photos: Courtesy Iris van Herpen
This is cool, but I'm really digging stuff made of recycled materials right now. My favorite is a hat made of steel belts from old truck tires and old truck tarps from Brazil. It looks old, beat up and patched and likely has more miles on it than there is on me. I like the idea that stuff can be taken out of landfills and be given a new life as something else. I really don't have much use for anything from a 3-d printer at this time, but that can change at a later time too.

Are you sure you want to delete this comment?
beauty tips and style advice
Sunglasses: it may seem counterintuitive to invest in a wintertime accessory traditionally viewed as a sunny, warm-weather item. But spring is on the way and we're also currently being exposed to crazy amounts of UV rays—and then, of course, there's the reflective snow situation.

Some people look younger than they are, some look older. Even those with easy access to BOTOX and personal trainers. Can you guess the age of these celebrities?

Did anyone else hear wedding bells on the Oscars red carpet last night?

Then after the show, er, Oscars, it's the after party. Then after the party, it's the... Best Dressed List, of course. Nikki already picked her tops for the Academy Awards red carpet (did you vote yet?), so now it's time to see what the stars wore to the post-celebrations.

As I continue my personal campaign to swap out E!'s mani cam with a back-of-updo cam (and as a service to all the hardworking hairstylists who spent so much time creating beautiful hair looks for the 2014 Oscars), I'd like to point out that we miss a lot of gorgeous detail when we don't get the back view of a star's hair.

The bold new trend on the Oscars red carpet.

Trying new hairstyles is fun (have you picked up Allure Hair: The Ultimate How-To Hair Guide yet?).

When someone says "Julia Roberts," you think teeth. You think hair. But while you may not immediately think fashion, she has had a pretty consistent—and consistently pretty—style since her Mystic Pizza days: clean, classic, menswear-inspired looks that let her natural beauty—and rightly famous smile—take center stage. Here's how she has elevated that look over the years.

Lupita Nyong'o shows off the power of the pixie on the Oscars red carpet.

Walk a mile in a pair of SJP's stilettos? Well yes, we'd love to; thank you for asking.

Anti-aging doesn't have to take over your life. Here, expert tweaks to slow the clock.

We're at the tail end of a jam-packed awards season, with the grand finale—the Oscars, duh—just a few days away. We can't wait to see what our favorite nominees wear—we already know Jennifer Lawrence will step out in a breathtaking Dior, while we hope to see Lupita Nyong'o pick another brilliantly bold monochromatic gown. As for which designer she'll select—Gucci? Ralph Lauren?—that's anyone's guess.