Working women more likely to be divorced than men
Bringing home the bacon may come at a price.
Does a career come with a greater risk of divorce? It sure does—if you're a woman.
According to the latest statistics from the American Community Survey (ACS), working women are more likely to be divorced than working men.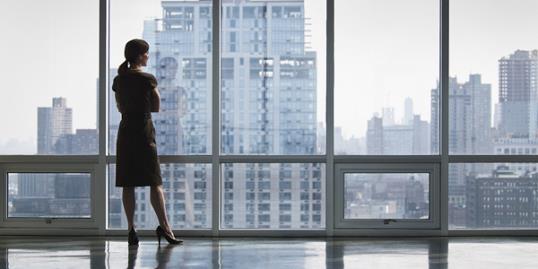 The U.S. Census Bureau recently released the results of its 2011 survey, and 14.1 percent of women in the labor force are reportedly divorced, compared with only 9.5 percent of working men.
More on MSN Living: 10 foolproof ways to get in the mood
The difference in percentage is especially noteworthy considering there are significantly fewer women than men in the labor force.
Sorry ladies, but these stats also seem to support a disheartening study, which found that women who work full-time increase their risk of divorce by a staggering 29 percent.
More on MSN Living: The real reasons men shut down
In 2005, research published in the European Sociological Review found that full-time working wives are three times more likely to get divorced than women who stay at home. According to the research:
"Women who work full-time have a higher risk of divorce. Compared to non-working women, those with a full-time job have a 29 percent greater risk of divorce. Women who work more hours are found to have a higher divorce risk."
The ACS also revealed that citizens native to the U.S. are more likely to be divorced than foreign-born citizens: 11.6 percent of U.S. natives are divorced, compared with 7.7 percent of foreign-born respondents.
As for race, the group with the highest percentage of divorce was American Indian and Alaska Native. Meanwhile, Asians had the lowest rate of divorce.
Of the people who divorced within the past year of taking the survey, the median age was 43 for men and 41 for women. Overall, 11 percent of adults in the U.S. are divorced, an increase from 10.5 percent in 2007.
Bing: Tips to keep your marriage strong.
Photo: Ryan McVay/Getty Images
More Sex & Love on MSN Living:
How to pick a wedding band that works with your engagement ring
Wedding welcome basket shopping list
7 stories of lost wedding rings with happy endings 
Most common holiday arguments—and how to avoid them

Um, i'm thinking the math or the headline is askew:
"working women more likely to be divorced than...men....".
I would imagine that there are about as many divorced women as there are divorced men...after all, didn't they divorce each other?....
Or, are they saying that the number of divorced women exceeds the TOTAL number of men?

Yes it is true!  Ya know why?  Women VOTE, are better educated, make their OWN money and don't have to put up with the nonsense their "husbands" dish out!  These women typically do most of the cleaning, cooking and child rearing.  Plus these men feel free to hit, criticize and "do their own thing" while behaving like children.  NO THANKS.  I KNOW that one in a thousand are great husbands, but seriously, those are pathetic odds.
Are you sure you want to delete this comment?
beauty tips and style advice
From pretty pastels to bold brights and cool textures, up your #ManicureMonday game with spring's top nail polish trends!

Sorry, winter, we're way over you. It's time to refresh your look for spring with bold lippies, fun nail art and major brows—here's how to rock the hottest new trends, just like these stylish celebs!

Time to say buh-bye to the same old, played-out 'dos. Celebrity stylist Jen Atkin tells you how to update these 7 classic hairstyles for spring.

Even if everyone at school will be rocking their most festive shades of emerald on March 17, you don't want to end up looking like a Leprechaun in head-to-toe green.

How to dress your baby bump.

Things we learned backstage at the fall 2014 runway shows: Bold brows aren't going anywhere, bright green can actually look subtle, and glitter is amazing almost anywhere (within reason). Here, our favorite makeup looks of the season so far.

The fall runways showcased a broad range of hairstyles—braids, buns, ponytails, and even wigs. But there were unifying themes, too: A pervasive sense of ease; experimentation with texture; and an apparent belief that anything goes.

It's not always about the ladies of style. Check out these fashion icons.

Do you hear that? It's the sound of hundreds of cover bands beginning to tune their guitars and trying to remember the lyrics to "Shout." Ladies and gentlemen (but mostly ladies), it's nearly wedding season.

So, it hasn't snowed in nearly a week—does that mean it's summer yet? Well, almost. But alas, just because you're confident setting aside your trusty Sorel boots unfortunately doesn't mean you get to hop right into an itsy-bitsy-teenie-weenie yellow polka dot bikini just yet. Unless, of course, you're headed somewhere tropical in the next few weeks (lucky you!) and really do need to stock up on sexy swimsuits right now.

Getting away from it all for a bit? Your vacation wardrobe should be just like your plans: laid-back but totally fabulous. Take a cue from these celebrities, whose low-effort, high-style outfit ideas are officially on our must-copy list.

These fun and flattering vintage-style suits blend the best of the old with the best of the new.