Would you wear scented shoes?
All I want for Christmas is a pair of strawberry-scented vegan holiday shoes.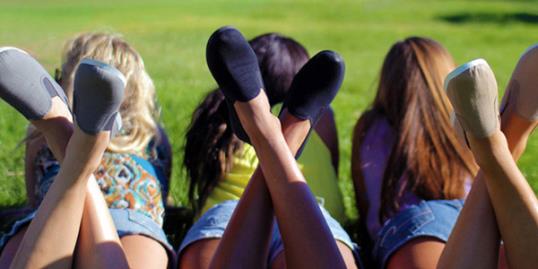 By this time, you've probably compiled a holiday wish list filled with must-have items that dreams are made of (or, in our case, boring but necessary essentials like socks and underwear, sigh). But regardless of what's on your Christmas list this year, we've got something groundbreaking that you may want to make room for (or not)-scented holiday shoes.

Called Kandals, these kicks are not your average pair of flats. Instead, each pair comes equipped with a strawberry scent and constructed of eco-friendly canvas and vulcanized rubber.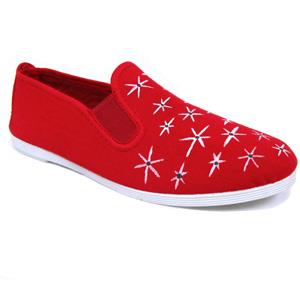 This particular pair of limited edition eco-classics is even themed for the holidays, with a festive Santa red color. "Yes, we seek to redefine your shoe experience," says the Kandals site. "Our mission is that every time you wake up in the morning to put on your KANDALS, you get a fresh newness to your shoes. The scent is not perfumed on the fabric but on the rubber sole, making it subtle, long-lasting, and allowing you to put on your daily perfume."

We haven't smelled them ourselves quite yet, but we envision a scent similar to the Strawberry Shortcake doll of our childhood.  
Tell us: Would you wear scented shoes?

Bing: Kandals shoes


Photo: Courtesy Kandals
More from Simply Chic:

Did you buy more lip or nail products this year?
Only one-fifth of women consider themselves fashionable
Latest trend for guys: Man tights
beauty tips and style advice
And before you ask, sorry, the $325 dress is SOLD OUT on Matches.com and DVF.com—you snooze, you loose.

Click through the slideshow to shop some of our spring favorites.

French braid? Been there. Fishtail? Done that. The newest styles are all about unexpected texture, major volume, and one man's wild imagination.

Long hair, don't care? Think again…

She dishes on the routine that keeps her looking polished, even when she's pulling up to the <i>Mad Men</i> set at 5 a.m. Plus, the fragrance that helps Christina get her Joan on.

For inspiration, we've rounded up gorgeous (and easy to replicate) wedding makeup looks from the red carpet.

With a few insider tricks, you can enjoy short hair 365 days of the year and have a gorgeous style on your wedding day. Wedding hairstyles for short hair do exist.

I'm beyond excited to finally ditch my winter coat and heavy layers, but I'm not so eager to ditch my tights. Let's just say my legs are not as smooth and bronzed as they were the last time I showed them off many, many months ago.

After a jam-packed week in New Zealand, Kate Middleton and Prince William finally enjoyed a day off, but as of last night (or this morning..? Ah, time change!) they're back on the road again.

These travel-sized beauty products will do double-duty while you're on the road.

Neatly sidestepping high fashion, the smiling, cheerful Kate Middleton is fast becoming the Duchess of Normcore.

This December, New Yorkers might notice something missing in the Christmas air.