'Fifty Shades of Grey' lingerie line launches
Panties and bras inspired by the famous book make their debut.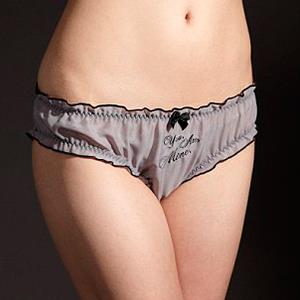 It seems like only yesterday that most of us were running to the bookstore to snatch up our dirty little copy of "Fifty Shades of Grey." But even though the obsession with the trilogy has calmed down (at least a little bit), the world is still hot to trot over anything that will give us a chance at a sex life like Anastasia Steele's. 

Living style: What to wear to...

And the perfect collection to tease our fantasies is making its debut in stores. British brand BlueBella is finally debuting its "Fifty Shades of Grey"-inspired lingerie collection. The line, with fantasy-fueling items like super sexy bras and panties (ahem, some even come with a detachable tie for optimum "Fifty"-style role playing) and Christian Grey-inspired boxers for men, is priced from $15 to $53. "The 'Fifty Shades' effect has benefited our business and the books have played a significant role in shifting perceptions of female sensuality," Emily Bendell, the chief executive and founder of BlueBella, told London's Daily Mail. "This is core to our vision too, so we feel this is a perfect partnership."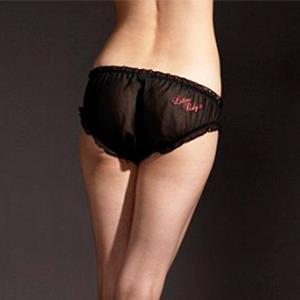 Living style: International Best-Dressed List: Hall of Fame

The brand is launching its first collection this summer, with a second collection planned for next summer to coincide with the much-talked-about film. "As we await the release of the 'Fifty Shades of Grey' film, and a new wave of excitement surrounding the erotic phenomenon reaches fever pitch, we are thrilled to be developing the lingerie and underwear collections that will coincide with both the run-up to and launch of the film," added Bendell.

Tell us: Would you buy 'Fifty Shades of Grey' lingerie?

Subscribe to Simply Chic | Friend us on Facebook | Follow us on Twitter | Find us on Pinterest
Photo: Courtesy of BlueBella
beauty tips and style advice
One shopper's tweet of the emaciated-looking figure forced the store to take action.

Once the summer heat kicks in, it's all we can do not to slip into the breeziest beach dresses and flip-flops for the morning commute. So trust us when we say we understand that the humidity can have a powerful effect on your wardrobe — still, there are some things you just can't wear to your place of employment, no matter how hot it gets.

Wrinkle no blouse, tangle no jewelry, leave no beauty product behind, and still have room to spare.

Hue-changing dos we absolutely love.

Why your jean size varies from store to store.

Wait a month between waxing visits? Check. Pop a preappointment Advil? Duh. We all know the basics, but here are the tricks you don't know.

What to always—and never, ever—do to keep hair in top shape.

Get inspired to try these sweet and summery looks.

Stunning wedding styles that create a statement.

I attended the Abercrombie and Fitch holiday-season press preview yesterday, and in between checking out the cute gear that will hit stores this November, I picked up a little nugget of information I just have to share.

How to wear this cool-weather staple in the summer.

See how Miranda Kerr made a pair of Birkenstocks chic.