Would You Wear Shoes Made From Dead Animals?
Artist collects animal carcasses to create shoes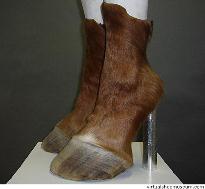 From mile-high stilettos to heels covered in diamonds, designers are always going to extremes to make a more chic-looking shoe. 
But German artist Iris Schieferstein is using a much different approach when crafting hers: dead animals. 
According to
The Virtual Shoe Museum
, the artist has been using raw material (aka. the aforementioned dead animals) in her art pieces for years.  
Not shockingly, the shoes have garnered the attention of celebs including Lady Gaga and, according to the
Daily Mail
, can cost close to $6,000. Daily Mail claims the process of creating the shoes includes "stripping out any remaining meat and bones from the animal's feet and the skin is sent to a tanner to be treated for preservation" before she crafts them into stilettos. One of her more controversial pieces is a pair of sandals made with stuffed doves.
"She joins the fragments together to new creatures and thus gives a new face to death," says the Virtual Shoe Museum, which houses information on her and other designer's collections. "No matter, if her arrangements follow paintings of the great masters of art or if the joined objects turn out to be whole words - her work always gives evidence of aesthetic intuition and her inclination to subtle entertainment. The earlier you die - the longer you are dead."
We're all for limited edition, totally unique fashion, but the art of combining taxidermy and couture seems a little off the rocker.
Tell us on Facebook—would you wear shoes made of dead animals?


Photo courtesy Iris Schieferstein

beauty tips and style advice
And before you ask, sorry, the $325 dress is SOLD OUT on Matches.com and DVF.com—you snooze, you loose.

Click through the slideshow to shop some of our spring favorites.

French braid? Been there. Fishtail? Done that. The newest styles are all about unexpected texture, major volume, and one man's wild imagination.

Long hair, don't care? Think again…

She dishes on the routine that keeps her looking polished, even when she's pulling up to the <i>Mad Men</i> set at 5 a.m. Plus, the fragrance that helps Christina get her Joan on.

For inspiration, we've rounded up gorgeous (and easy to replicate) wedding makeup looks from the red carpet.

With a few insider tricks, you can enjoy short hair 365 days of the year and have a gorgeous style on your wedding day. Wedding hairstyles for short hair do exist.

I'm beyond excited to finally ditch my winter coat and heavy layers, but I'm not so eager to ditch my tights. Let's just say my legs are not as smooth and bronzed as they were the last time I showed them off many, many months ago.

After a jam-packed week in New Zealand, Kate Middleton and Prince William finally enjoyed a day off, but as of last night (or this morning..? Ah, time change!) they're back on the road again.

These travel-sized beauty products will do double-duty while you're on the road.

Neatly sidestepping high fashion, the smiling, cheerful Kate Middleton is fast becoming the Duchess of Normcore.

This December, New Yorkers might notice something missing in the Christmas air.