Would You Wear Shoes Made From Dead Animals?
Artist collects animal carcasses to create shoes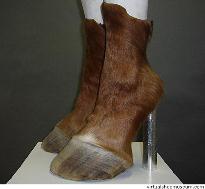 From mile-high stilettos to heels covered in diamonds, designers are always going to extremes to make a more chic-looking shoe. 
But German artist Iris Schieferstein is using a much different approach when crafting hers: dead animals. 
According to
The Virtual Shoe Museum
, the artist has been using raw material (aka. the aforementioned dead animals) in her art pieces for years.  
Not shockingly, the shoes have garnered the attention of celebs including Lady Gaga and, according to the
Daily Mail
, can cost close to $6,000. Daily Mail claims the process of creating the shoes includes "stripping out any remaining meat and bones from the animal's feet and the skin is sent to a tanner to be treated for preservation" before she crafts them into stilettos. One of her more controversial pieces is a pair of sandals made with stuffed doves.
"She joins the fragments together to new creatures and thus gives a new face to death," says the Virtual Shoe Museum, which houses information on her and other designer's collections. "No matter, if her arrangements follow paintings of the great masters of art or if the joined objects turn out to be whole words - her work always gives evidence of aesthetic intuition and her inclination to subtle entertainment. The earlier you die - the longer you are dead."
We're all for limited edition, totally unique fashion, but the art of combining taxidermy and couture seems a little off the rocker.
Tell us on Facebook—would you wear shoes made of dead animals?


Photo courtesy Iris Schieferstein

fashion: trends & must-haves for your wardrobe
Just like a good pair of shoes, the right hair accessory can change your entire mood (and look!). We rounded up some of our favorites from the spring 2013 runways.

You can make your eyes look younger, brighter — even more lifted — in minutes, using just your basic makeup. Find your issue here, then follow our how-to guide to learn the techniques. It's so easy, you won't believe your eyes.

It's one of those workhorse pieces that can make women look crisp, laid-back, professional, or dead sexy. Meet the one shirt dress you'll wear for life.

Toss your tweezers. Everything from brows (thick!) to your workout is taking a cue from the Flintstones. Yabba-dabba-doo!

Big event? Focus on the outfit, because we've got your hair all figured out, whether you've got two minutes to do it or 20.

If every morning seems like a Manic Monday, then you'll love these clever, minute-shaving beauty tips. Learn the secrets to spending less time getting gorgeous straight from pros!