Would You Wear Shoes Made From Dead Animals?
Artist collects animal carcasses to create shoes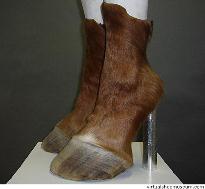 From mile-high stilettos to heels covered in diamonds, designers are always going to extremes to make a more chic-looking shoe. 
But German artist Iris Schieferstein is using a much different approach when crafting hers: dead animals. 
According to
The Virtual Shoe Museum
, the artist has been using raw material (aka. the aforementioned dead animals) in her art pieces for years.  
Not shockingly, the shoes have garnered the attention of celebs including Lady Gaga and, according to the
Daily Mail
, can cost close to $6,000. Daily Mail claims the process of creating the shoes includes "stripping out any remaining meat and bones from the animal's feet and the skin is sent to a tanner to be treated for preservation" before she crafts them into stilettos. One of her more controversial pieces is a pair of sandals made with stuffed doves.
"She joins the fragments together to new creatures and thus gives a new face to death," says the Virtual Shoe Museum, which houses information on her and other designer's collections. "No matter, if her arrangements follow paintings of the great masters of art or if the joined objects turn out to be whole words - her work always gives evidence of aesthetic intuition and her inclination to subtle entertainment. The earlier you die - the longer you are dead."
We're all for limited edition, totally unique fashion, but the art of combining taxidermy and couture seems a little off the rocker.
Tell us on Facebook—would you wear shoes made of dead animals?


Photo courtesy Iris Schieferstein

beauty tips and style advice
Controversial.... Or empowering?

These jeans aren't just distressed; they're destroyed — and all the cooler for it. They're also the perfect way to make a basic T-shirt feel totally wild.

Good news for your feet: Sneakers are everywhere this fall. Fashion insiders and celebs alike are sporting athletic shoes with their chicest outfits, making them an essential fall fashion trend. With an abundance of styles in stores right now, it might seem daunting to find the pair that's right for you. We handpicked the 35 best sneaker styles to try.

We're just going to say it: Ankle boots might be are our favorite type of boots. They're tough like classic motos when paired with skinny jeans or leather pants. But they also work in place of fussy heels with a flared skirt or cocktail dress for an unexpected downtown-cool vibe. And, let's be honest, the ankle height just feels more relaxed and comfortable. Never mind that booties take up way less room in your closet too. Wait. Do you know what that means? You can buy more than just one pair this fall—especially since ankle boots come in so many styles, shapes, colors, heel heights, and price points. So check out these 20 booties for fall.

Fall just gives us the warm fuzzies—and not because of the turning of the leaves, football games, or the excuse to eat pumpkin-flavored everything. We can finally wear our very best coats incorporating the newest fashion trends (and there are so many options out there). So make the most of this wonderful time—before the puffy-jacket-required winter rears its blustery head—with these 15 coat and jacket picks for all budgets.

As beauty editors, we thought we had heard (and made!) every hairstyling mistake out there. We no longer use uncoated elastics or rough up our hair with a towel when we get out of the shower, and we even fully embrace the benefits of hair masks. But during a visit with Herbal Essences celebrity stylist Charles Baker Strahan, we learned some new, seriously next-level tips. Read on for better hair days ahead.