Would You Wear Shoes Made From Dead Animals?
Artist collects animal carcasses to create shoes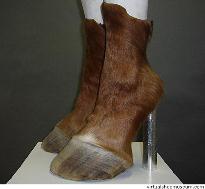 From mile-high stilettos to heels covered in diamonds, designers are always going to extremes to make a more chic-looking shoe. 
But German artist Iris Schieferstein is using a much different approach when crafting hers: dead animals. 
According to
The Virtual Shoe Museum
, the artist has been using raw material (aka. the aforementioned dead animals) in her art pieces for years.  
Not shockingly, the shoes have garnered the attention of celebs including Lady Gaga and, according to the
Daily Mail
, can cost close to $6,000. Daily Mail claims the process of creating the shoes includes "stripping out any remaining meat and bones from the animal's feet and the skin is sent to a tanner to be treated for preservation" before she crafts them into stilettos. One of her more controversial pieces is a pair of sandals made with stuffed doves.
"She joins the fragments together to new creatures and thus gives a new face to death," says the Virtual Shoe Museum, which houses information on her and other designer's collections. "No matter, if her arrangements follow paintings of the great masters of art or if the joined objects turn out to be whole words - her work always gives evidence of aesthetic intuition and her inclination to subtle entertainment. The earlier you die - the longer you are dead."
We're all for limited edition, totally unique fashion, but the art of combining taxidermy and couture seems a little off the rocker.
Tell us on Facebook—would you wear shoes made of dead animals?


Photo courtesy Iris Schieferstein

beauty tips and style advice
It's the best and worst time to be a single girl in the dating world. On the one hand, past generations of women didn't have the freedom, financial independence, access to birth control (depending on your state and employer, of course), or plethora of options to meet new people—online and off—that we enjoy today. On the other hand, they also didn't have to worry about sexting, selecting the best selfie for their profile picture, or accidentally swiping right on a coworker.

If you're anything like me, you probably haven't gone anywhere near a hair accessory for years—save for the few stretched-out Goody elastics tumbling around at the bottom of your handbag, the slightly rusty bobby pins gathering dust at the back of your medicine cabinet or that scrunchie you use to pull your hair back when washing your face in the morning. For as long as I can remember, hair adornments have been slapped with somewhat of a childish reputation; when's the last time you saw a girl over the age of 11 wearing a barrette or witnessed a woman past her teen years sporting a headband?

When it's hot and humid, pulling your hair into a ponytail is practical. But it can also be fun, easy, unexpected, and mind-blowingly gorgeous. Here, stunning summer hair ideas inspired by our favorite runway and red-carpet looks of the moment—plus expert tips on how to re-create them.

Sure, sunglasses protect your eyes and help you see, but they can also lend an instant, undeniable cool factor to just about anyone. Said cool factor is most apparent when sunglasses fit well, balance your features, and look like they were made for your face. Because one-size-flatters-all shades are unfortunately not a thing, we asked Bobbi Brown, makeup artist, glasses expert, and author of the new book Bobbi Brown: Everything Eyes, for her top tips for finding flattering sunglasses for every face shape.

The leading ladies who make summer beauty look effortless.

Chic accessories for every wedding style.