Would You Wear Shoes Made From Dead Animals?
Artist collects animal carcasses to create shoes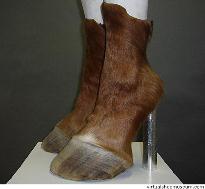 From mile-high stilettos to heels covered in diamonds, designers are always going to extremes to make a more chic-looking shoe. 
But German artist Iris Schieferstein is using a much different approach when crafting hers: dead animals. 
According to
The Virtual Shoe Museum
, the artist has been using raw material (aka. the aforementioned dead animals) in her art pieces for years.  
Not shockingly, the shoes have garnered the attention of celebs including Lady Gaga and, according to the
Daily Mail
, can cost close to $6,000. Daily Mail claims the process of creating the shoes includes "stripping out any remaining meat and bones from the animal's feet and the skin is sent to a tanner to be treated for preservation" before she crafts them into stilettos. One of her more controversial pieces is a pair of sandals made with stuffed doves.
"She joins the fragments together to new creatures and thus gives a new face to death," says the Virtual Shoe Museum, which houses information on her and other designer's collections. "No matter, if her arrangements follow paintings of the great masters of art or if the joined objects turn out to be whole words - her work always gives evidence of aesthetic intuition and her inclination to subtle entertainment. The earlier you die - the longer you are dead."
We're all for limited edition, totally unique fashion, but the art of combining taxidermy and couture seems a little off the rocker.
Tell us on Facebook—would you wear shoes made of dead animals?


Photo courtesy Iris Schieferstein

beauty tips and style advice
For makeup that gives you that je-ne-sais-quoi, listen to the pros and tailor your look to your eye shape. Brushes ready!

No one should have to sacrifice style when snow starts to fall. We've selected the top all-weather boots to keep you warm and chic on the streets (and indoors).

In the distant future, in a postapocalyptic universe, when aliens from faraway planets excavate Earth and cobble together a rudimentary construction of human behavior in the 20th and 21st centuries, they will surely marvel at the irrepressible, widespread, multigenerational, transcontinental prevalence of Ugg boots.

She's been going shorter for awhile now, but Reese Witherspoon finally made the transition to a full-on bob.

Deck your nails with layers of sparkle in the season's prettiest, party-ready nail lacquers—sapphire and ruby, fizzy champagne shimmer, snow white, and more.

'Tis the season… party season, that is. And while you probably have all of your social gathering outfits styled and ready to go, there's one that requires a bit more strategic planning: the office holiday bash. You want to show off your sartorial skills, but need to walk the fine line between festive and professional. (A look that efficiently transitions from desk-to-party would be appreciated, too.) So let's look to these 10 red carpet stars for some effortless office-to-holiday party outfit inspiration.

A few things are certain in life: death, taxes and the fact that a gal pretty much can't go bare legged from November to March.

December 1st marks the air date of the annual Victoria's Secret Fashion Show, a celebration of all things sexy and sparkly. Join us as we caught up with a handful of Angels backstage.

It's official: The Hunger Games: Catching Fire actresses Jennifer Lawrence, Elizabeth Banks, andJena Malone completely owned the red carpet at all of the film's premieres and press events. Let's look at the stunning gowns and glittery dresses that everyone's talking about.

Every flight seems to have one: that girl who, even after spending several hours enduring the same dry, cramped conditions as everybody else, deplanes looking mind-bogglingly dewy and well-rested. She leaves you too intrigued to be jealous, because who survives air travel without getting puffy eyes and dry patches? Does that mean you can as well? According to our editors, the answer is yes. As you'll see in the slideshow above, which includes their in-flight beauty routines, maintaining your skin, health and hair while traveling through the sky all comes down to the right products. Click through to see what they use, and to stock up before your next big trip—next time, you'll be the one everyone notices.

Got a destination on the horizon? Emulate any one of these 19 outfits and you'll have stylish jet-setting fashion down pat in no time.

Take a look at Jessica Alba's new blonde hair and tell us, do you like it?