Would You Wear Shoes Made From Dead Animals?
Artist collects animal carcasses to create shoes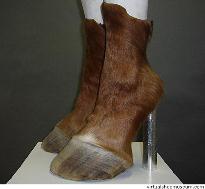 From mile-high stilettos to heels covered in diamonds, designers are always going to extremes to make a more chic-looking shoe. 
But German artist Iris Schieferstein is using a much different approach when crafting hers: dead animals. 
According to
The Virtual Shoe Museum
, the artist has been using raw material (aka. the aforementioned dead animals) in her art pieces for years.  
Not shockingly, the shoes have garnered the attention of celebs including Lady Gaga and, according to the
Daily Mail
, can cost close to $6,000. Daily Mail claims the process of creating the shoes includes "stripping out any remaining meat and bones from the animal's feet and the skin is sent to a tanner to be treated for preservation" before she crafts them into stilettos. One of her more controversial pieces is a pair of sandals made with stuffed doves.
"She joins the fragments together to new creatures and thus gives a new face to death," says the Virtual Shoe Museum, which houses information on her and other designer's collections. "No matter, if her arrangements follow paintings of the great masters of art or if the joined objects turn out to be whole words - her work always gives evidence of aesthetic intuition and her inclination to subtle entertainment. The earlier you die - the longer you are dead."
We're all for limited edition, totally unique fashion, but the art of combining taxidermy and couture seems a little off the rocker.
Tell us on Facebook—would you wear shoes made of dead animals?


Photo courtesy Iris Schieferstein

beauty tips and style advice
So there are fashion mishaps. And then, there is the catastrophe known as....camel toe.

The top tips I've picked up thanks to my obsession with blowouts, highlights, and my favorite hairstylist.

Something happens to your head when you have a kid — not to mention your body completely changes, and you can barely recognize yourself through bleary eyes, a fog of tiredness, and matted hair from sleepless nights. Sounds sexy, right? But, when that glimmering light at the end of the tunnel is in the near distance and the kid actually starts to act like a human and sleep normal hours, just like magic, you start to look like your old self again.

Ever slip into the latest summer fashion trend and then realize it's not exactly traditionally attractive? So what? Today we're speaking out on behalf of our favorite awkward fashion trends, whether they're bulky, strangely proportioned, or just at the opposite end of sexy. If there's still something magnetic about its pull on you, we say go for it. It's all in the name of fashion.

One shopper's tweet of the emaciated-looking figure forced the store to take action.

Once the summer heat kicks in, it's all we can do not to slip into the breeziest beach dresses and flip-flops for the morning commute. So trust us when we say we understand that the humidity can have a powerful effect on your wardrobe — still, there are some things you just can't wear to your place of employment, no matter how hot it gets.

Wrinkle no blouse, tangle no jewelry, leave no beauty product behind, and still have room to spare.

Hue-changing dos we absolutely love.

Why your jean size varies from store to store.

Wait a month between waxing visits? Check. Pop a preappointment Advil? Duh. We all know the basics, but here are the tricks you don't know.

What to always—and never, ever—do to keep hair in top shape.

Get inspired to try these sweet and summery looks.